5 Ways to Unlock a Computer without Password (Windows 10/8/7)
If you buy a second-hand computer with the administrator account protected, you are locked out of this computer. Moreover, it is also a common question that many people forgot the administrator password. To regain access to your computer, you need to unlock a computer without password immediately.
This article introduces 5 workable ways to bypass the forgotten password and reset your computer to factory settings. If you want to unlock a locked computer without a password at home, you can continue reading to get more details.

Part 1: Unlock Computer without Password on Windows 10/8/7/Vista/XP
What are the best Windows unlock software? imyPass Windows Password Reset can be your smart choice. You can get the highest success rate to unlock and reset all Windows workstations and operating systems. There is no need to type complicated command lines. You can burn a bootable CD/DVD or USB flash drive quickly. The clean and intuitive interface is friendly to beginners. Later, you can reset, change, and even create a new administrator account and password. Even though you don't know what your Windows password is, you can also unlock your Windows password at login and on other occasions easily.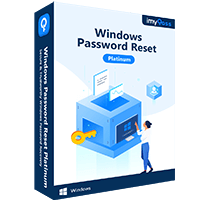 4,000,000+ Downloads
Reset, change, and unlock Windows administrator or other kinds of passwords.
Burn a password reset CD/DVD disk or USB drive to unlock a computer without a password.
Support all Windows systems and brands, including Windows 10/8/7/XP/Vista/2008/2003, etc.
Clean, safe, and easy to use.
Get a lifetime free upgrade for Windows password bypass.
Step 1Launch imyPass Windows Password Reset after the installation on a normal computer. Complete the registration process with your email address and registration code.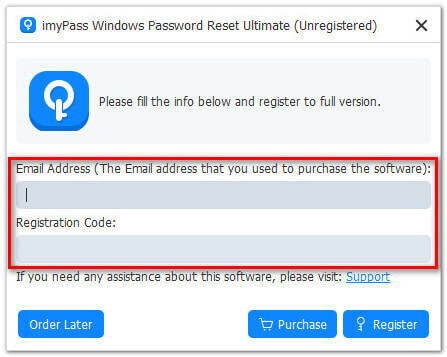 Step 2Choose between Create Password Reset CD/DVD and Create Password Reset USB Flash Drive (based on your purchase plan). Click the Burn CD/DVD or Burn USB option. Then insert a blank disc or drive into your normal computer.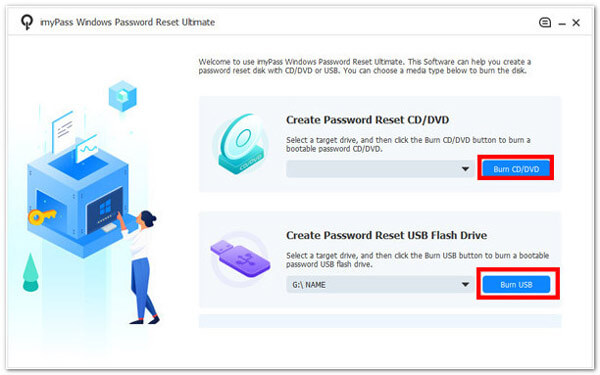 Step 3Click OK after the burning process. Take out the burned disk or drive. Later, insert it into your locked Windows computer. Press F12 or ESC while rebooting (depend on your computer brand). In the Boot Menu interface, choose your inserted disc or drive with arrow keys. Press Enter and save it to exist Boot Menu.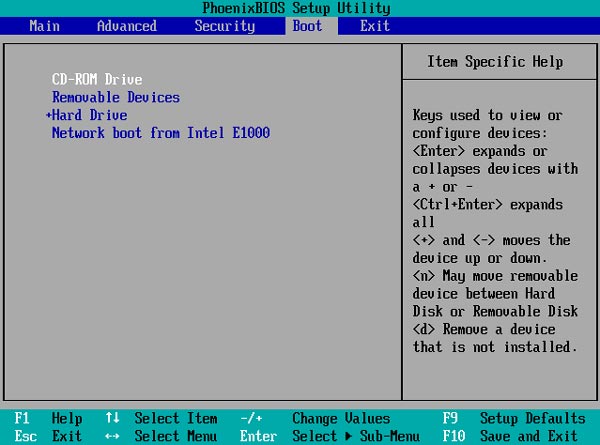 Step 4Choose the current Windows OS. Select the administrator account you want to reset the password for. Click Reset Password and confirm with OK in a popup window. After the Windows password resetting process, you can eject the disk and restart your computer. Now you can find your computer unlocked without a password.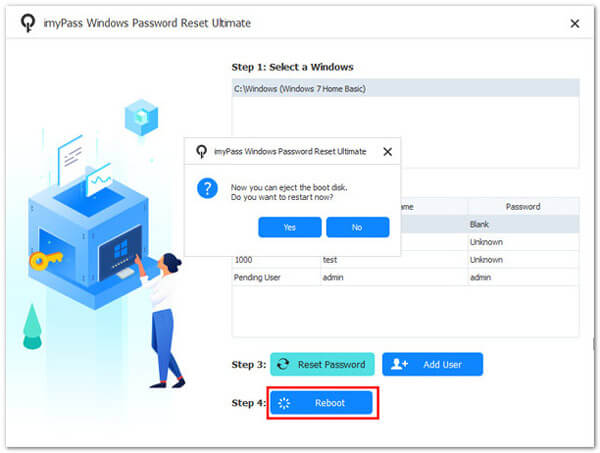 Part 2: Unlock Computer without Password with an Installation Disk
If you already have a Windows installation disk, you can boot a locked Windows computer as well. However, the entire Windows password recovery process is complicated for beginners.
Step 1Insert a computer installation disk. Boot Windows from this disk. To enter into the Boot Menu, press F2 on the keyboard.
Step 2Press Shift and F10 during the boot process. In the Command Prompt window, enter the following command lines.
move d:windowssystem32utilman.exe d:windowssystem32utilman.exe.bak
copy d:windowssystem32cmd.exe d:windowssystem32utilman.exe
wpeutil reboot
Step 3The Windows login screen appears. Choose Ease of Access on the bottom left corner of the screen. Enter the following commands in the Command Prompt dialogue.
net user /add [username] [password]
net localgroup administrators [username] /add
Step 4Now you can restart and unlock the computer without a password. To start with, replace the original utilman.exe file with copy d:windowssystem32utilman.exe.bak d:windowssystem32utilman.exe.
Step 5Open Command Prompt. Enter net user user_name new_pwd. Remember to replace user name with your new administrator account, and replace new pwd with your new administrator password.

Part 3: Unlock Computer without Password by Booting into Safe Mode
It is also a good way to boot Windows into safe mode. Be aware that the default administrator account created by the Windows installation is disabled by default. If you are locked out of a computer, you should enable the default administrator account manually before resetting.
Step 1Restart your locked computer. Continually press F8 to get Advanced Boot Options.
Step 2Use arrow keys to choose Safe Mode from the list.
Step 3Sign in to the account called Administrator.
Step 4Now you can remove and reset the forgotten Windows password in Control Panel.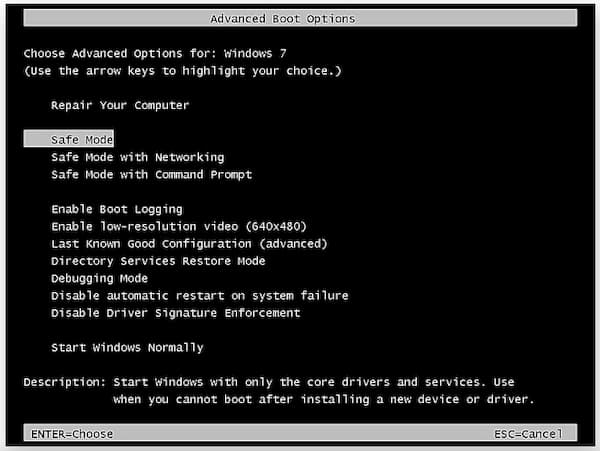 Part 4: Unlock Computer without Password via a Microsoft Account
On the Microsoft account reset password page, you can recover your forgotten password. There are 3 options on the Why can't you sign in page. During this time, you can choose I forgot my password to unlock your computer without software or disk.
Step 1Visit the Microsoft account live website on your phone or computer. Choose the Forgot Password option.
Step 2Select I forgot my password on the Why can't you sign in page.
Step 3Enter your email address, phone number, or recovery email ID as its on-screen instruction shows.
Step 4Set up a new account for Windows login.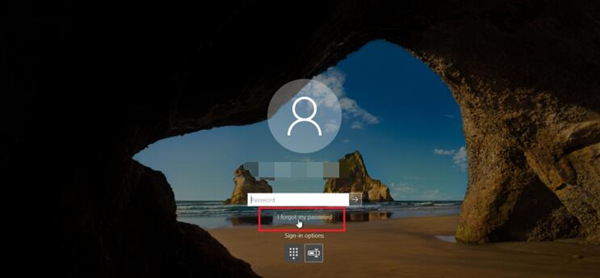 Part 5: Unlock Computer without Password Using TRK
If you want to unlock a Linux computer, you can use Tiny Rescue Kit as a password reset tool. Before you unlocking a Linux computer, you need to download TRK into a bootable drive first.
Step 1Insert the bootable drive into the locked Linux computer. You can see the TRK menu on the screen.
Step 2Choose Windows Password Resetting. Press Enter on your keyboard.

You May Also Be Interested in: Change Windows User Name.
Part 6: FAQs of Unlocking Windows Computer without Password
How to fix Windows 10 won't let me log in?
Restart your Windows 10 computer first. Choose the Ease of Access option and select the On-Screen keyboard. You can enter the Windows password by using the on-screen keyboard. If Windows 10 won't let me enter the password at login problem still exist, you can boot Windows 10 in safe mode. Or you can head to imyPass Windows Password Reset for professional Windows 10 password bypass support.
How to avoid signing in to Windows 10?
If you want to turn off the Windows password feature, you can search for netplwz in the Windows Start menu. Go to the User Accounts screen and disable Users must enter a name and password to use this computer. Click Apply to save changes. Later, enter your Windows password again to confirm. Click OK to turn off the Windows administrator password.
How to shut down a locked-up computer?
Hold the Power button for about 5 seconds to power down/on your locked up computer. This method also works if your computer freezes and stops working suddenly.
Conclusion
Here're 5 easy ways to unlock Windows 10/8/7 computer without a password. You can unlock a locked-up computer with the help of bootable installation disks, Windows password reset software, and default programs. If you don't have any experience with Windows unlocking, it is suggested to use imyPass Windows Password Reset. You can bypass all types of Windows passwords by booting Windows from a burned password reset CD/DVD or USB drive. It is an easy and quick Windows administrator password unlocking solution for all users.