How to Reset Your Microsoft Password When You Forgot It or Not
Today, Windows is still the most popular operating system around the world. According to a recent survey, the market share reaches about 85%. More importantly, Windows is believed a highly secure system that protects your data and document with login password. Firstly, experts suggest people to reset Microsoft password frequently to enhance the security. That may lead you to forget the current password. This guide will tell you several ways to do the job in various situations, so that you can keep your data safe.

Microsoft Password Reset
Part 1: How to Reset Microsoft Password If You Remember It
Firstly, you should know that there are two types of accounts on Windows, Microsoft account and local account. The former is an account to log in your Windows 10, Microsoft website, Outlook, Skype, OneDrive and other services. The latter, on the other hand, is based on device, so you can only use and change it on the PC where you created it. Since Microsoft account lets you access across apps and Windows 10, you can reset it on your computer. Here are the steps.
Step 1Click the

Start

menu at bottom left side of your screen. Find and open the

Settings

app, and select

Accounts

, which sub-headed

Your account, email, sync, work, family.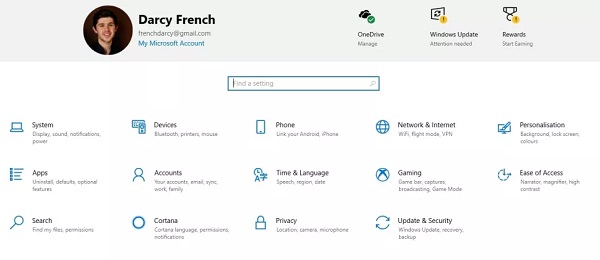 Step 2Here, you will get the

Accounts

menu with six options. To reset Microsoft password, click the

Sign-in Options

on the left hand column.

Step 3Then you will get more options on the right panel. Scroll down to find the

Password

option. Click on it and you will be presented the

Change

button. Press it and enter your PIN to verify that you are the owner of the Microsoft account.
Tip: If you have set up the two-factor authentication on your Microsoft account, you will have to authenticate your identity with your mobile device or another PC.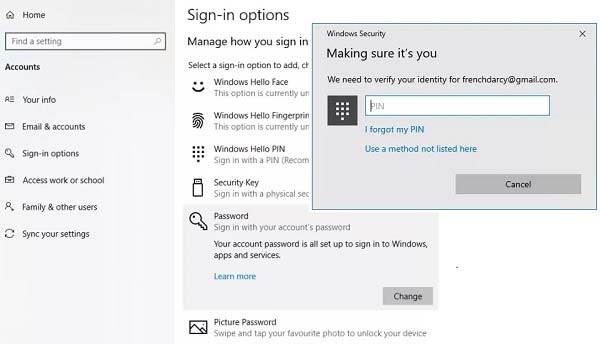 Step 4Follow the onscreen instructions and you will be taken to the Microsoft password reset screen. Here you need to enter your current password, input the new password and confirm it.
Step 5Finally, click on the

Next

button to finish it.
Note: This is the normal way to reset Microsoft password on computer if you did not forget the current passcode. If you already forgot your password, keep reading and you will find the methods to reset or bypass it.
Part 2: How to Reset Forgot Microsoft Account Password on PC
In most cases that you need to reset Microsoft password because you have forgotten the current password and cannot access your computer or Microsoft services. The normal method is not available in such situation. However, you can still reset forgot Microsoft account on your computer if you are using Windows 10.
Step 1Power on your PC and wait until you reach the sign-in screen. Instead to enter the forgot Microsoft password click on

I forgot my password

to move on. When prompted, type the characters showing under

Enter the characters you see

, and hit

Next

.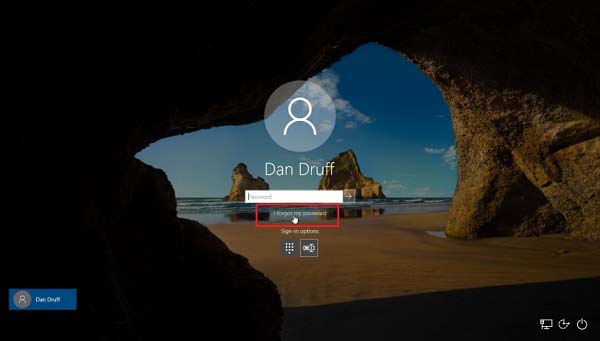 Step 2On the

Recover your account

screen, type in your account, which is usually an email address associated with your account. Then click the Next button at the bottom right side.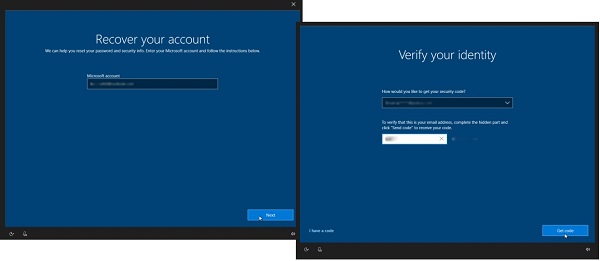 Step 3Then you will be asked to verify your identity. You have two ways to receive the security code, email and message. Choose the proper channel and leave your email address or phone number, and click

Send code

. When you get the security code, enter it into the field and hit

Next

.
Tip: If you cannot get the security code, press I didn't get a code or I don't have access to these. Then your PCs will ask you to verify your identify with your security questions.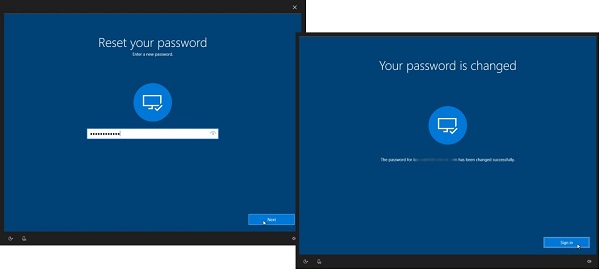 Step 4If you have entered the information correctly, the

Your password is changed

screen will pop up. Click on the

Sign

in button to return to the sign-in screen and log in your Microsoft account with the new password.
Step 5After sign-in your system, find the

Sign-in options

in

Accounts

menu in Settings app. Locate the

Password

section and click

Update your security questions

. When prompted, enter your password. Next, you can set three questions and unique answers to these questions. When it is done, click on the Finish button. The next time you reset Microsoft password from the Sign-in screen, you can verify yourself by the security questions.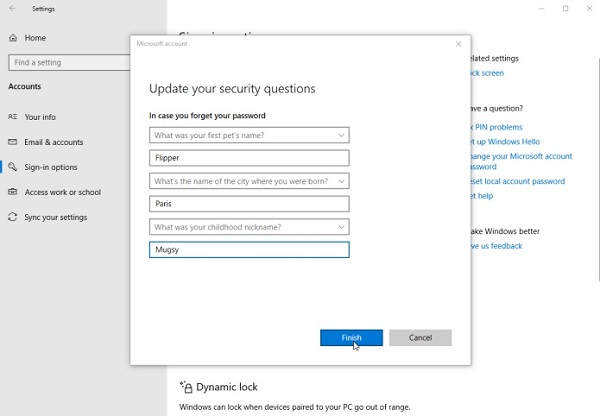 Note: Since Microsoft is associated with all Microsoft services, such as Outlook, Skype, OneDrive, and more, you have to use the new password to log in them after reset.
Part 3: How to Reset Microsoft Password Online
In addition to your computer, you can also reset forgot Microsoft password online. In fact, you can do it on multiple websites, like account.microsoft.com, outlook.com, skype.com, onedrive.live.com, etc. The workflow is similar and we use Microsoft's account page to show you the procedure.
Step 1Open a web browser on an accessible computer when you forgot your Microsoft account password. Copy and paste https://account.microsoft.com/ into the address bar and hit

Enter

key on your keyboard to visit the webpage.
Step 2Click the

Sign in

option at the upper right corner, type in your Microsoft username and hit the

Next

button. In the password page, press

Forgot my password

instead of entering password.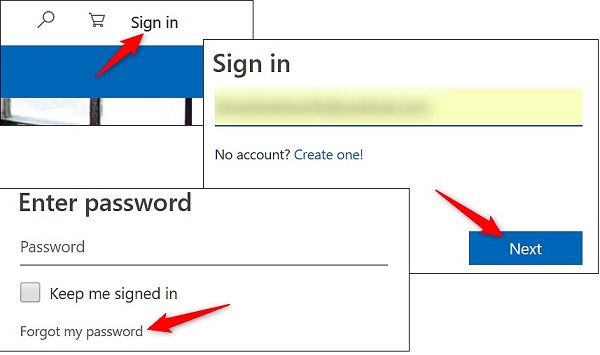 Step 3Next, select

I forgot my password

option and press the

Next

button to move on. Of course, you can choose other option if it fits your situation better.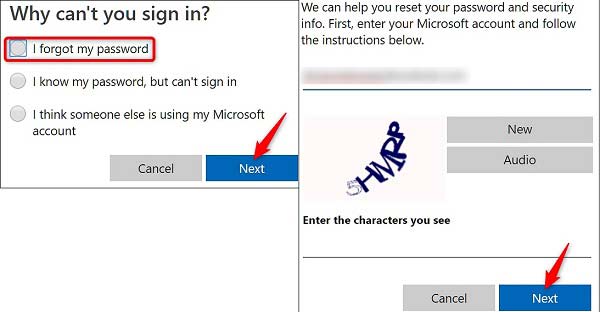 Step 4As long as you enter the process of forgot password reset, you need to enter the CAPTCHA in the

Enter the characters you see

area. Hit the

Next

button to continue.
Step 5Similar to PC, you will be presented two channels to get the verification code, an alternative email address and phone number. To get the information through email, for example, select it and leave your email address, and click

Send code

.
Step 6Visit your email and see the verification code from Microsoft message. Next, enter it into the

Enter the code

box on the

Verify your identity

page.

Step 7 Click the

Next

button and you will reach the

Reset your password

page. Input the new password for your Microsoft account, enter it again in the next field, and click Next to confirm the change.
Step 8If you are presented the

Your account has been recovered

page, it means that the process is successful. Click Next to finish the password reset.
How to Verify Yourself without Alternative Email or Phone Number
If your alternative email and phone number are not available, follow the steps below to verify your identity during Microsoft password reset.
Step 1Select

I don't have any of these

on the verify your identity page, and click the

Next

button.

Step 2Now, you will be asked to enter a contact email address. The email address should be accessible and not be the same with your Microsoft account. Click the Next button to receive a code.
Step 3Find the code in your email and enter it into the box. Press the

Verify

button.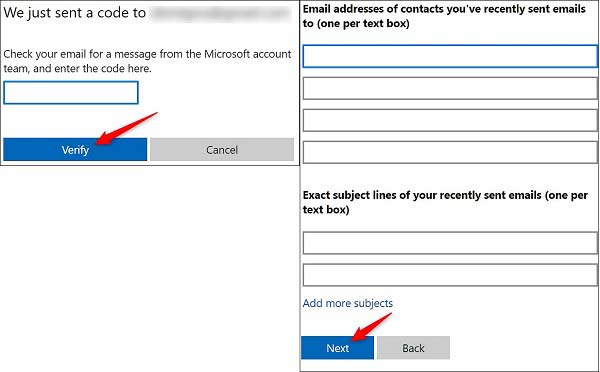 Step 4Then you need to write down several email address that you just sent mails recently and the email subjects that you recently sent. Hit the

Next

button and click

OK

. Microsoft will review your information and give you feedback within 24 hours. Then you can reset forgot Microsoft password if it is passed.
Part 4: The Easiest Way to Reset Microsoft Windows Password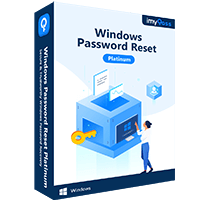 4,000,000+ Downloads
Change Microsoft password without accessing system.
Create new account if you forgot your account too.
Support both DVD and USB flash drive.
Available to Windows 10/8/8.1/7 and earlier.
In short, it is the easiest option to reset your Microsoft account password if you forgot it.
How to Reset Microsoft Account Password
Step 1Create bootable media
When you forgot Microsoft account password, find an accessible computer and install the password reset utility on it. If you want to create a bootable DVD, put a blank disc into the DVD drive. Turn to the utility and locate the Create Password Reset CD/DVD section. Expand the dropdown menu and select the disc. Hit the Burn CD/DVD button.
To make a bootable USB, plug the flash drive onto the computer and go to the Create Password Reset USB Flash Drive section instead. Choose the USB from the dropdown menu and click Burn USB button. Wait for the bootable media to finish and remove it.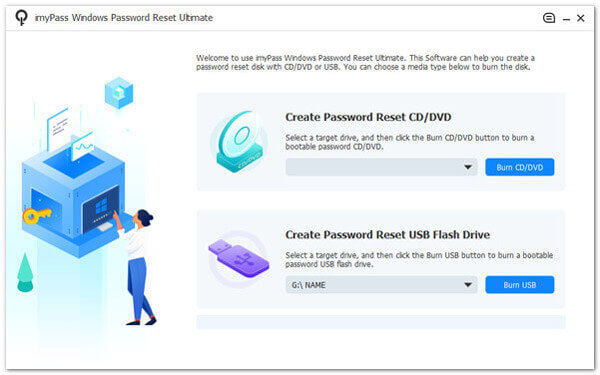 Step 2Reset Microsoft password
Switch to the computer associated with your Microsoft account. Insert the bootable DVD or USB into the PC and power it on. Make sure that it boots into the bootable media and you will get the Windows Password Reset window. Firstly, select the proper operating system, and choose the right account. Next, press the Reset Password button and select Yes if prompted. Now, you can enter the new password and confirm it. When it Microsoft password reset is done, remove the bootable media, reboot your PC, and sign in with the new password.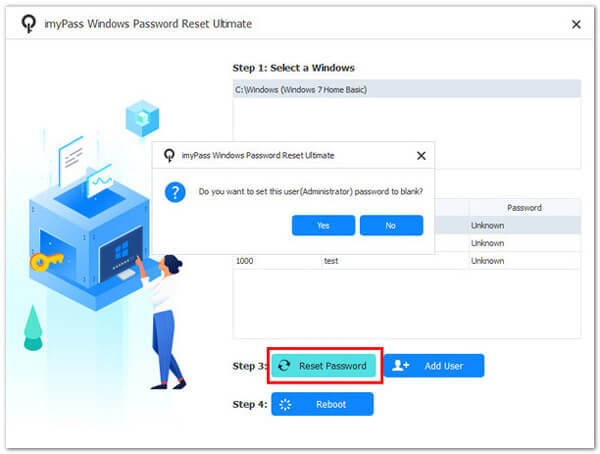 Part 5: FAQs about Microsoft Password Reset
What is my Microsoft account password?
Microsoft account is the username that you used to sign into your Windows 10 and Microsoft services, such as Outlook, Office, Skype, OneDrive, Xbox Live, Bing, Microsoft Store, MSN, etc. If you forgot your account password, you can reset it following the guide above.
How can I unlock my Microsoft account?
Microsoft will lock your account in order to protect it from fraud or abuse. To unlock your account, sign in your Microsoft account and follow the instructions to get the security code.
Why cannot log into my Microsoft account?
The reasons include:
1. Caps Lock is turned off and your username or password is spelled incorrectly.
2. The sign-in form is not working in your browser.
3. There is something wrong about your internet connectivity.
Conclusion
This guide has shared four ways to reset Microsoft account password in various situations. If you still remember the current password, the normal method is available. To reset forgot Microsoft password, you can do it on Windows 10 and in your web browser. More importantly, imyPass Windows Password Reset is able to help you simplify the process and lets you reset password easily. If you have more questions, please leave a message below this post.