5 Best iPhone Password Manager Recommendations
Now protecting our online identities has become quite essential than ever. With numerous accounts and passwords to remember, managing them securely can be daunting. Thankfully, iPhone password manager apps have come to our rescue. These apps offer an encrypted vault to store and organize passwords, ensuring convenience and enhanced security. This post will explore and compare five of the best password manager apps available for iPhone, highlighting their key features, pros, and cons.

Best Password Manager for iPhone
Part 1. Best Password Manager for iPhone
An iPhone password manager can safeguard your passwords, enhance online security, and simplify managing and accessing different accounts. You can easily access many password manager apps for iPhones on the market. This part lists five iPhone password managers, highlighting their key features, pros, and cons.
imyPass iPhone Password Manager
imyPass iPhone Password Manager is an easy-to-use password management app for iPhone and iPad users. It can quickly analyze all stored passcodes on your iPhone, including the account details for apps and websites, email passwords, Apple ID passcodes, and Wi-Fi passwords. It offers a convenient way to find, manage, edit, export, and share your iPhone passwords.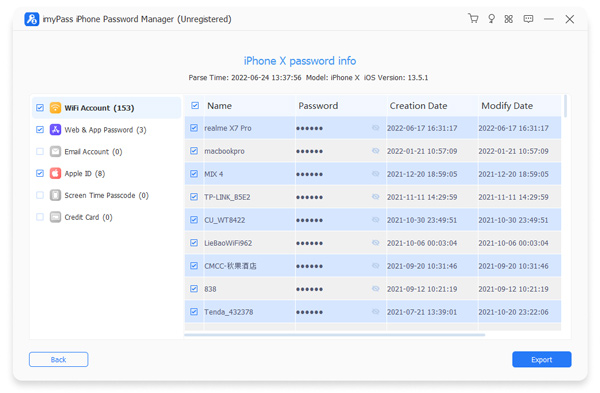 To manage various passwords on your iPhone, you should download the imyPass iPhone Password Manager on a Mac or Windows computer. Then connect your iOS device and scan all stored passcodes on it.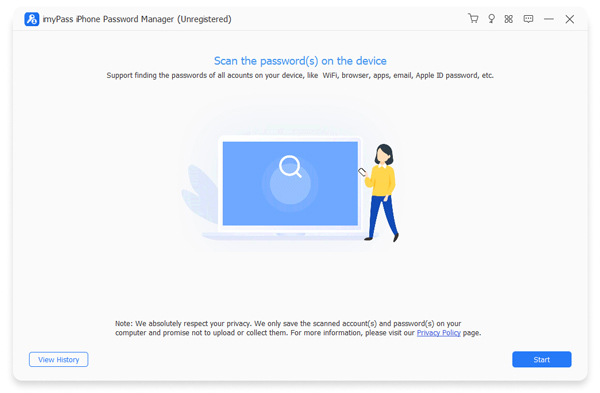 1Password
1Password is a popular password manager for iPhone and Android users that offers several key features to simplify security. It securely stores all your passwords, login details, and other sensitive information in one place. And you can access your passwords by a master password or biometric authentication.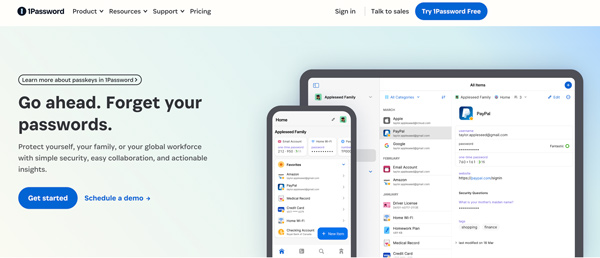 1Password can generate strong, unique passwords for each of your accounts. It integrates with web browsers and mobile apps to automatically fill in passwords. This iPhone password manager supports two-factor authentication (2FA), which places an extra layer of security on your accounts.
LastPass Password Manager
LastPass is a famous password management tool that can securely store all your passwords in a centralized vault. The iPhone password manager allows you to access them with a master password or biometric authentication. It lets you easily fill in login credentials for websites and apps. LastPass offers mobile apps for iPhone, iPad, and Android users. Moreover, it has browser extensions that integrate seamlessly with popular web browsers.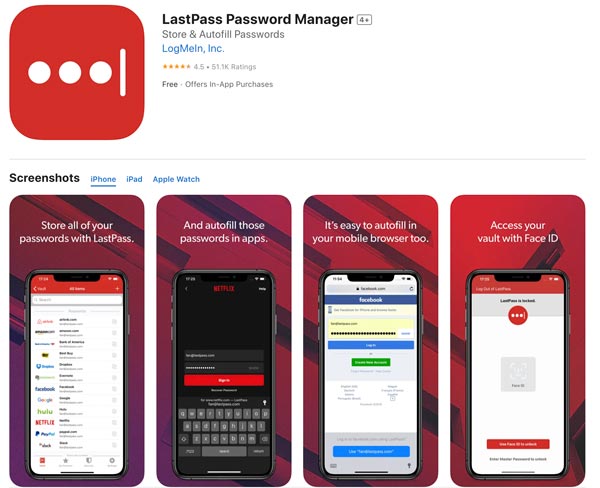 LastPass supports Two-Factor Authentication to add an extra layer of security to your account. It can analyze your passwords and provide a security score, highlighting weak or compromised passwords that need to be changed. You can securely share your passwords and notes with others. It can monitor your stored passwords and alert you if they have been involved in known data breaches.
Dashlane Password Manager
Dashlane Password Manager is a popular iPhone password manager that helps securely store and manage all your passwords in one place. It helps to save all your passcodes and generate strong passwords for different accounts. Dashlane gives a convenient way to automatically fill in your login credentials. It notifies you if any of your accounts have been breached or compromised. Moreover, Dashlane keeps your credit card information and other personal data for easy auto-fill during online purchases. This password manager app for iPhone supports cross-device sync to ensure you access your accounts from anywhere.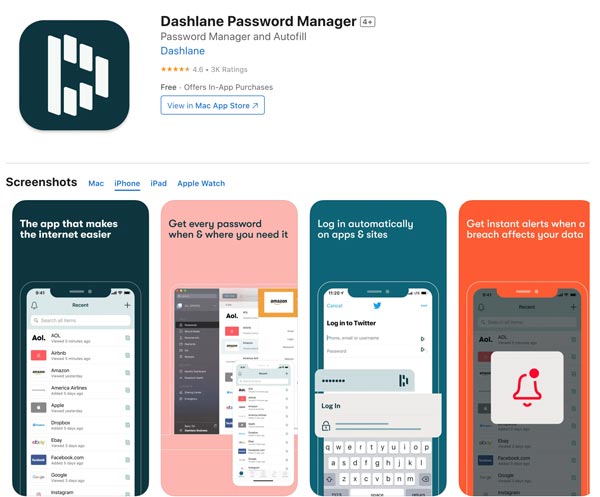 RoboForm Password Manager
RoboForm is a password management and form filler tool developed by Siber Systems. It lets you securely store and manage passwords and streamline online form filling. RoboForm password manager for iPhone offers quick and easy login to websites and applications. It saves time by automatically filling out online forms with related information, such as name, address, and payment details.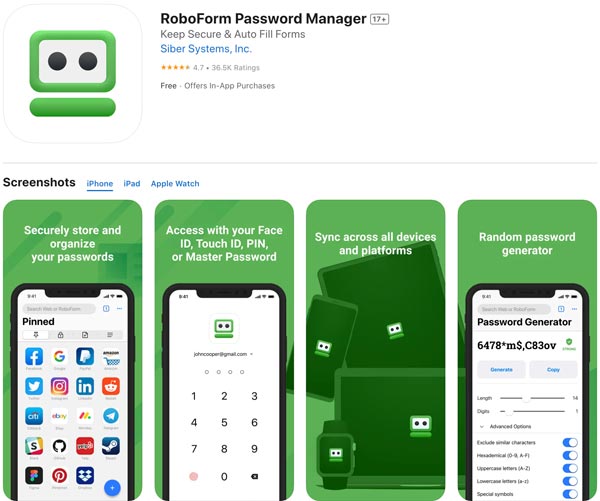 RoboForm lets you securely share passwords with others without revealing the actual password. You can use it on your Windows, macOS, iOS, and Android devices, and this tool supports popular web browsers. RoboForm password manager uses strong encryption algorithms to protect stored data and provides options for multi-factor authentication.
Part 2. Comparison of the Five Best iPhone Password Managers
After knowing the key features of the five best password manager apps for iPhone, we compare them through a chart, explaining their pros and cons.
iPhone Password Manager
Brief Intro
Pros
Cons
Price
imyPass
Specially-designed password management app for iPhone and iPad to manage all stored passwords
Support all iPhone passcodes, including Wi-Fi passwords, email passcodes, Apple ID passwords, iCloud Keychain passcodes, and passwords on websites and apps
Can't manage Android passwords
Free trial with basic features
1Password
Secure password storage, advanced encryption, 2FA support
Simple and intuitive interface, seamless integration across devices, excellent customer support
Some functionalities like auto-fill and browser extensions require third-party support
Re-prompt to save each of the latest entries
Try free for 14 days
LastPass
Advanced password generation, secure online storage, multi-platform syncing
User-friendly interface, robust security features, extensive compatibility
The free version lacks key features, occasional syncing issues
Offer a 30-day trial of Premium
Dashlane
Password auditing, digital wallet, auto-fill feature
Strong emphasis on security, user-friendly interface, cloud syncing capabilities
Limited free version features, occasional sync delays
Free trial with limited functions
Per seat/month costs $2
RoboForm
Cross-platform compatibility, password sharing, identity management
Intuitive interface, form-filling capabilities, affordable pricing plans
Limited password auditing features, lack of biometric authentication
The premium plan starts at $1.99/month
Besides the five iPhone password manager apps above, you can also try popular ones like KeePass, Enpass, Bitwarden, and NordPass. They offer similar features to manage your iPhone passwords with ease.
Part 3. FAQs of Best Password Manager for iPhone and iPad
Question 1. What is the best password manager app for iPhone?
Choosing the best iPhone password manager app depends on your needs and preferences. You can have a free trial of the recommended software above, then pick the one that suits your need best.
Question 2. Does my iPhone have a built-in password manager?
Yes. iPhones have a built-in password management tool called iCloud Keychain to store and sync all stored passwords. It helps to save and update all created passwords, passkeys, and other secure information among your Apple devices, including iPhone, iPad, and Mac. To enable iCloud Keychain on your iPhone, go to Settings, tap your iCloud name, choose iCloud, then select the Passwords and Keychain option. Find iCloud Keychain and turn it off. To turn on iCloud Keychain on a Mac, go to System Settings, click your Apple account name, and choose iCloud. Locate the Password & Keychain option and enable it.
Question 3. How to enable AutoFill for Safari on an iPhone?
Go to Settings, choose Safari, and tap AutoFill. Enable Use Contact Info and set up My Info settings based on your need.
Conclusion
By adopting a password manager app, you can enjoy the benefits of stronger and unique passwords, secure storage, and effortless logins, all while minimizing the risks of cyber threats. While each of the above iPhone password manager apps has strengths and weaknesses, the ultimate choice depends on individual preferences and requirements. Whether you prioritize simplicity, security, or affordability, a password manager is out there to suit your needs.