How to Delete Defaultuser0 Password on Windows 10 without Data Loss
What is the defaultuser0 account and password?
Defaultuser0 is a default system user profile before any user accounts have been created when Windows is setting up. In the first reboot after the Windows installation, the defaultuser0 account should be deleted automatically. There is no such a defaultuser0 password. Because the defaultuser0 account has been encrypted already.
What to do if you stuck with the defaultuser0 account password?
Generally speaking, you can reset the defaultuser0 password, delete the defaultuser0 user account and create a new account on your computer. If you don't want to reinstall your computer, you can follow the defaultuser0 password troubleshooting methods below.

Part 1: Reset Your Forgotten Windows Password
If you forgot a lengthy password, you can use imyPass Windows Password Reset to get into your locked computer. The program is capable to reset Windows administrator and standard user account without losing data, as well as the defaultuser0 password. By burning a bootable drive with simple clicks, you can remove the old password and create a new one from your Windows 10/8/7 computer.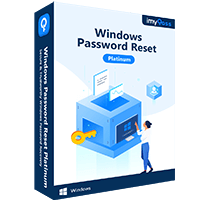 4,000,000+ Downloads
Reset a lost/forgotten password with no data loss.
Burn a Windows password recovery disk with CD/DVD drive or USB flash drive.
Create a new account without administrator access.
Support Windows 10/8/7/Vista/XP/Server computers with BIOS or Legacy mode.
Safe, clean, easy to use.
Part 2: How to Fix Defaultuser0 Password on Windows 10
If Windows 10 ask for a defaultuser0 password all the time, you can try the following methods to solve the problem.
Way 1: Reboot Computer to Bypass Windows 10 Defaultuser0 Password
Way 1: Reboot Computer to Bypass Windows 10 Defaultuser0 Password Restarting your computer is the foremost and easiest way to fix most Windows problems. You can reboot your Windows computer to bypass the defaultuser0 password. If your Windows stuck on the login screen, you can press the Power button continuously to force quit and restart your computer. Keep on restarting Windows until you can set up a custom account.
Way 2: Reset This PC to Troubleshoot Defaultuser0 Password
If Windows rebooting does not work, you can reset your computer to factory settings. Not only user accounts, but also installed apps and personal settings will be removed as well. Thus, you can remove defaultuser0 after the factory reset successfully.
Step 1Hold the

Shift

button on the keyboard. Meanwhile, click the

Power

option on the Windows login screen.
Step 2Keep pressing the

Shift

key. Click

Restart

on the computer screen at the same time. Don't release it until you access

Advanced Recovery Option

.
Step 3Choose

Troubleshoot

followed by

Remove Everything

to clean your Windows drive.
Step 4Now you can get into your computer without entering Windows 10 defaultuser0 password.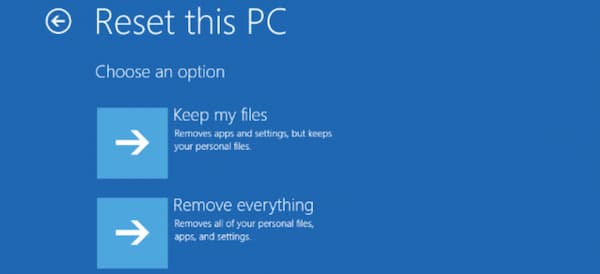 Way 3: Log into Safe Mode with Command Prompt to Solve Defaultuser0 Password Issues
You can troubleshoot defaultuser0 password issues with administrator privileges as well. Besides, you can create a new account by using Command Prompt after disabling the defaultuser0 password on Windows.
Step 1Click the on-screen

Power

option on the Windows login screen. You need to hold the

Shift

key simultaneously.
Step 2Meanwhile, click the

Restart

button to see

Advanced Recovery Option

.
Step 3Choose

Troubleshoot, Advanced Options, Startup Settings, and Restart.
Step 4Press

F6

or

6

on your keyboard to choose

Enable Safe Mode with Command Prompt

.
Step 5Choose

Administrator

if you are prompted.
Step 6If you want to create a new account, you can enter

net user <username <user password> /add

into the Command Prompt.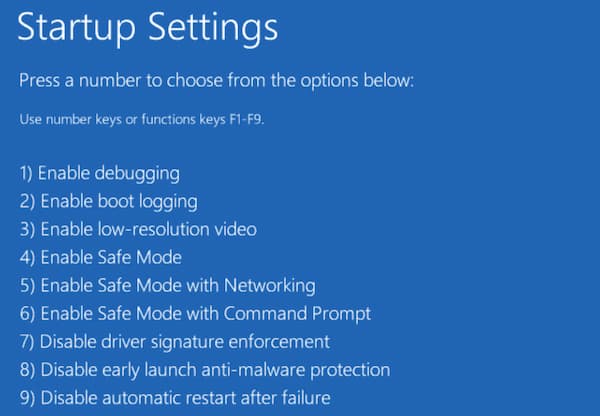 Way 4: Delete the Defaultuser0 Password Account
If you don't want to boot Windows in Safe Mode, you can delete the defaultuser0 profile with Control Panel too. Later, you can add a new user to your Windows computer.
Step 1Go to Windows

Control Panel

.
Step 2Choose the

User Accounts

option.
Step 3Click

Delete the Profile

to delete the defaultuser0 account on Windows.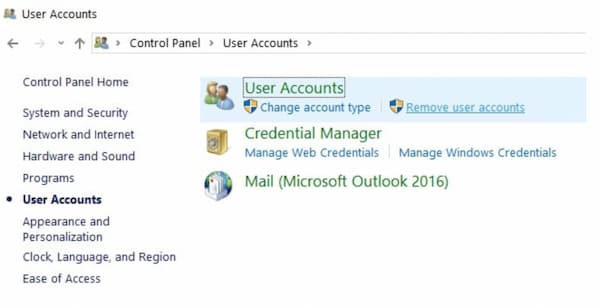 Part 3: FAQs of Defaultuser0 Password
Can you set the login password for defaultuser0?
Yes. Right-click on This PC option. Choose Manage, Local Users and Groups, and Users. From the defaultuser0 right-click menu, choose Set Password. Then click Proceed and enter the defaultuser0 password. Click OK to save changes.
Is it possible to hide the defaultuser0 account?
Yes. Choose Run as administrator from the Command Prompt right-click menu. Type net user defaultuser0 /Active:no in the Command Prompt. Press Enter on your keyboard to confirm. Later, you can sign in to your Windows computer without the defaultuser0 account and password.
How to bypass the new defaultuser1 account at start since the latest Windows update?
You can delete and hide the defaultuser0 account with the above troubleshooting methods. Or you can perform a system restore to completely reset your Windows computer to the previous state.
Conclusion
That's all to delete the defaultuser0 password on Windows 10 successfully. You can create a local and standard user account to manage system settings. If you forgot your Windows password, you can turn to imyPass Windows Password Reset for help. All kinds of Windows password forgotten issues can be solved perfectly.