How to Factory Reset an HP Laptop on Windows 10/8/7
Factory reset a PC can be an efficient and ultimate solution to fix those stubborn system issues and wipe all data for selling. The HP laptops are shipped with a recovery partition on Windows 7 and later OS versions. That feature can reinstall the operating system by preserving your personal data safely.
That's what you shall follow, 2 ways to factory reset an HP laptop step by step, even without a password.

Reset HP Laptop
Part 1. Why Do You Do a Factory Reset on HP Laptop?
There are various reasons for resetting an HP laptop to factory defaults, and they can be concluded as follows:
1. System errors. Windows get stuck in some system errors or application conflicts, and fail to work, like an audio driver cannot be installed, missing USB drivers, Windows white screen, etc. To fix such a Windows system error, a factory reset is a good solution.
2. Storage is full. An old HP laptop may collect different types of junk files on your hard drive, and the computer runs slowly. Cleaning up data and get more storage via resetting HP PC is a recommended way.
3. Sell your old HP laptop. When you want to sell an old HP laptop PC, factory reset is an ideal solution to wipe all the personal data and settings in it.
No matter why you want to factory reset an HP laptop, you can have a choice of 2 methods to do a reset on an HP laptop in the next parts.
There's only one caveat: Just backup all the important files on an external hard drive before resetting it, because resetting your HP PC can remove all the files on the hard drive.
Part 2. How to Factory Reset HP Laptop via Settings
How to Factory Reset HP Laptop with Password
If your HP computer loads correctly and you can log in to your PC, learn from this method to restore HP laptop to factory settings via Settings.
Step 1Search for

Reset this PC

and open it.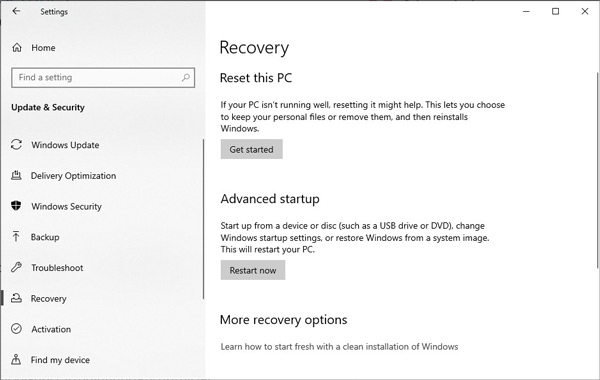 Step 2Click

Recovery

from the left pane, and click

Get started

under

Reset this PC

.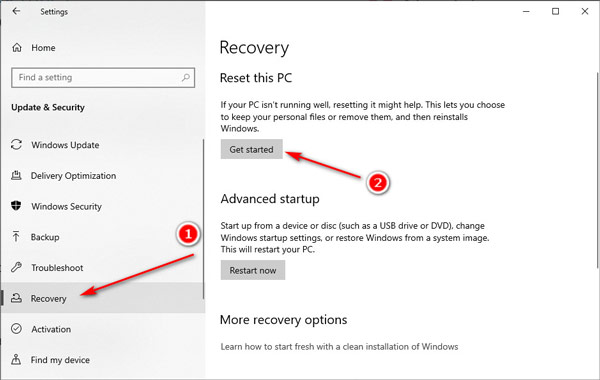 Step 3Choose your preferred method of resetting your HP from

Cloud download

or

Local Reinstall

.
A cloud download can download the latest Windows OS from Microsoft, but it needs an HP laptop with storage of over 32GB for more than 45 minutes to download. So, HP recommends you to select Local Reinstall.
Step 4Choose either of the options to keep or remove your files by clicking

Keep my files

or

Remove everything

.
Both options will remove all apps and drivers you installed, delete all the changes to settings and uninstall all HP apps that came preinstalled on your PC on Windows 10.
The only difference is whether it will keep your personal files intact or not.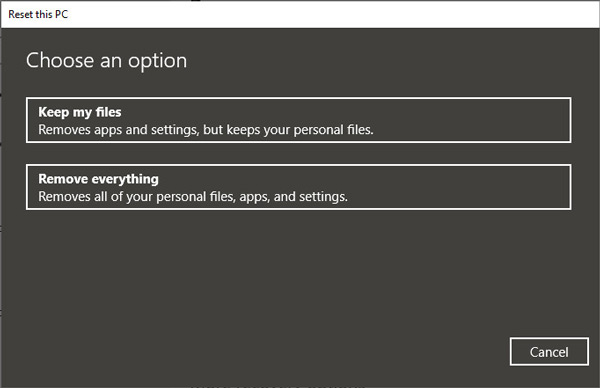 Step 5 Follow the on-screen instructions based on the option you made in the previous step and click Reset to start factory reset your HP laptop.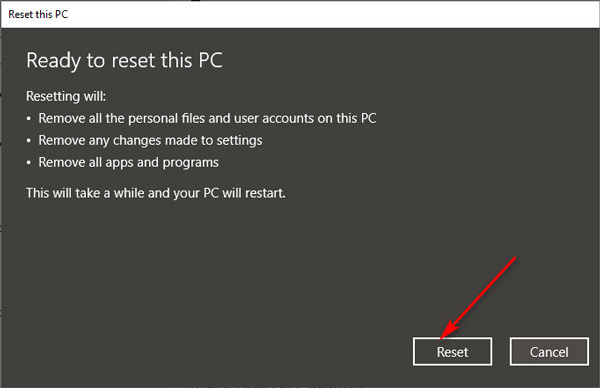 Then it will take some time to perform the HP reset, and your laptop will reboot after a successful reset.
How to Factory Reset HP Laptop without Password
If your HP computer loads correctly and you fail to log in to your PC because you forgot HP laptop password, follow this method to bypass the password login and reset an HP laptop to factory settings via Settings.
The key to resetting your HP laptop without a password is to remove or bypass the password login on a Windows computer. imyPass Windows Password Reset is the tool that can help you exactly.
imyPass Windows Password Reset is a professional Windows password bypass tool. It can remove any login password you set for Administrator or standard users on your Windows 10/8/7 computer. You can load your PC and access any data or settings on this PC. Moreover, it can create a new account to visit this PC without other users knowing. What's important, it is safe to use without erasing any data.
Follow the simple steps mentioned below to know-how.
Step 1Create a bootable disk from CD/DVD or USB drive
Download and run imyPass Windows Password Reset on an available computer.
It offers you 2 ways to create a bootable disk, CD/DVD drive and USB flash drive. You can choose either one.
Then insert a blank CD/DVD drive or USB flash drive into this computer for burning based on your plan.
Then choose Burn CD/DVD, or Burn USB as you wish.
Note: The USB drive will be formatted before the burning process starts. So, just backup all the data from the USB drive to other safe places.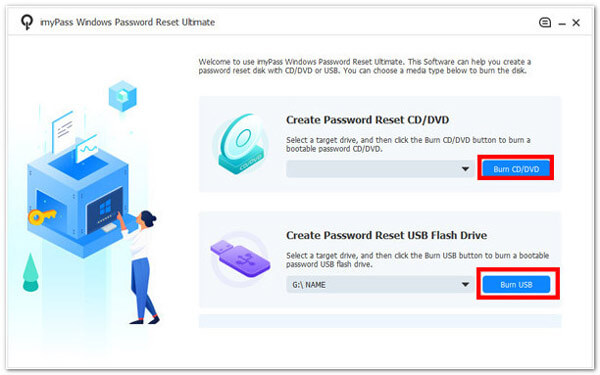 When the burning process is made well, just click OK, and take out your disk, and exit this software.
Step 2Boot your locked HP laptop
Plug the burned disk in step 1 into your HP laptop where you forgot the password.
Afterward, restart your HP laptop and press F12 on the keyboard to enter the Boot menu.
Then, use the arrow-down or arrow-up key to highlight your inserted burned disk.
After that, press Enter in the Boot Menu interface, save, and exit Boot Menu.
Your HP laptop will restart automatically.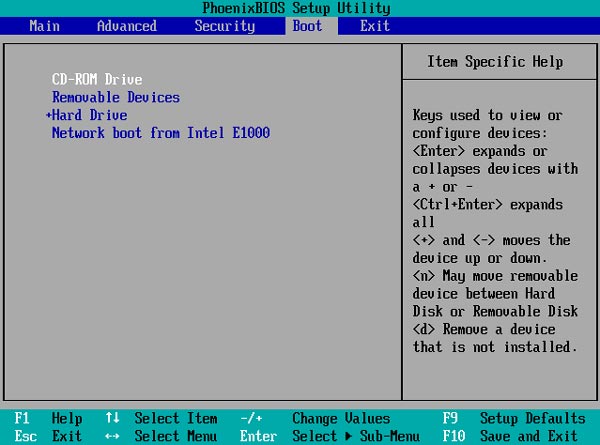 Step 3Remove forgotten password on HP laptop
Once your HP laptop reboots, the interface of this software will be loaded.
Select the operating system if you have installed more OS versions, and the user account under the Windows OS for your HP PC.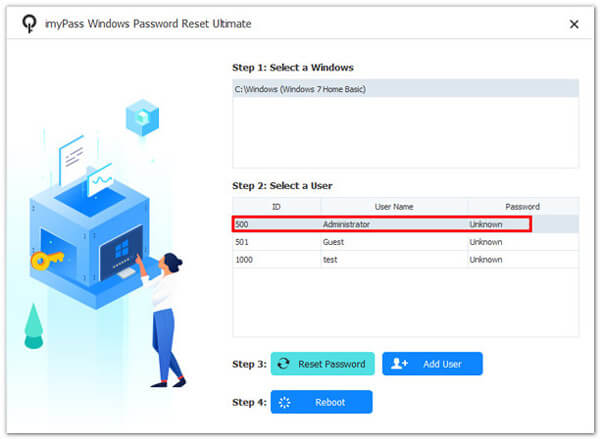 Then, click Reset Password and OK in the popup window to remove the current password and set it to be blank.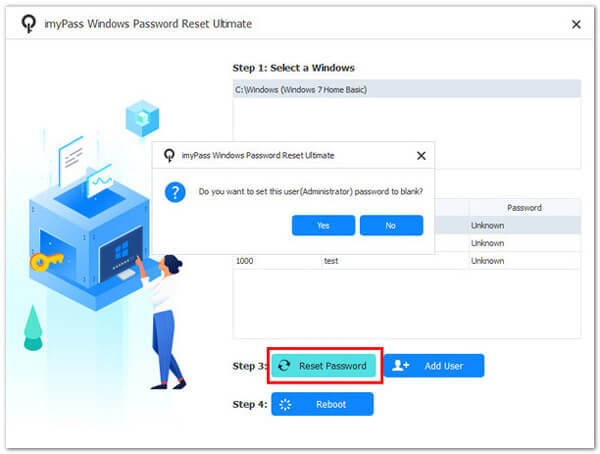 Finally, just eject the burned disk and reboot your HP laptop, and you can follow the steps above to factory reset the HP laptop.
Part 3. How Do You Factory Reset HP Laptop from Windows Recovery Environment
If your HP laptop gets a system error and cannot load or start correctly, just reset it from Windows Recovery Environment.
Windows Recovery Environment (WinRE) is a recovery environment that can repair common unbootable operations systems. By default, WinRE is preloaded into the Windows 10 and Windows Server 2016 installations.
Step 1Restart your HP laptop and immediately press the F11 key repeatedly until the

Choose an option

screen opens.
Then you will get a WinRE tools partition on either UEFI and BIOS-based devices based on your HP PC motherland.
Step 2Click

Troubleshoot

.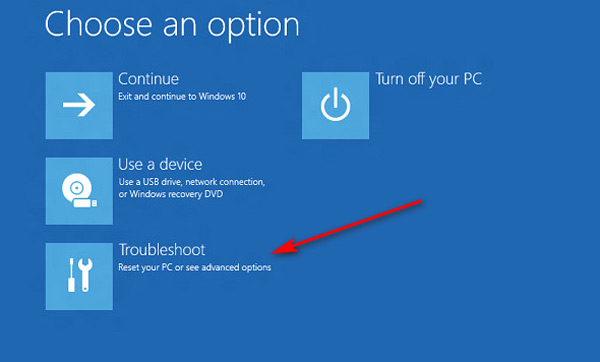 Step 3Click

Reset this PC

.
Step 4Repeat step 3 to step 5 in part 2 to choose the option to download the Windows OS, reset your HP laptop with keeping or removing your personal files and do a factory reset on the HP laptop.
Part 4. FAQs of Resetting HP Laptop to Factory Settings
How long does it take to reset an HP laptop to factory settings?
It will take you 1 hour to 3 hours. Once you are ready to reset an HP laptop, it will start downloading and reinstalling Windows OS automatically without any startup disc. Once you choose to download Windows OS from the cloud, the time may be longer once your Internet connection is not stable.
Is a hard reset the same as a factory reset?
No.
Hard reset or power reset clears all information from the computer's memory without erasing any personal data. Hard reset works in such cases as HP laptop not responding, a blank display, software freeze, un-responsive keyboards, external USB devices lock, etc.
Factory reset an HP laptop will reinstall your Windows operating system and delete all apps, clean drivers, wipe setting changes, and preinstalled applications on your laptop. When you want to sell an HP laptop or system crashes cannot load correctly, factory reset works.
Does a hard reset erase everything on HP laptop?
No. A hard reset will not erase any personal data on an HP laptop. It just cleans all information from the computer's memory by discharging the motherboard capacitors.
Is factory reset good for PC?
It all depends on your needs. A factory reset can help to fix many application errors and system issues. However, once your PC is problematic and you cannot make sure if you need a factory reset, just try some soft solutions like update Windows OS, restart the PC, re-install applications, etc. If all the soft actions you can try not working, factory reset a PC is the last soft solution you can try.
Conclusion
Factory reset an HP laptop is an efficient solution to fix system and application errors and wipe data for selling a PC. This page shows 2 methods to restore an HP laptop to factory settings via settings and Windows Recovery Environment. Even without a login password, you can easily reset an HP PC. What's more, you can try a hard reset to fix some common issues without a factory reset.
Do you like to reset an HP PC via Settings?
Or you may want to try to restore the HP laptop to the defaults from BIOS without logging?
Either way, let me know if you have any problems by leaving your comments.