How to Fix Windows 10 PIN Not Working Error
Nowadays many people choose to store and transmit important information through computers. It is necessary to set a password to protect computer privacy. Though Windows 10 has provided a 4-digit PIN, there are occasions when sign in with PIN is not available in Windows 10.
Some people also receive the message that reads, "Something went wrong and your PIN isn't available." Even though they have changed the PIN successfully, they still get the error message when login use the new PIN. How to fix it? In this article, we shall share 7 practical solutions to fix Windows 10 PIN not working issue. Let's read and explore.

Part 1. Common Solutions to Fix Windows 10 PIN Not Working
Solution 1. Choose I forgot my PIN option
If the PIN is not working in Windows 10, you can simply use "I forgot my PIN" option. You can reset the PIN when you've already signed in. Meanwhile, you need make sure your computer is connected to internet.
Step 1Click on the

Start

icon and choose

Settings

.
Step 2Click

Accounts

and select

Sign-in options

.
Step 3Navigate to the

Windows Hello

section and click

I forgot my PIN

.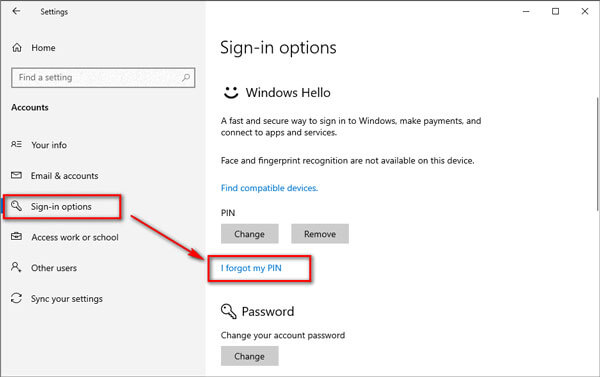 Step 4Follow the instructions to set up a new PIN. After that, you can reboot your Windows 10 computer and enter your new PIN again.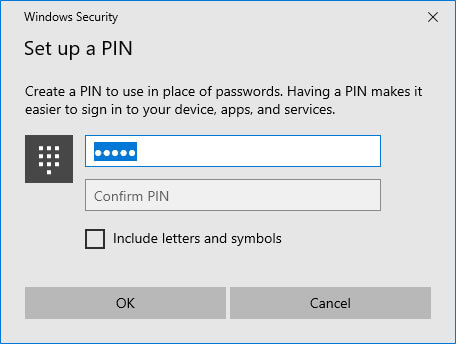 Solution 2. Choose Sign-in options from the login screen
If PIN not working in Windows 10, you might not log in it at all. To avoid the error, you can click on the Sign-in options. Then you can enter your Windows desktop by entering PIN sign-in or Password sign-in.
Solution 3. Use a Local User Account
The Windows 10 PIN not working error may caused by a corrupted user account. To fix the issue,
you can change your Microsoft account to a local account.
Step 1Open

Settings app

and select

Accounts

section.
Step 2Under

Your info

, click on

Sign in with a local account instead

.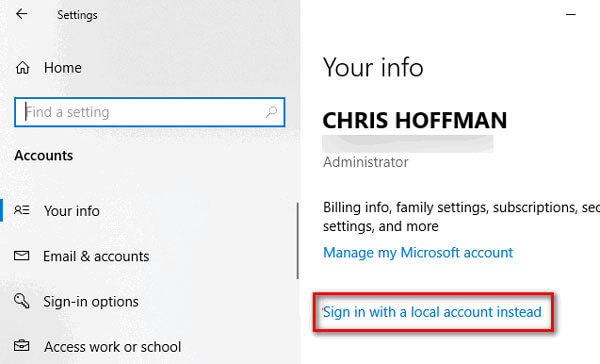 Step 3Then provide a new account and click on

Next

button.
Step 4Click

Sign out and finish

button to switch to a local account.
Solution 4. Change IPsec Policy Agent Startup Type
If Windows PIN not working after a latest update, you should follow the steps to change the Startup type of IPsec Policy Agent.
Step 1Press

Windows + R

keys. Type

services.msc

in the blank space and click

OK

button.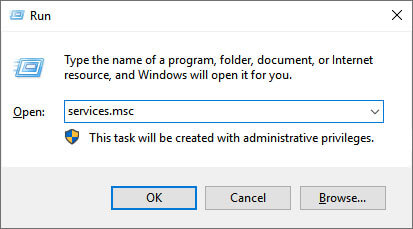 Step 2A list of services will show up. You can select

IPsec Policy Agent

, and double-click it to open the

properties

.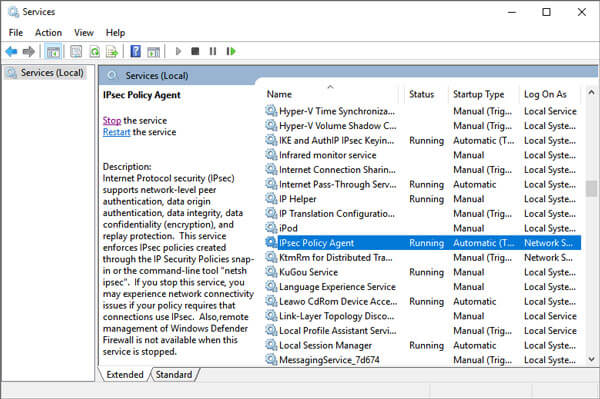 Step 3Select the

Startup type

to

Automatic

. Click

OK

to apply the changes.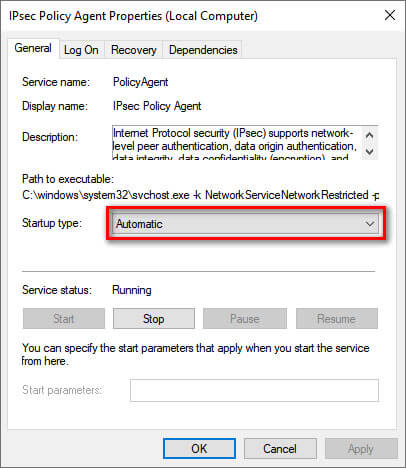 Solution 5. Delete everything in NGC folder
Still unable to remove the login PIN. Here you are advised to delete NGC folder content to reset your Windows 10 PIN. Then you will be able to add a new PIN as you like.
Step 1Press

Windows + E

to open Windows Explorer.
Step 2Click

View

from the top of Windows Explorer, and check

Hidden items

option in

Show/Hide

section.

Step 3Go to the path:
C:WindowsServiceProfilesLocalServiceAppDataLocalMicrosoftNgc. Hold and press Ctrl + A keys to select all files and folders. Select Delete to move all files in Ngc folder.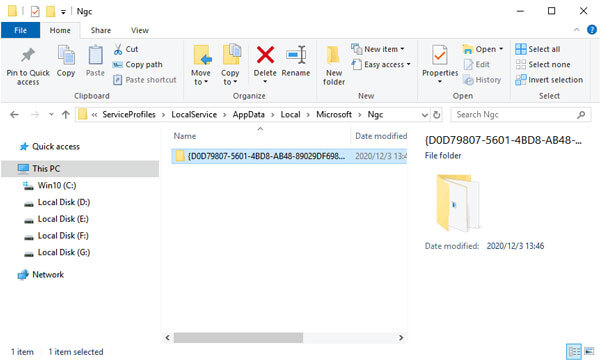 Once you have finished the deletion, you can go to Settings > Accounts > Sign-in Options > Add PIN to set up a new PIN for Windows 10.
Solution 6. Uninstall the Antivirus
Antivirus can cause Windows 10 PIN not working error. So it is suggested to uninstall antivirus software from your Windows computer. There are so many antivirus uninstaller you can have a try like Revo Uninstaller, IOBit Uninstaller, Advanced Uninstaller Pro and more.
Solution 7. Remove Windows 10 PIN with Windows Password Reset
Still can't solve Windows PIN login not working issue? Luckily, you can reset Windows login PIN and password with imyPass Windows Password Reset. It helps remove Windows PIN for the Admin account and Standard account on Windows 10/8/7. This Windows PIN remover guarantees all the Windows PIN or password removal can be done safely without losing any data on Windows computer.
Step 1Create a bootable disk
Free download, install and run imyPass Windows Password Reset on your Windows 10 computer. You can insert a blank disk or a USB flash drive into the computer and burn a bootable disk. Then choose Burn CD/DVD or Burn USB according to your need.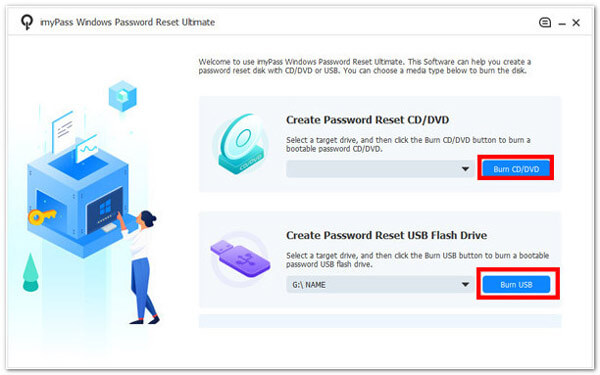 Click OK when the burning process is finished, and exit the software. If you use a USB flash drive, it will format the USB drive. So remember to back up data before burning.
Step 2Boot locked Windows 10 PC
Put the burned disk into the locked Windows 10 computer with a forgotten login PIN. Restart your Windows computer and press F12 or ESC to enter the Boot menu.
Highlight the inserted disk and press Enter in the Boot Menu interface. Save and exit the Boot Menu, and your Windows 10 computer will reboot automatically.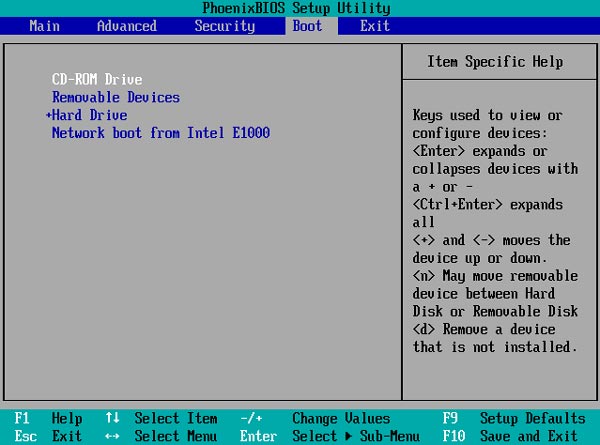 Step 3Remove forgotten Windows 10 PIN
If you have installed several OS versions, you can select the operating system that you want to reset the password.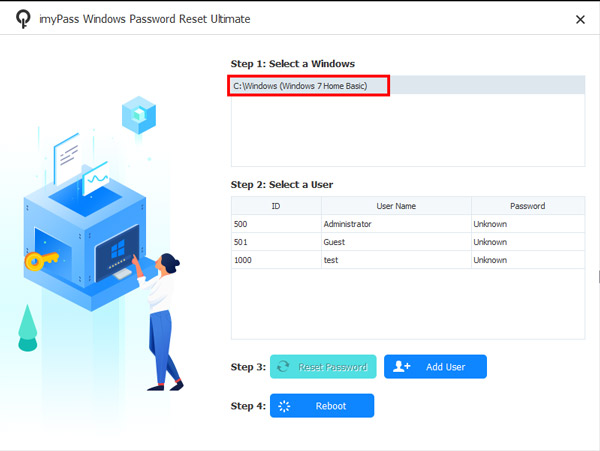 Click the user account that you want to reset the Windows PIN.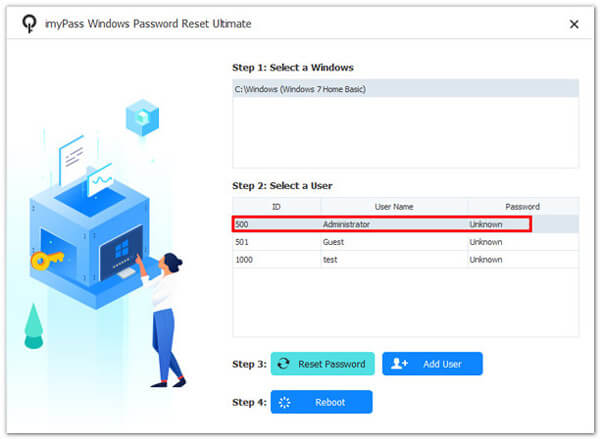 Click Reset Password and click OK to confirm the option. After that you can eject your burned disk and restart your computer.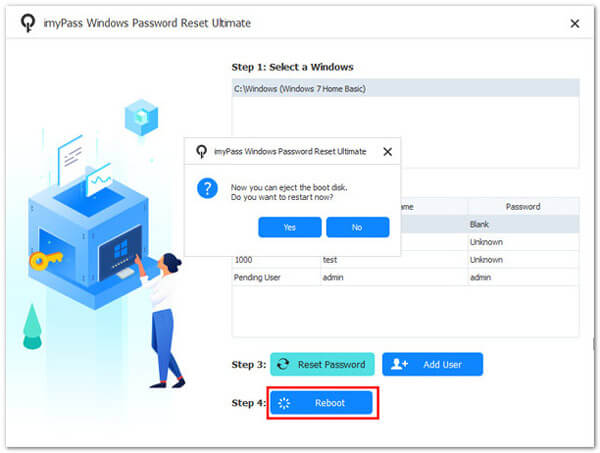 After that, you can create a new Admin account, set up a new PIN and restart your Windows computer.
Part 2. FAQs of Windows 10 PIN Not Working
1. Does Windows 10 have safe mode?
Windows 10 offers two versions of safe mode: Safe Mode and Safe Mode with Networking.
2. How do I log into Windows 10 without a PIN?
If you have set up a password besides a PIN, you can click Sign-in options, select and enter the Password to unlock your Windows 10 computer without a PIN.
3. What is the default PIN for Windows 10?
There is no default PIN for Windows 10. However, you can set up a 4-digit PIN for your Windows 10 computer.
Conclusion
This article have listed full tips to fix Windows 10 not working error. If you forgot Windows 10 PIN or password, you can use the powerful imyPass Windows Password Reset. Any problems you want to discuss, you can leave them in the comment area.