4 Ways to Bypass Windows 10 Password with High Success Rates
The Windows login screen can protect your computer from unauthorized use. You need to enter the correct Windows 10 login password to run this computer properly. However, many people are locked out due to the forgotten or lost Windows 10 password. What you can do to bypass the forgotten Windows 10 login credentials? Here're 2 workable Windows 10 password bypass methods you can use.
Moreover, if you want to resell or give away your old Windows 10 computer, it is also necessary to disable Windows 10 login screen and lock screen. Is there any way to remove the login password and account from Windows 10? Of course, the answer is Yes. You can also get 2 detailed ways to bypass and turn off Windows 10 passwords with ease.

Bypass Windows 10 Password
Part 1: Forgot Password – Get 2 Ways to Bypass and Reset Windows 10 Password
If your computer is locked out, you need to bypass the password on Windows 10 by resetting it. You can use a pre-made Windows 10 password reset disk to remove Windows 10 admin password. Or you can bypass forgotten passwords with third-party Windows 10 password reset software.
Way 1: Bypass Windows 10 Password by Burning a Bootable CD/DVD/USB Drive
imyPass Windows Password Reset allows users to bypass, reset, and change Windows login password and other types of passwords directly. Even though you are locked out of a Windows 10 computer, you can burn a password reset disk or drive it on a normal computer. Later, boot your locked Windows 10 computer with this burned password reset tool. You can bypass the Windows 10 password from the login screen with the highest success rate.
1. Reset and change the forgotten Windows 10 password on all computer brands.
2. Burn a Windows 10 password reset USB drive and CD/DVD according to your purchase plan.
3. Create a new administrator account for Windows 10 with several clicks.
4. No command lines and other complicated operations.
Step 1On your normal computer, launch imyPass Windows Password Reset after the installation. Register the software with the email address and registration code.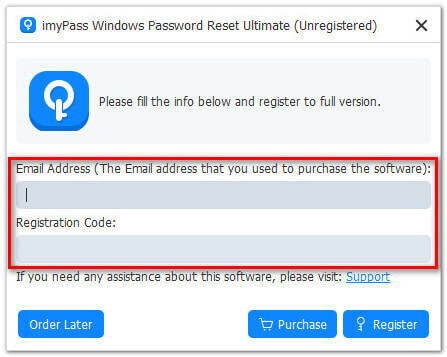 Step 2Choose between

Create Password Reset CD/DVD

and

Create Password Reset USB Flash Drive

based on your plan. Click the

Burn CD/DVD

or

Burn USB

option. Later, insert a blank CD/DVD or USB drive into your normal computer. After the burning process, click

OK

and take out the burned disk.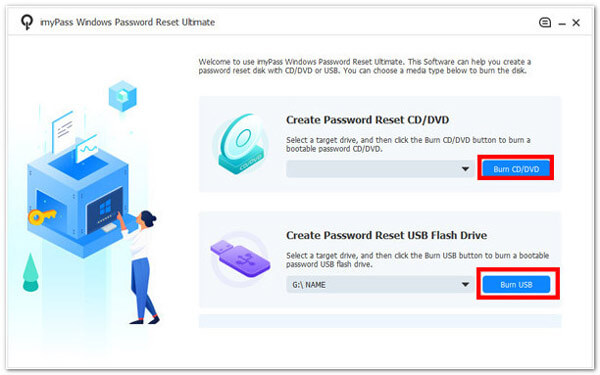 Step 3Go back to your locked Windows 10 computer. Insert the burned disk or drive into it. Restart your computer and press

F12

or

ESC

on the keyboard. In the

Boot Menu

screen, highlight your inserted drive or disk from the list. Press the

Enter

key. Later, save it and exit

Boot Menu

. Your computer will restart automatically.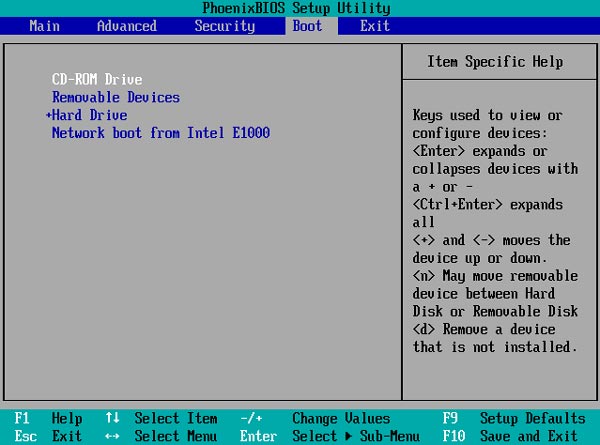 Step 4Choose the Windows 10 operating system. Select your admin account for Windows 10 password bypass. Click

Reset Password

and

OK

to confirm. After unlocking your computer, eject the password reset disk. Reboot your unlocked Windows 10 computer. Now you can make further changes.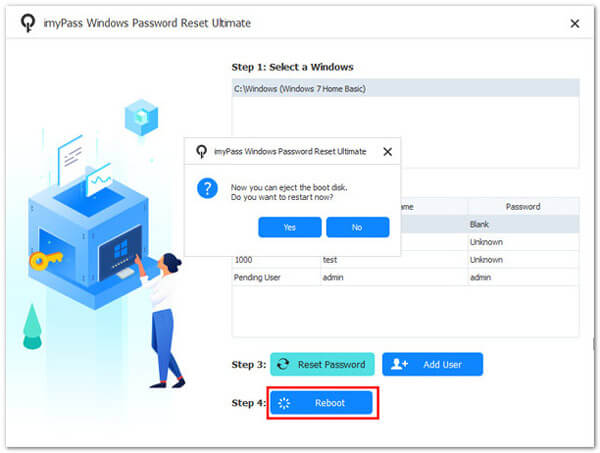 Way 2: Bypass Windows 10 Password with an Existing Password Reset Disk
If you have a password reset disk, you can remove the forgotten Windows 10 password directly. Just insert the disk into your locked Windows computer. Later, you can follow the Password Reset Wizard to reset your Windows 10 password successfully.
Step 1Put the password reset disk into your computer. Click the

Reset Password

link on the Windows 10 login screen.
Step 2The

Password Reset Wizard

window pops up. Browse and select your inserted password reset disk.
Step 3When you are prompted with a new password, click

Next

and

Finish

instead of typing anything.
Step 4Exit the Windows 10 password reset wizard.
Step 5Reboot your computer. You can find that the Windows 10 login password screen disappears.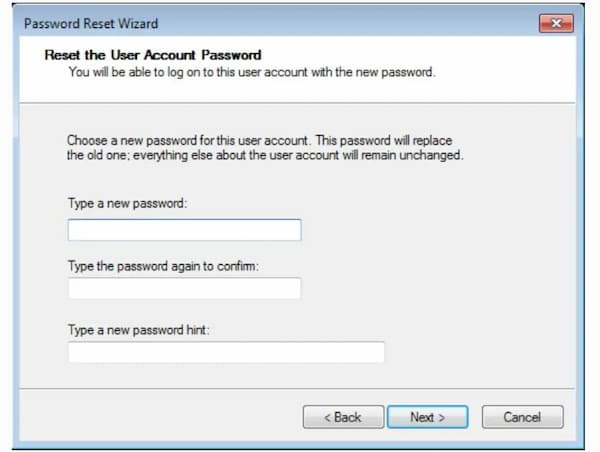 Part 2: Remember Password – Get 2 Ways to Bypass Windows 10 Password without Software
If you can sign in to your Windows 10 account, you can bypass Windows 10 password without resetting or erasing it. It will be much easier to disable the password feature in Windows 10.
Way 1: Bypass Windows 10 Password Login Screen with Netplwiz
There is an option called Users must enter a user name and password to use this computer. You can uncheck this option to bypass Windows 10 login screen and password.
Step 1Power on your Windows 10 computer. Sign in to the account with the correct password.
Step 2Hold and press the

Windows

and

R

keys at the same time to open the

Run

box.
Step 3Type

netplwiz

into the blank box. Then press

Enter

to move on.
Step 4Go to the

User Accounts

dialog. In the

Users

section, select your admin user account for Windows 10 login.
Step 5Find and uncheck

Users must enter a user name and password to use this computer

.
Step 6Fill in the chosen user password. Click

OK

to confirm. Now you can access the Windows 10 computer directly after rebooting.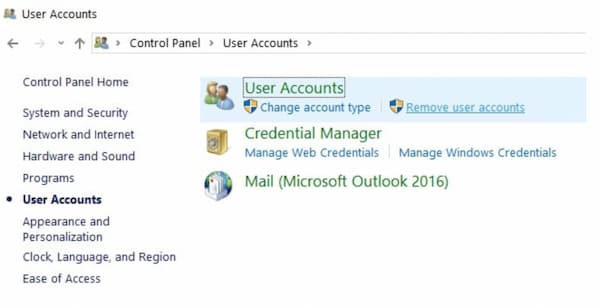 Way 2: Bypass Windows 10 Password in PC Settings
If you have an available administrator account, you can get one more solution to bypass Windows 10 password without a disk. To be more specific, you can go to PC Settings to turn off Windows 10 password manually.
Step 1Sign in to your Windows 10 account. Find and go to PC settings.
Step 2Choose the

Accounts

option. In the section of

Sign-in options

, click

Change

under

Password

.
Step 3Type the current password in the

Change your password

screen. Click

Next

to continue the process.
Step 4Bypass the

New password, Reenter password,

and

Password hint

options. Click

Next

followed by

Finish

. Now you can bypass Windows 10 login with a password.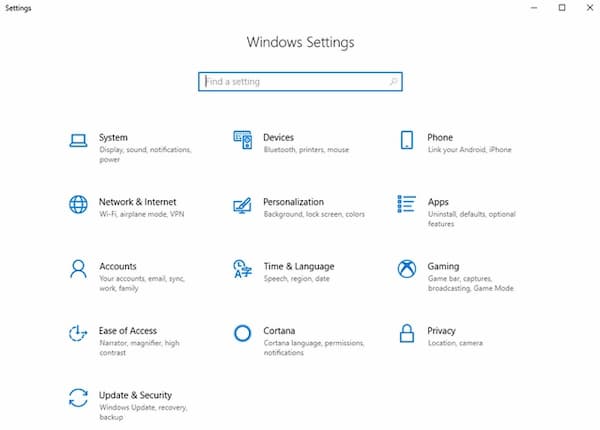 Part 3: FAQs of Bypassing Windows 10 Password
How to bypass Windows 10 password with Command Prompt?
Find Command Prompt from the Windows list. Choose Run as administrator from the right-click menu. Type
move d:windowssystem32utilman.exe d:windowssystem32utilman.exe.bak
copy d:windowssystem32cmd.exe d:windowssystem32utilman.exe into Command Prompt. Later, use the wpeutil reboot command to restart your computer.
Can you bypass Windows 10 password using an Android phone?
Yes. First of all, your Android phone should be rooted. Later, you can run WPGenius to reset and bypass Windows 10 password remotely. Go to the Phone section and choose the Mount option. Connect your Android phone to the Windows 10 computer. Enable USB debugging from Android Settings. Choose Media device (MTP). Press F12 while rebooting your Windows 12 computer. Choose WPGenius and follow the on-screen instruction to bypass Windows 10 login password by Android phone.
How to bypass Windows 10 password through BIOS?
Power on your computer. Enter the BIOS password continually. When you are locked out, you can see a System Disabled notification with a number. Write down the code on your phone or notebook. Visit the BIOS password website on your phone or normal computer. Enter your code and choose Get password. Enter the copied password to access BIOS.
That's all to bypass Windows 10 passwords in different aspects. No matter you forgot the password or not, you can use the above methods to disable and remove the password on Windows 10 successfully. Thus, you can unlock a locked Windows 10 computer by yourself. If you still have questions about Windows 10 password bypass, you can leave messages in the comments below.