4 Ways to Unlock HP Windows 10/8/7 When You Forgot HP Laptop Password
If you are locked out of your HP laptop, you cannot use this computer normally. Password forgotten is the common cause of HP laptop and desktop not working. What to do to unlock a computer when you forgot your HP laptop password? Don't worry about that. You can try the following HP laptop password unlocking methods here.

Part 1: 2 Ways to Reset HP Laptop Forgotten Password Safely
Here're 2 easy ways that can remove and reset HP password on Windows 10/8/7 if you forgot it. All your original HP files and settings are safe. You can unlock an HP laptop while preserving all stored data.
Way 1: Forgot HP Laptop Password? Here Is Your Best Solution
imyPass Windows Password Reset is capable to reset Windows admin and standard user password. Almost all laptop and desktop brands are supported. Thus, you can reset the HP laptop administrator password without losing data. No matter you are logged out of an HP laptop, forgot HP login password, or forgot HP administrator password, you can crack the original password successfully.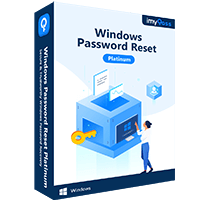 4,000,000+ Downloads
Reset the forgotten HP laptop password with a bootable CD/DVD and USB flash drive.
Create a new Windows account after removing the password without lagging.
Compatible with Windows 10/8.1/8/7/Vista/XP/Server.
Guarantee a 100% success rate for HP laptop forgot password.
Step 1Launch the HP password reset tool on your normal computer. To create an HP password reset disk, insert a blank CD/DVD/USB into your computer. Then click

Burn CD/DVD

or

Burn USB

based on your purchase plan. After the burning process, click

OK

and eject the burned disk.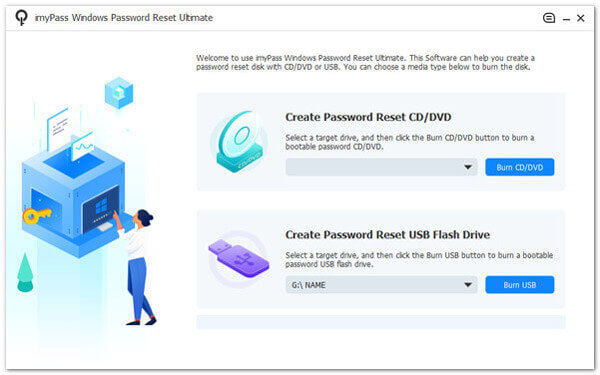 Step 2Power on your locked HP laptop. Press

F12

or

ESC

on the keyboard. In the

Boot Menu

, select your inserted CD/DVD or USB drive. Then press

Enter

to save.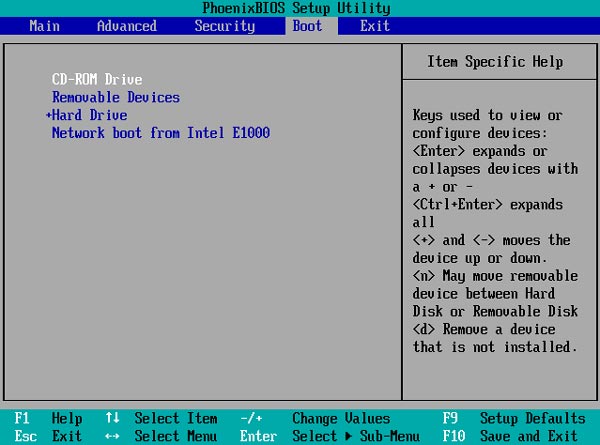 Step 3After rebooting your HP laptop, select the Windows operating system. Choose the user account that you want to reset the forgotten HP password for.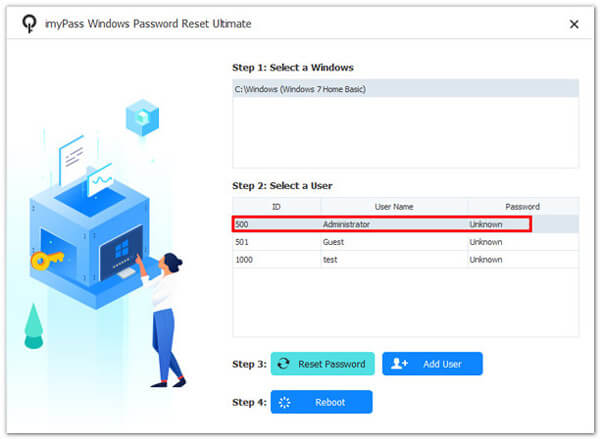 Step 4Click

Reset Password

and confirm in the popping-up window. At last, eject your burned disk and reboot your computer. You can use your HP laptop without entering the password.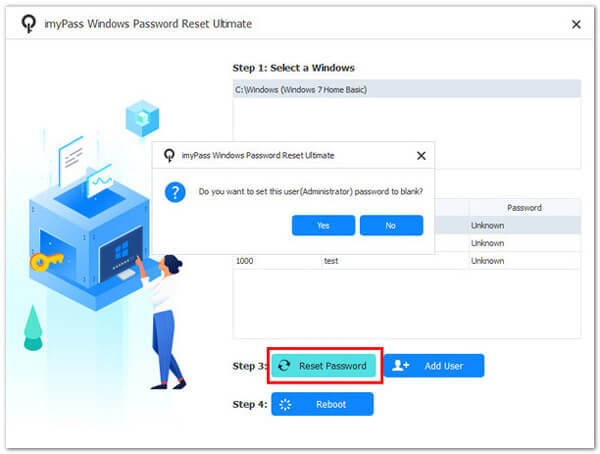 Way 2: Unlock HP Laptop Forgot Password with Super Administrator Account
SVC (Super Administrator Account) is a hidden feature for Windows 10/8.1/8. If you forgot the HP laptop password on Windows 10 and Windows 8.1/8, you can get out of your locked HP account.
Step 1Reboot your HP laptop.
Step 2In the HP login screen, press the

Shift

key 5 times.
Step 3After activating the SVC account, go to

Control Panel

.
Step 4Find your locked HP user account in the

User Profile

.
Step 5Modify the HP laptop password and reboot it.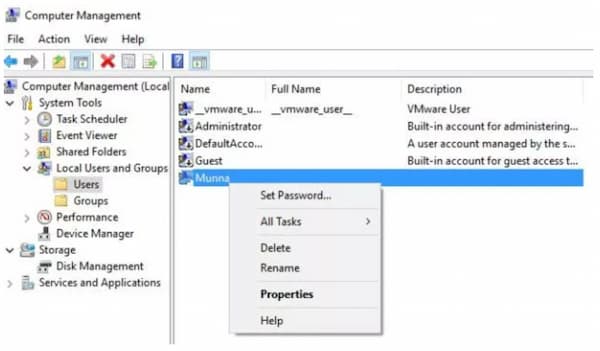 Part 2: 2 Ways to Remove Password on HP Laptop (Lose Data)
If you don't mind losing the previous HP files, you can get 2 more HP password-removing tools.
Way 1: Unlock HP Laptop Forgotten Password with HP Recovery Manager
HP Recovery Manager is a default program for every HP laptop. You can refresh the hard drive and remove the password on your HP laptop with ease.
Step 1Power off and on your HP laptop.
Step 2Tap

F11

on your keyboard continuously to get

HP Recovery Manager

.
Step 3Choose a certain recovery manager.
Step 4Continue the process and choose

System Recovery

.
Step 5Follow its wizard to remove the password from a locked HP laptop.
Way 2: Wipe Forgotten HP Laptop Password via Factory Reset
By factory resetting an HP laptop, you can remove all files from the primary partition. Thus, you can factory reset an HP laptop to remove the forgotten password.
Step 1Reboot HP. Tap

F11

continuously during the HP laptop rebooting.
Step 2Choose

Back up your files first

followed by

Next

.
Step 3Wait for a while to complete the HP laptop factory reset process.
Step 4Your HP laptop will be empty. Meanwhile, this HP laptop is unlocked.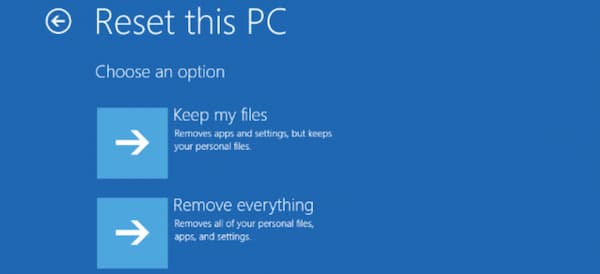 Part 3: FAQs of Forgetting HP Laptop Password
Can you remove the forgotten administrator account password?
Yes. You can use imyPass Windows Password Reset to find and reset a locked administrator account on Windows 10/8/7. Your computer can stay safe. All your HP files and customized settings will not be erased.
How to remove the forgotten HP laptop password with Password Reset Wizard?
If you have created a password reset disk before, you can unlock your HP laptop with a disk easily. Put the password reset disk into your HP laptop. Type any character in the password field. Press Enter followed by OK. Click Reset password and run Password Reset Wizard to unlock an HP laptop or computer.
Can you use another admin account to reset the password on an HP laptop?
Yes. You can fix the locked admin account with other available ones on your HP laptop. Open Windows Control Panel first. Choose User Accounts followed by Manage Another Account. Select the locked HP account. Click Change the Password to change the password for HP.
Conclusion
That's all to remove and reset the HP laptop password. Thus, calm down if you forgot your HP laptop password. You can use third-party and default computer unlock tools to remove the old password. As a result, you can get into the locked HP computer without entering the password. Be aware that HP Recovery Manager and factory reset will erase all Windows data. You had better make a backup in advance. Or you can run imyPass Windows Password Reset to unlock HP Windows 10/8/7 without losing data.