5 Ways to Hack Password on Windows 10/8/7 with High Success Rate
Due to password protection, you cannot get into a locked computer with an incorrect Windows password. Even though you have used this computer for years, you still need to enter the password to access your own computer. However, what if you forgot the old Windows computer password? Is it possible to unlock a computer without a password? Fortunately, you can get 5 Windows password hack methods here. This article would show you how to crack a Windows computer if you forgot or lost it. Just read and follow.

Part 1: Best Windows Password Hack Software
If you have no technical background, it is suggested to use imyPass Windows Password Reset to hack passwords on your Windows computer. By following its on-screen instruction, you can burn a bootable password reset disk, remove the old Windows password and create a new one in clicks. There is no need to type command lines or perform complicated operations. You can hack Windows passwords without losing data on any laptop and desktop with ease.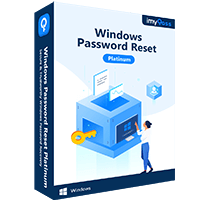 4,000,000+ Downloads
Reset login and administrator password with no data loss.
Make a CD/DVD or USB flash drive boot within minutes.
Create a new account after a password hack on Windows.
Crack password on Windows 10/8.1/8/7/XP/Vista/Server.
Wide support of Windows computer brands, which are equipped with BIOS and legacy mode.
Step 1Free download, install, and launch the best Windows password reset software on a normal computer. According to your purchase plan, click

Burn CD/DVD

or

Burn USB

to burn a password reset disk. Insert a blank CD/DVD or USB drive into your computer. Eject it after the burning process.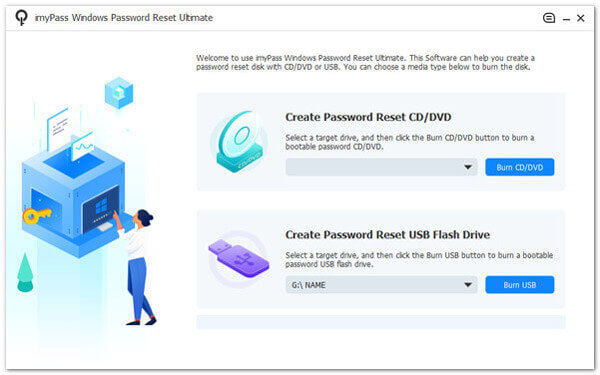 Step 2Power on your locked Windows computer. Press

F12

or

ESC

to enter into

Boot Menu

. Select your inserted Windows password hack disk or drive with the arrow up or down key on the keyboard. Press

Enter

to move on. Then save changes and exit Windows

Boot Menu

.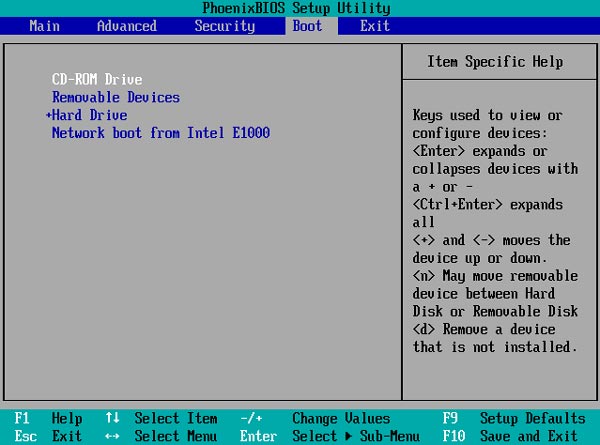 Step 3After Windows rebooting, select the Windows OS. Then choose a Windows user account that you want to hack password. Click

Reset Password

followed by

Yes

to hack Windows 10 password, as well as other Windows operating systems.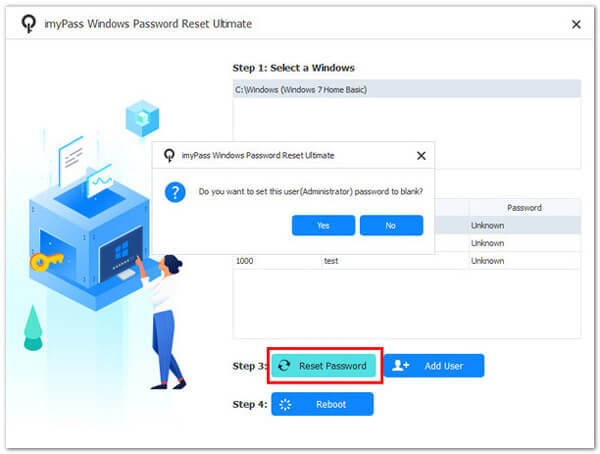 Part 2: Hack Windows Password with CMD
Command Prompt is a common Windows password reset and remove tool. You can hack administrator passwords on Windows by using CMD. Be Command Prompt won't show you the old Windows password. You can reset and hack the forgotten Windows password with the following steps. Make sure your computer is accessible with administrator privileges.
Step 1Press

Windows

and

X

keys on the keyboard. Then choose

Command Prompt (Admin)

.
Step 2Click

Yes

from the popping-up UAC dialog. Thus, you can use Command Prompt as administrator on Windows 10.
Step 3Type

net user <username> <password> to

hack the local administartor password.
Step 4You can enter the following commands to create a new administrator account on Windows 10.
net user <username> /add
net localgroup administrators <username> /add
Part 3: Reset Your PC to Hack Windows Password
When you are stuck on the Windows login screen, you can hack your Windows password and reset your computer to an earlier state. You can keep your files or remove everything during the Windows 10 password hack process.
Step 1Boot your computer into the Windows installation setup screen. Click

Next

to move on.
Step 2Choose

Repair Your Computer, Troubleshoot

, and

Reset this PC

options.
Step 3Your apps and settings will be removed. But you can choose an option whether to preserve your personal files or not.
Step 4Power on your computer. Now you can see whether you can get into your computer without a password.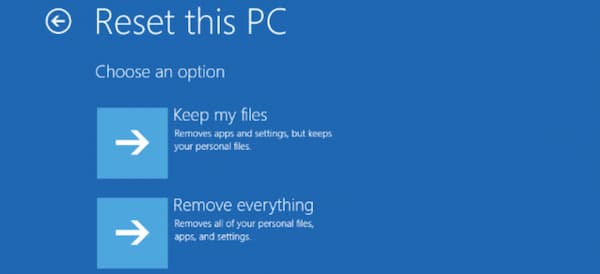 Part 4: Use Another Admin Account for Windows Password Hack
If you have other administrator accounts with privileges, you can hack password for your Windows account as well. Otherwise, you can move on to other hack Windows account password solutions.
Step 1Reboot your computer. Switch to the other administrator account.
Step 2Right-click on the

Start

option. Choose

Computer Management

.
Step 3Find and click

Local Users and Groups

to access all Windows admin accounts.
Step 4Right-click on the password forgotten Windows account. Click

Set Password

and type a new account password.
Step 5Now you can hack your old Windows password and create a new account password on your computer.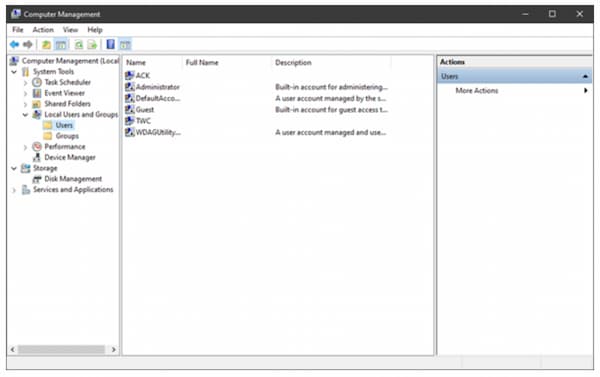 Part 5: Hack Password with Microsoft Password Reset Page
For people who have linked the Microsoft account to your Windows PC, you can unlock a computer without the forgotten password. The Microsoft password recovery page can help you hack password on Windows 10 successfully.
Step 1Visit the Microsoft account live website. In the

Recover your account

dialog, fill in your email, phone, or Skype name. Click

Next

to move on.
Step 2Verify your identity and click

Next

to continue the Windows password hack.
Step 3Reset your password with an 8-character minimum twice.
Step 4Click

Next

and then sign into your computer with a new password. The original Windows password can be bypassed.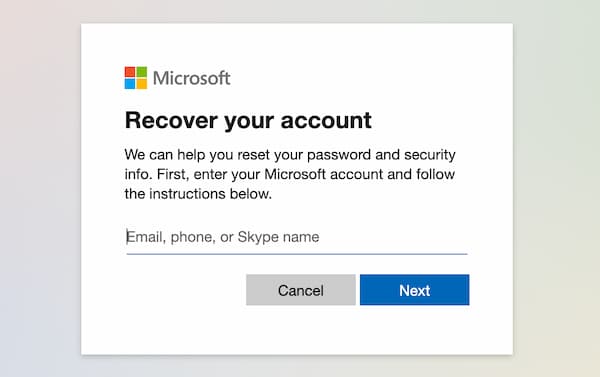 Part 6: FAQs of Windows Password Hack
Can you hack Windows password with sticky keys?
Yes. You can hack Windows local account password by sticky keys, such as Ctrl, Alt, and Delete key combinations. However, it takes too much time to hack into Windows 10 and remove the password.
How to restore your computer to an old password?
Make sure System Restore has been activated before. Boot your computer with the original Windows installation disc. After loading the disc, confirm the OS details and choose Next. Select Troubleshoot followed by System Restore. Hover your current Windows user account in the System Restore window. Enter credentials and click Continue to move on. Follow its wizard to hack Windows password without CMD.
Can you hack Windows 7 password with sethc.exe?
Yes. Sethc.exe is the program for Windows sticky keys. You can rename sethc.exe to cmd.exe to hack the old account password and set up a new account.
That's all to hack Windows passwords with or without software. You can use the ultimate Windows password reset tool or default password removal programs to get into a locked computer. The Windows unlocking success rate ranges from the highest to the lowest. Therefore, imyPass Windows Password Reset is your solution. You can bypass the forgotten Windows password without reinstalling or resetting. All your files and pre-installed programs are safe. Even though it is the first time you crack Windows passwords, you can handle this by yourself in a short time.
Conclusion
Considering different Windows password hacking scenarios, you can get 3 different Windows unlocking plans. The 30-day money back guarantee is your 100% risk-free choice. If you fail to hack and break Windows passwords on any computer, you can contact technical support for help. Just free download the password hacker software and have a try right now. If you have any other questions or suggestions about password hacking on Windows, you can feel free to contact us. It is also welcomed to leave messages in the comments below.