Top 5 Windows 10 Password Crackers to Hack Windows without Password
If you forgot your Windows 10 password, you can't log into your Windows computer. There is nothing you can do but crack the Windows 10 password. During this time, you can use third-party Windows 10 password cracker software or default Windows admin password removing tools. No matter which Windows 10 password hacking method you choose, you can get the detailed information here.

Part 1: Top 5 Windows 10 Password Cracker Software
Windows 10 password reset tools can bring higher success rates. If you lost the Windows 10 login password, you can get professional help from the following recommendations. Here're the top 5 paid and free Windows 10 password cracking software. Just read and get your best Windows password recovery tool.
Top 1: imyPass Windows Password Reset
If you are looking for an ultimate Windows password cracker, imyPass Windows Password Reset can be your first choice. You can break administrator password on your Windows 10/8/7/Vista/XP and earlier versions, as well as other user passwords. There are 2 Windows password resetting methods. You can burn a password reset CD/DVD or USB drive to get into Windows without a password. all Windows workstations are supported. Thus, you can recover Windows 10 passwords on almost all desktops and laptops.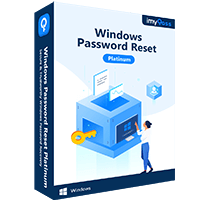 4,000,000+ Downloads
Reset and change the forgotten Windows 10 administrator and other user passwords.
Create a new administrator account after Windows 10 password cracking.
Provide 3 editions for different Windows 10 administrator password forgotten and not working issues.
Compatible with the most popular Windows systems and workstations.
Clean, safe, and easy to use.
Step 1Free download, install and launch imyPass Windows Password Reset on a normal computer. Enter the registration code to fully access the password cracker software for Windows 10.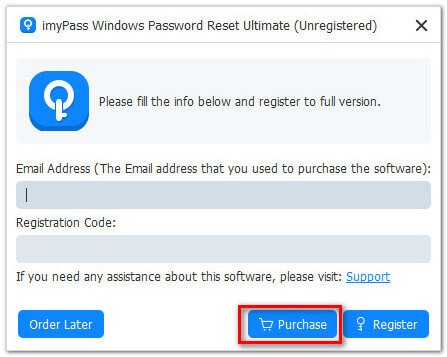 Step 2Choose between Create Password Reset CD/DVD and Create Password Reset USB Flash Drive based on your purchase plan. Later, click Burn CD/DVD or Burn USB. Insert a blank CD/DVD or USB drive into your normal computer. After the burning process, click OK and take out the burned disk.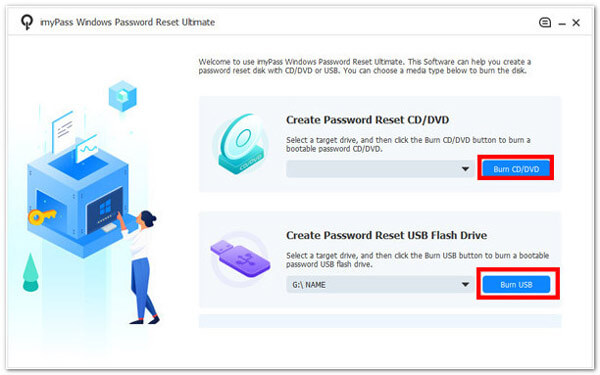 Step 3Put the burned CD/DVD or USB drive into your locked Windows 10 computer. Restart the computer and press the F12/ESC key to enter into the Boot menu. Highlight your inserted disk or drive. Later, press Enter and save changes. Your password forgot Windows 10 computer will restart immediately.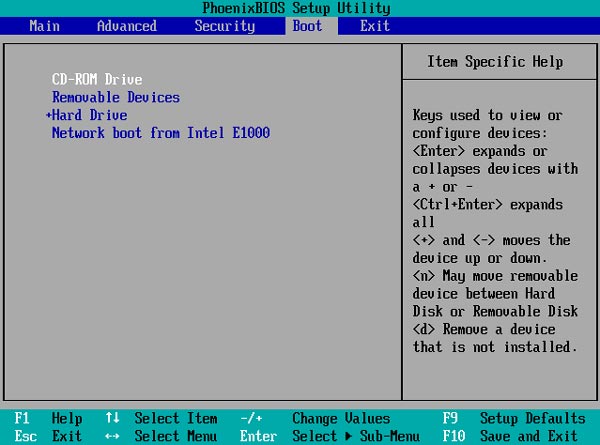 Step 4After rebooting, you can see the main interface of this Windows 10 password cracker tool. Select the current Windows operating system you use. Browse and choose a certain administrator account. Click Reset Password followed by OK to reset Windows 10 password.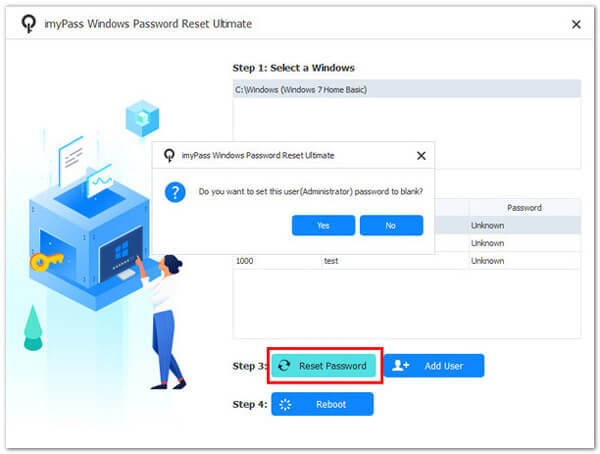 Step 5Eject your burned disk. Restart your cracked Windows 10 computer. Now your computer is password-free. You can bypass the forgotten password and create a new admin password based on your need.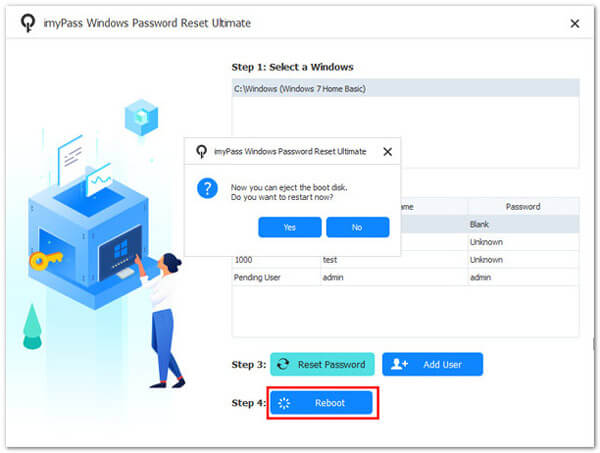 Top 2: Ophcrack
Ophcrack Windows 10 password cracker is a beginner-friendly tool. There is no need to log into Windows to complete the Windows password recovery process. You can hack password on Windows 10 by downloading the ISO image and mounting it into a bootable media. Ophcrack Windows password cracker can detect and recover your lost password immediately.
PROS

Ophcrack is a free password cracker tool for Windows, Mac, and Linux users.
Analyze the Windows passwords with real-time graphs.
Simplify the cracking process by using a live CD.
CONS

Cannot crack Windows 10 passwords longer than 14 characters.
The Windows 10 password cracker free download version doesn't work with Windows 10/8.1/8.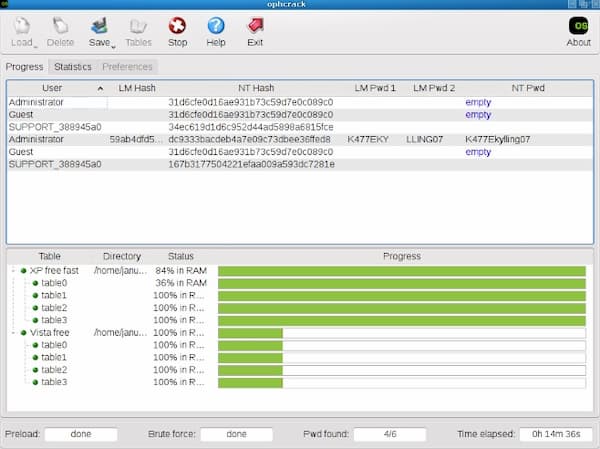 Top 3: LCP
LCP is a free Windows 10 password cracker that can access a user account on a computer per time. Compared with other free password cracking tools, you can get 3 ways to recover Windows 10 password. However, your computer runs slow during the Windows 10 password hacking process.
PROS

Support a dictionary attack, brute force attack, and a hybrid of both.
Recover lost password on Windows NT/2000/XP/2003 computers.
Import LCP password hack tool from the local or remote computer.
CONS

Take a lot of computer sources to recover a forgotten Windows 10 password.
Need some knowledge to perform LCP password cracking methods.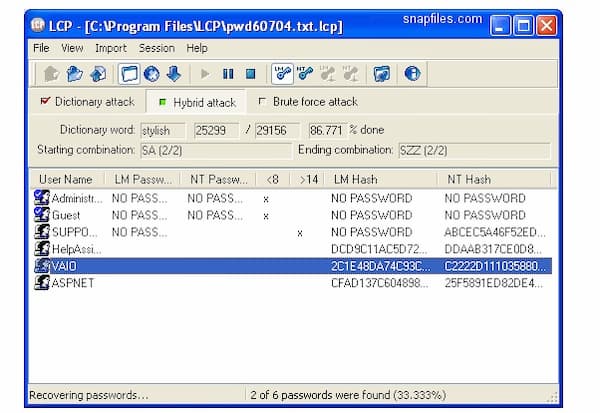 Top 4: Offline NT Password & Registry Editor
Offline NT Password & Registry Editor is a Windows password eraser instead of a password recovery tool. After booting from a burned disc, you can enter into Windows 10 without passwords directly.
PROS

Bypass and delete the Windows 10 password completely.
There is no need to install extra programs on your computer.
Erase passwords on Windows 10 down through Windows XP.
CONS

The Windows 10 passcode cracker hasn't been updated for 6 years.
Need to work from command lines to get rid of password on Windows 10.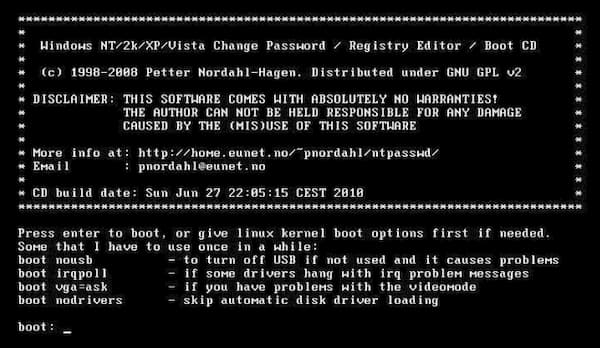 Top 5: John the Ripper
If you are familiar with command lines, you can use John the Ripper as your free Windows 10 password cracker. The program requires specific wordlists to discover and remove Windows password. However, not all wordlists are free to use.
PROS

The Windows password hack tool download package is in small file size.
Advanced users can recover Windows 10 passwords for free with ease.
CONS

John the Ripper Windows 1o password cracker freeware works from the command line.
The required wordlists for Windows 10 password removal are not free.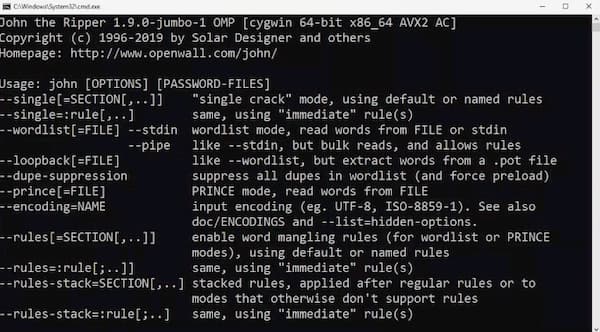 Part 2: 3 Ways to Crack Windows 10 Password without Any Software
There are also some default Windows administrator password cracking tools. You can use the built-in administrator, password reset page, and Command Prompt for Windows administrator password cracking.
Way 1: How to Find Administrator Password Windows 10 Using Command Prompt
Step 1Insert a system repair disc into your computer. Boot Windows from it.
Step 2in the Install Windows screen, choose your language, and complete other preferences. Click Next to move on.
Step 3Choose Repair your computer followed by Next. In the System Recovery Options window, choose Command Prompt to open the CMD window.
Step 4Enter the following command lines to reset the forgotten Windows 10 password. Later, type Yes to confirm.
copy C:WindowsSystem32sethc.exe C:
copy C:WindowsSystem32cmd.exe C:WindowsSystem32sethc.exe
Step 5Close the CMD window. Choose Restart on the System Recovery Options screen. Press the Shift key 5 times until you see the Windows login screen.
Step 6Type net user [username] [newpassword] command line. Remember to replace username with your new administrator account. Later, enter a new password for Windows 10/8/7.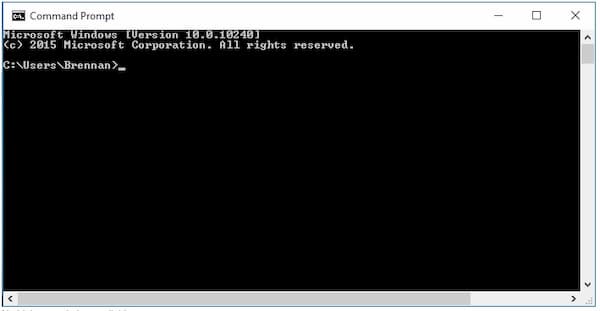 Way 2: How to Hack Windows 10 Password with Administrator Privilege
Step 1Power on your computer. Keep pressing F8 to enter into the Advanced Boot Options menu.
Step 2Use arrow keys to select the Safe Mode option. Press the Enter key on your keyboard.
Step 3Choose your administrator account. Press the Windows key and then choose Control Panel.
Step 4Find and select User Accounts and Family Safety. Choose Manage another account in the left panel.
Step 5Now you can change, remove and reset Windows 10 password.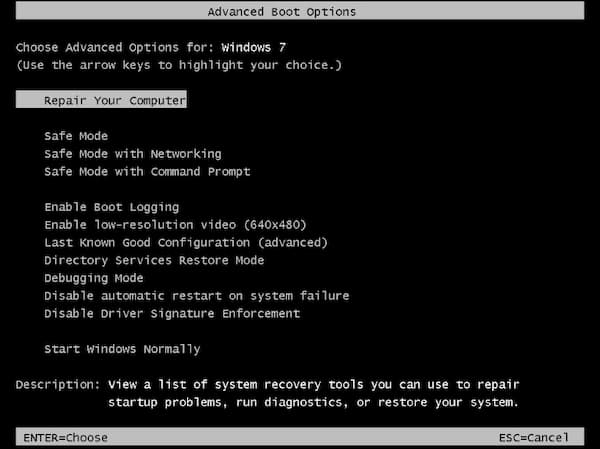 Way 3: How to Break Windows 10 Password with Password Reset
Step 1Go to the Microsoft password reset page. Choose the I Forgot My Password hyperlink to crack Windows 10 password. Click Next to move on.
Step 2Enter an email or number associated with your Windows Microsoft account.
Step 3On the Reset your password page, you can reset your Windows 10 password successfully.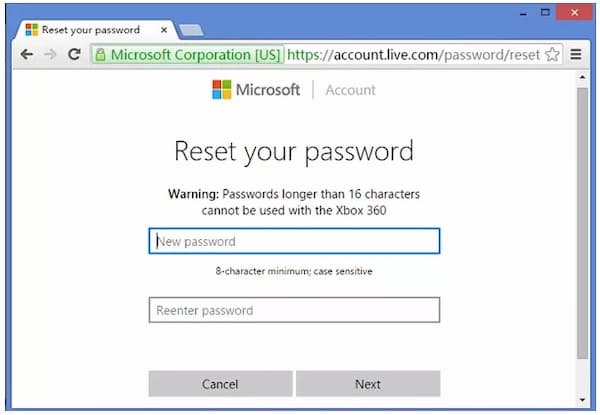 Part 3: FAQs of Windows 10 Password Crackers
How to crack Windows 7 password without any software?
When you are stuck on the Windows 7 login screen, you can choose the Reset password option below. Click Next in the Password Reset Wizard. Don't forget to insert a password reset disk into your Windows 7 computer. Choose Password Reset Disk from the drop-down list. Choose Next to move on. Now you can crack Windows 7 password and set a new password freely.
Is there any good Windows 7 password cracker?
Yes. You can use imyPass Windows Password Reset to crack administrator and other types of passwords on your Windows 10/8/7 computer. The above free Windows password cracker tools are also available for Windows 7 users. Just check the specific compatibility in advance.
Is there a Windows 10 default administrator password?
No. There is no such default Windows 10 administrator password. You need to use a Windows 10 password cracker to hack the forgotten password.
Conclusion
All in all, you can use the above Windows 10 administrator password crackers and methods to unlock your computer. The most time-saving and user-friendly tool is imyPass Windows Password Reset. You can crack all Windows operating systems and brands without hassle. If you are not sure, you can free download the program and have a try right now.