How to Bypass Your Forgotten Administrator Password on Windows 10/8/7
Windows administrator password can protect your computer from unauthorized access. If you want to make changes to system settings, or install/uninstall/update software, you will be required to enter the administrator password on Windows. What to do if you have forgotten your administrator password? To bypass the administrator password on Windows 10/8/7 successfully, you can do as the following paragraphs show. This article will show you 4 easy ways to bypass Windows 10/8/7 administrator password. Just read and follow.

Part 1: Bypass the Forgotten Windows Administrator Password
If you encounter administrator password forgotten and Windows login password lost, you can use imyPass Windows Password Reset to solve the problem. The Windows password reset software can find and remove Windows password without data loss. All your original files and settings are safe.
Just follow the on-screen instruction to crack the Windows administrator password. The intuitive interface and easy-to-use options are friendly to beginners. Moreover, you can create a new Windows admin account to get administrator rights to work on Windows again. In a word, you can remove administrator password without knowing it on all Windows computers.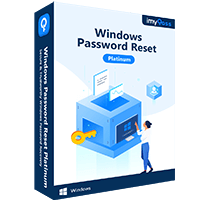 4,000,000+ Downloads
Reset and remove the original Windows administrator password.
Burn a Windows administrator password recovery disk with a CD/DVD or bootable USB flash drive.
Create a new Windows account with a 100% success rate.
Bypass administrator password on Windows 10/8.1/8/7/XP/Vista without losing data.
Support a wide range of desktops and laptops, including Dell, IBM, Sony, HP, Lenovo, ASUS, Acer, Toshiba, etc.
Step 1Free download, install and launch imyPass Windows Password Reset on your normal Windows computer. Complete the setup process. Click Burn CD/DVD or Burn USB based on your purchase plan. Thus, you need to insert a blank CD/DVD or USB into this normal computer. After the password bypass disk burning process, click OK and then take out the burned disk.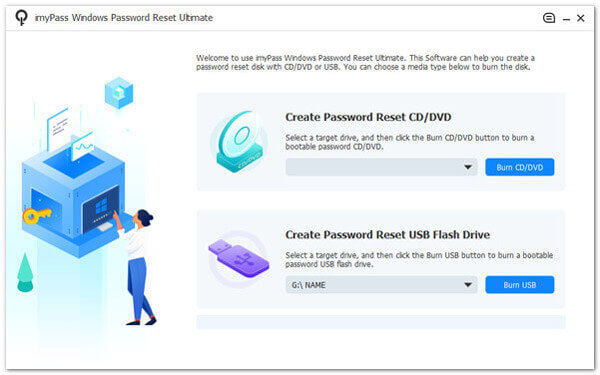 Step 2Go to your administrator password locked computer. Press F12 or ESC on the keyboard. You will enter into Boot Menu. Highlight your inserted USB drive or CD/DVD with the arrow up/down key. Then press Enter on your keyboard to move on. Save changes and exit Boot Menu. Your computer will reboot immediately.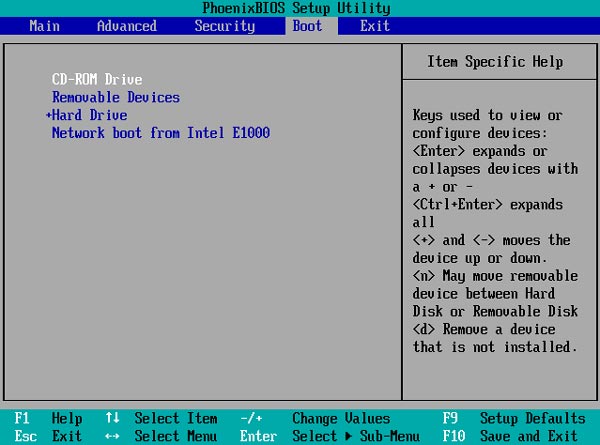 Step 3Run imyPass Windows Password Reset after rebooting. Select the current Windows operating system and user account you use. Click Reset Password followed by Yes to confirm. After resetting the admin password, eject your disk or drive. Later, you can restart your computer to access administrator privileges without entering a password.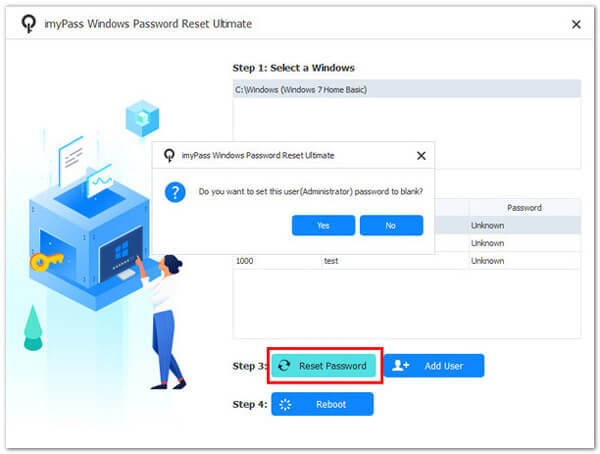 Step 4After bypassing the computer administrator password, you can create a new Windows administrator account and password. Click Add User and fill in the admin username and password. Click OK followed by Reboot to get into your locked computer with a new account.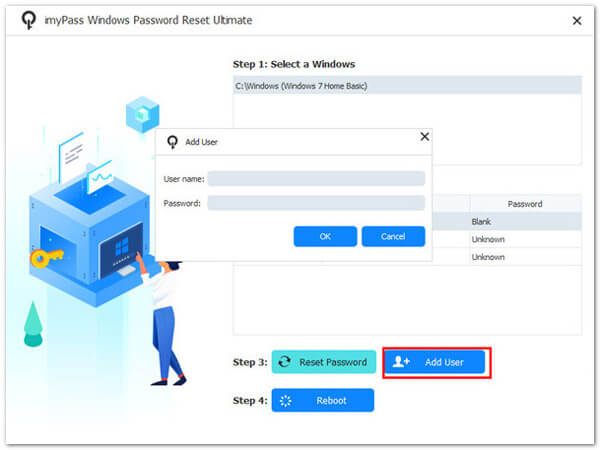 Part 2: 3 Other Ways to Bypass Administrator Password
If you want to make changes to your Windows computer without entering the password, the following Windows administrator password bypass tools are also workable. You can get rid of the old administrator password on Windows 10 and earlier versions.
Way 1: Bypass Administrator Password with a Windows Password Reset Disk
If you have created a Windows reset disk before, you can bypass and change the previous administrator password on Windows PC.
Step 1Reboot Windows. Type anything in the password field. Then press Enter on your keyboard.
Step 2You can see the Reset password link under the password field. Click it to get the Password Reset Wizard.
Step 3Insert the admin password reset disk or drive into your computer.
Step 4In the Reset the User Account Password screen, enter and confirm the new administrator password. The other admin account information will remain unchanged.
Step 5Click Next and follow its wizard to bypass a forgotten Windows administrator password.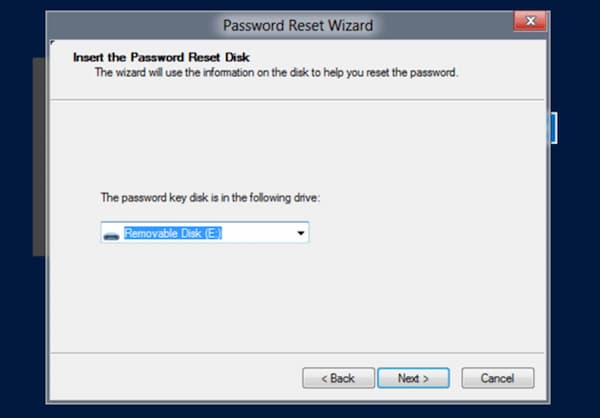 Way 2: Unlock Administrator Password by Answering Security Questions
If you lose or forget Windows 10 administrator password, you can use security questions to fix the problem. This method works for people who have set security questions before. If Yes, you can follow this Windows 10 administrator password unlocking tutorial.
Step 1Power on your locked Windows computer. Choose your administrator account on the login screen.
Step 2Enter the wrong password in the required place. Click OK when you are prompted with the incorrect admin password.
Step 3Click the Reset Password link to access three security questions.
Step 4Provide the right answers for your security questions. Then click Submit to reset a new administrator password on Windows 10. The old Windows 10 administrator password has been removed.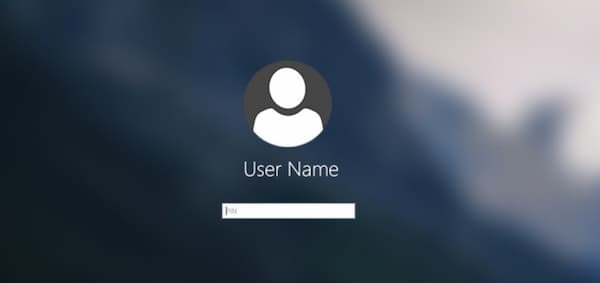 Way 3: Reset Administrator Password with Command Prompt
Command Prompt can be your free Windows 10 administrator password reset tool. The default Windows administrator account has no password protection. If you have enabled the built-in administrator account before, you can bypass the administrator password on Windows 7 by using CMD.
Step 1Turn on your Windows computer. Press F8 on your keyboard repeatedly. Don't stop until you see the Advanced Boot Options screen.
Step 2Use the arrow up and down keys to select the Safe Mode with Command Prompt option.
Step 3Press the Enter key to move on. Now you can boot into Command Prompt with administrator privileges.
Step 4Type net user in the popping-up black dialog. Press Enter to run the command.
Step 5You can see all Windows accounts in the white interface. Find which administrator user account you want to reset.
Step 6Type net user adminaccount adminpassword. Replace adminaccount and adminpassword with your new administrator account information. Press Enter to change and reset administrator password on Windows 7.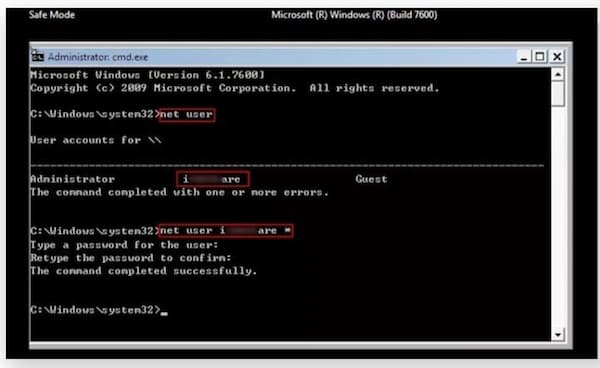 Part 3: FAQs of Administrator Password Bypass
How to bypass administrator password on Windows without entering it?
If you don't want to enter the administrator password, you can disable it with Control Panel. Make sure you are the only user of this Windows computer. Go to the Windows Start menu and open Control Panel. Navigate to User Accounts. Choose Family Safety followed by User Accounts. Choose Remove your password. Provide your original administrator Windows 7 password. At last, click Remove Password to end up the administrator password bypass process.
How to bypass administrator password with Super Administrator Account?
Power off and on your locked Windows computer. In the Windows startup screen, press the Shift key on the keyboard five times. After activating the Super Administrator Account, click the account and go to the Windows Control Panel. Now you can change the admin password and reboot your computer.
How to bypass administrator password on Mac?
If you know the password, you can unfold the Apple list and choose System Preferences. Click Users & Groups. Select your Mac user name. Click Change Password and follow the instruction to finish the process.
Conclusion
That's how to bypass administrator password on Windows 10/8/7. You can use imyPass Windows Password Reset, CMD, password reset disk, and security questions to remove Windows password successfully. It's okay to remove the old admin password and create a new one on any Windows computer. Please let us know if you have any suggestions or questions.