3 Easy Ways to Reset Acer Laptop with Windows 7/8/10
For different reasons, especially when you are having serious problems with your computer, you need to factory reset it. Do you know how to reset Acer laptop with Windows 7, Windows 8 or Windows 10?

How to Reset Acer Laptop
Good thing is, there are still some ways that can help you restore Acer laptop to the default factory condition. Here in this post, we like to share 3 effective solutions to help you factory reset Acer laptop in Windows 7, Windows 10 and Windows 8.
Part 1. How to Reset Acer Laptop with Troubleshoot
First, we like to show you the common way to factory your Acer laptop. When you can't start your computer normally, you can rely on the Windows Recovery Environment, Troubleshoot feature to perform a factory reset on Acer laptop. Ensure you have the laptop's AC power adapter connected during the whole resetting process.
Step 1Press and hold the

Power

key on your computer for at least 5 seconds until the system is powered off completely. After that, you should remove all external devices from the Acer laptop.
Step 2Press the Power key to turn on your laptop. As soon as you see the Acer logo appears on the screen, press and

Alt

and

F10

keys at the same time. Now you can see a blue

Choose an option

screen.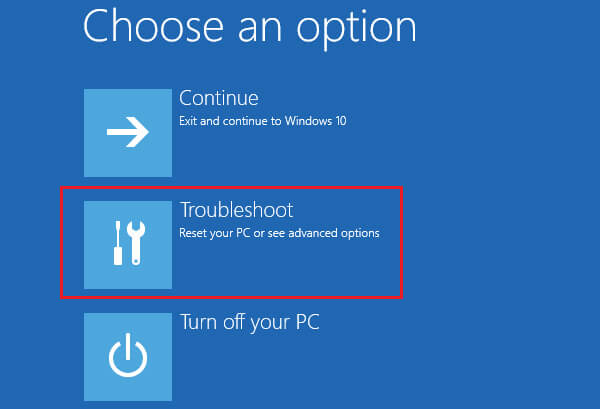 Step 3Click and choose the

Troubleshoot

option. When you enter

Reset this PC

, choose the

Remove everything

.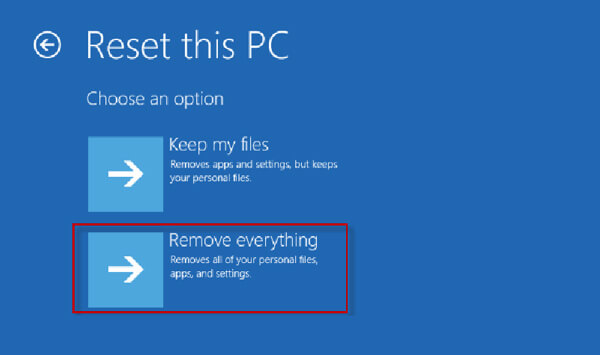 Step 4Now you can choose to

Just remove my files

or

Fully clean the drive

based on your need. If you want to factory Acer laptop, here you can pick the second option. Then click

Reset

to confirm your operation.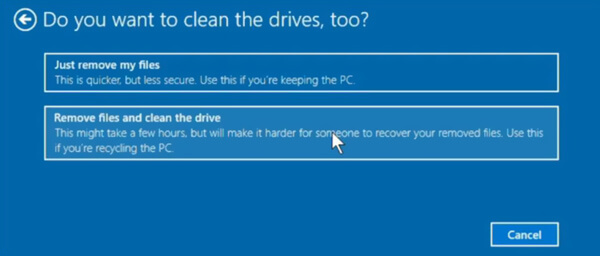 Step 5When the factory reset process is finished, your computer will restart itself. After that, you can follow the on-screen instructions to set up your Acer laptop.
In this way, you can also factory reset Dell laptop easily.
Part 2. How to Reset Acer Laptop with Recovery Management
Acer laptop comes with an E-Recovery system that helps you easily reset its computer. It is designed with a Care Center feature, Recovery Management mode to either restore Acer laptop to its factory state or a previous backup, without any boot or reset disk. If you have Acer Care Center installed in your laptop, you can follow the steps below to reset Acer laptop.
Step 1Restart your Acer laptop and click

Windows

and

Q

keys at the same time to arise the search box. Input recovery to locate the

Acer Recovery Management

. Choose it from the search results. Choose

Yes

if you are prompted to allow the program to continue.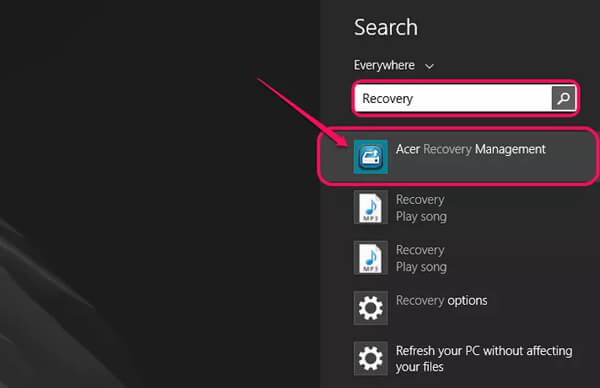 In general, when Acer laptop can't start the system normally, it will automatically boot itself to the Recovery Management mode.
Step 2When you enter the Acer Recovery Management, choose the

Restore Factory Settings

option and then click

Next

.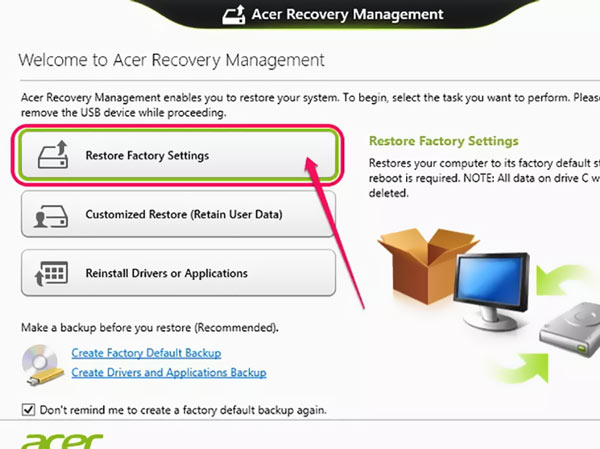 Step 3Now you can select the

Just remove my files

option to only erase your personal files, or use

Fully Clean Drive

to factory reset Acer laptop. Click

Reset

button to confirm your operation.
Part 3. How to Reset Acer Laptop to Factory Settings Without Password and CD
Are you face the situation that you are required to input the password when unlocking the screen or confirming the resetting? What if you just forgot the password? In that case, you need to reset Acer laptop without password.
Here we strongly recommend the powerful imyPass Windows Password Reset to get the job done. It has the capability to remove any Windows administrator and other user account passwords with ease.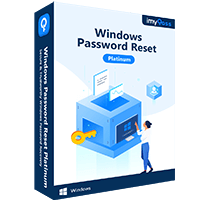 4,000,000+ Downloads
Reset Windows password for Windows 7/8/10 Acer laptop.
Create Windows password reset USB drive or disk without password.
Recover Windows account and administrator Windows passwords.
Support file systems like FAT16, FAT32, NTFS, etc. and hard disks like IDE, SCSI, SATA, USB, SAS, RAID, and more.
Step 1Double click on the download button above to free install and run this Windows password resetting software on your Acer laptop. To create a Windows password reset USB drive or disk, you should connect it to your computer.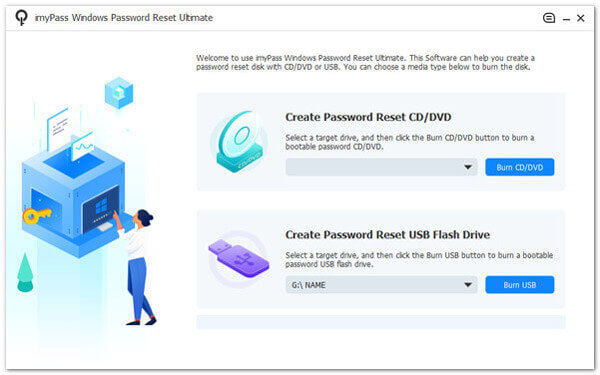 Step 2There are 2 ways offered to create the Windows password reset USB drive/disk,

Create Password Reset CD/DVD

, and

Create Password Reset USB Flash Drive

. Here you can use your preferred one according to your need.
Step 3Click

Burn CD/DVD

or

Burn USB

button to begin making the password reset disk or USB drive. After that, you can click

OK

to finish the process.
Step 4Reboot your Acer laptop and then press

F12

or

ESC

key to enter the

Boot menu

. Choose the Windows password reset USB drive or disk you just created, and then press

Enter

. Your Acer laptop will restart itself automatically.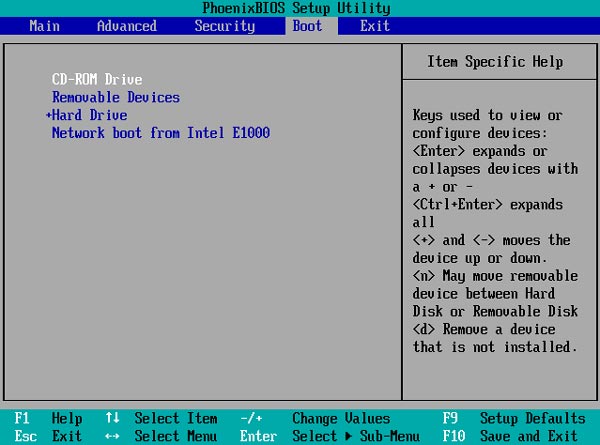 Step 5Now you can choose the account you want to reset its password and then click on the

Reset Password

button. When the whole process is complete, you can factory reset Acer laptop as normal.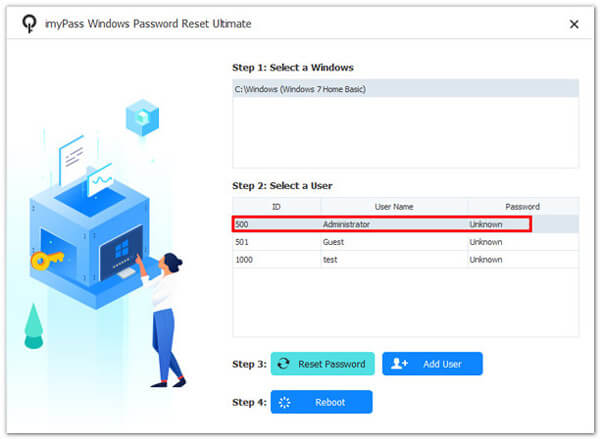 Part 4. FAQs of How to Reset Acer Laptop
Question 1. Why is ALT+F10 not working?
There are some main situations that your Acer Alt + F10 does not work. If your laptop is already running operating system, or you have formatted or deleted the recovery partition, these two keys will not work. In some cases, you changed the hotkey or the hotkey is changed by other factors, like Windows system re-installing, you may not go to the recovery window by pressing Alt + F10.
Question 2. How to reset password on Acer laptop?
To change your Windows user account, you can enter the Start menu and click your account. Then go to the Sign-in options and click on the Change button under Password to reset password on Acer laptop. If you just forgot the current lock screen password, you need to rely on a Windows password reset disk to reset the forgotten password. For more detailed steps of resetting password, you can view it in details here: Windows 7 Password Reset.
Question 3. How can I open Acer laptop when forgot password?
You can switch to another account to access your Acer laptop. Or you can use the hidden administrator account to open Acer laptop without password. Restart your laptop and press F8 repeatedly when the computer just reboot itself. Choose Safe Mode and then type Administrator in Username. Here you can leave the password blank. Go to the Control Panel and choose User Accounts. After that, you can locate the account and change its password.
Conclusion
Factory resetting Acer laptop will bring it to the brand-new condition. All the installed software and your personal data will be erased. Also, the related settings will go back to factory default. If you still need to reset Acer laptop, you can use the 3 methods above to do it.