Check the 5 Best Password Finders for Instagram
It's not uncommon for users to forget their passwords and be locked out of their accounts. Protecting your Instagram account is of utmost importance, and one way to ensure security is by using reliable password finder tools.
A reliable Instagram password finder can help you retrieve the forgotten password and regain access to your account. Moreover, it lets you enhance personal security, evaluate the strength of your Instagram password, handle multiple accounts, monitor children's activities, and more. This post shares five of the best password finder tools for Instagram, providing you with options to guarantee your account's safety.

Best Instagram Password Finder
Part 1. Recover Your Instagram Password on iPhone, Android, and Desktop
If you find yourself locked out of your Instagram account due to a forgotten password, Follow the steps below to recover your Instagram password on various platforms. Whether you use an iPhone, Android device, or a desktop computer, we've got you covered.
Recovering Instagram Password on iPhone
Open the Instagram app on your iPhone. Tap the Forgot Password link on the login screen. Tap Username or Phone, then enter the related email address or phone number used for your Instagram account.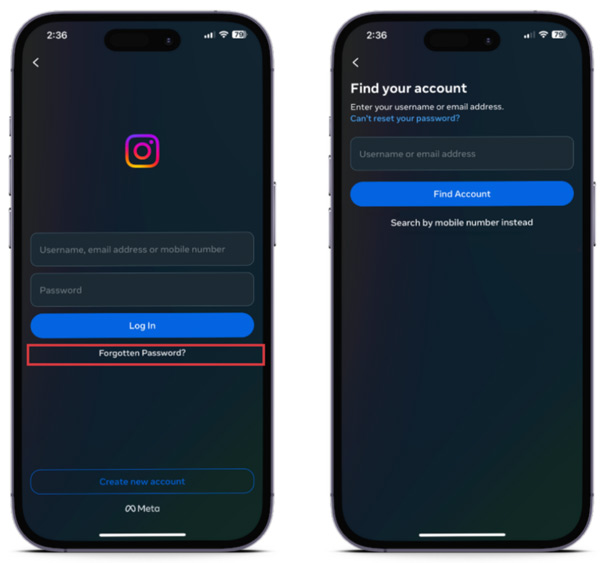 Check your email or message for a password reset link or code. You should follow the provided instructions to create a new password. Log back into your Instagram account using your new password.
Recovering Your Instagram Password on Android Devices
Open the Instagram app on your Android phone and tap the Get help signing in link on the login screen.
Select the appropriate method to recover your Instagram password: email or phone number. Provide the requested information and tap Next. Follow the instructions in your email or phone message to create a new password for your Instagram account.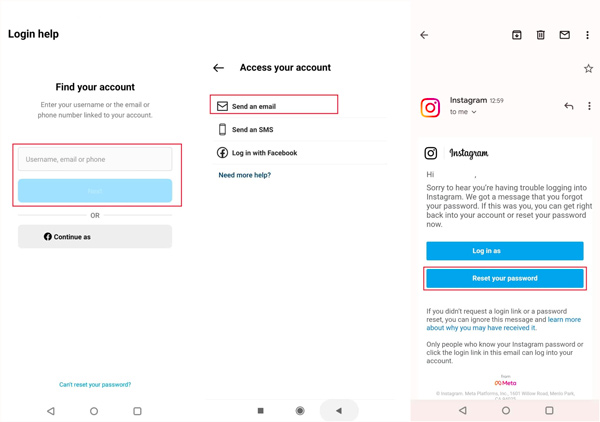 Resetting Instagram Password on Mac and Windows
Go to the Instagram website on your desktop browser. Click the Forgot password link below the log-in fields and enter your username, email address, or phone number. Click Log in with Facebook and then check your email or phone for a password reset link or code. Use the selected method to reset your Instagram password.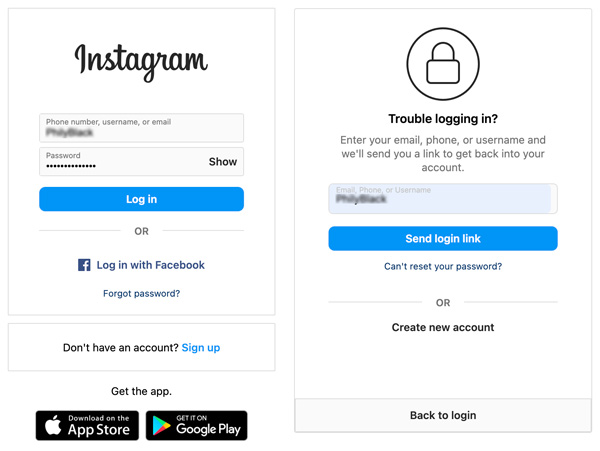 Part 2. Best Instagram Password Finders to Recover Your Account
The need for a password finder for Instagram may vary depending on individual circumstances. It can be a valuable tool for account recovery, monitoring, security evaluation, digital forensics, and convenience. It is important to note that using a password finder ethically and responsibly is crucial to ensure privacy and respect for others' accounts.
If you don't have access to the email address or phone number linked to your Instagram account and can't find the Instagram password, try using the password finders apps below or contacting Instagram's support team for further assistance.
Best Instagram Password Finder for iPhone and iPad
imyPass iPhone Password Manager is a powerful password finder tool that offers comprehensive solutions for monitoring various social media platforms, including Instagram. It can find all saved passwords on your iPhone and iPad, including Apple account passcodes, passwords for sites and apps, email passwords, iCloud Keychain passcodes, and Google passwords. It lets you gain access to your Instagram password, track various activities, view messages, and more.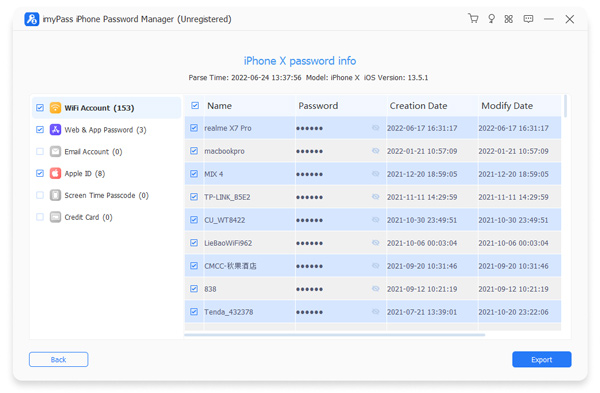 Highster Mobile
Highster Mobile is a user-friendly password finder tool designed to help individuals monitor their activities on different devices. It offers effortless monitoring of Instagram accounts, enabling you to retrieve passwords, view chats, and access media files. Its stealth mode feature ensures that the target user remains unaware of any monitoring activities. Moreover, it enables you to find your forgotten passwords for Facebook, WhatsApp, Snapchat, and other apps.

iKeyMonitor
iKeyMonitor is a reliable and efficient password finder tool that captures passwords for various applications, including Instagram. This tool operates in discreet mode, remotely capturing keystrokes and providing you with the necessary login details. With iKeyMonitor, you can monitor Instagram accounts without compromising user privacy. It is specially designed for parents to safeguard kids on iOS and Android devices. iKeyMonitor can monitor various phone activities. It lets you easily monitor text messages, phone calls, visited websites, track current location, and more.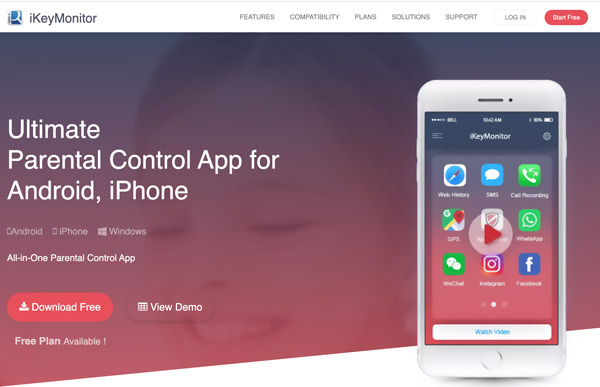 LastPass Password Manager
LastPass is a trusted name in the realm of Instagram password manager and finder apps. It boasts a comprehensive database of passwords, enabling quick access to Instagram credentials. LastPass Password Manager can store your created Instagram password and auto-fill it when you want to sign into your account. It emphasizes user privacy by implementing industry-standard encryption and ensuring the secure handling of personal data.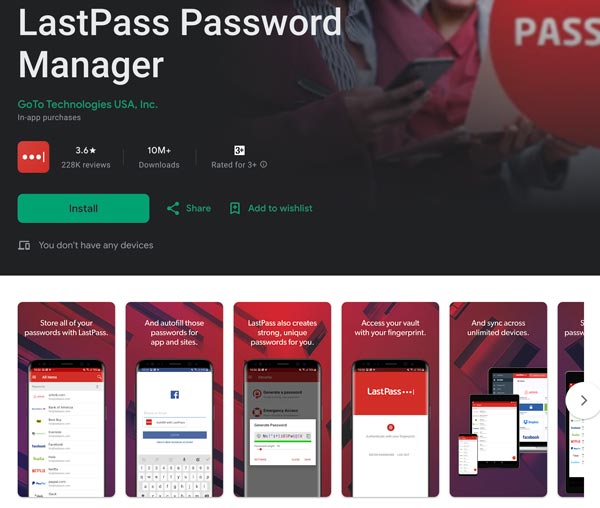 InstaLeak
InstaLeak is a widely used Instagram password recovery app with a robust set of features. This password finder for the Instagram app boasts a user-friendly interface combined with advanced algorithms, enabling seamless password recovery. It is mainly used for hacking your Instagram account.
InstaLeak utilizes brute-force attacks, dictionary attacks, and other techniques to swiftly retrieve Instagram passwords. Its compatibility with many platforms and devices makes it a preferred choice for users seeking an all-in-one Instagram password recovery solution.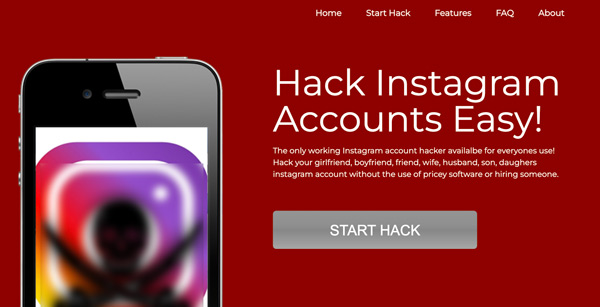 It's important to note that using Instagram password finder apps to gain unauthorized access to other individuals' accounts is illegal and unethical.
Part 3. FAQs of Best Password Finder for Instagram
Can I reset my Instagram password without my email and phone number?
Without access to your email or phone number, it may be difficult to reset your Instagram password. Instagram typically requires one of these options to change or reset your password and regain access to your account. However, you can still try contacting Instagram support for further assistance and see if they can provide alternative methods to verify your account and reset your password.
How do you recover deleted Instagram messages?
Recovering deleted Instagram messages is not something that can be done within the Instagram app itself. Once messages are deleted, they are usually permanently removed from the platform's servers. However, if you have a backup of your device, you may be able to restore the deleted messages through that backup. Otherwise, you must use a third-party Instagram data recovery tool like Aiseesoft FoneLab to retrieve deleted Instagram messages.
How do you change your Instagram password without the old password?
It is essential to have the old password to verify your identity and secure your Instagram account. If you have forgotten your password, we recommend following the official account recovery process provided by Instagram.
Conclusion
Losing access to your Instagram account due to a forgotten password can be frustrating. Luckily, several reliable password finder and recovery apps are available to help you regain control of your account securely. The top 5 Instagram password finder apps mentioned above offer various techniques and features to cater to different user preferences and requirements. You can check their functions and pick the preferred one to regain control of your Instagram account with ease.