Everything You Should Know about Microsoft Edge Password Manager
To keep your passwords secure, a password manager is the best option. Microsoft has introduced a new password manager into the Edge browser. In other words, you can use the built-in feature on your PC without installing extra software. According to our research, many people still have questions about this feature, such as whether it is worth using. Therefore, this article shares a review of Microsoft Password Manager.

Review of Microsoft Password Manager
Part 1. Overview of Microsoft Password Manager
Microsoft Password Manager can be a game changer. It works as a built-in feature in Edge, extensions for Google Chrome, and an independent app on iOS and Android. Therefore, you can save, store, and sync passwords across devices without paying a penny.
Main Features of Microsoft Password Manager
1. Save passwords in Edge and Chrome.
2. Available to Windows, Mac, Linux, iOS, and Android.
3. Monitor passwords involved in a data breach in seconds.
4. Alert you in case you need to change a password.
5. Generate passwords and match the character requirements.
6. Check if your passwords are strong enough.
7. Sync and share passwords across devices.
8. Auto-fill passwords and forms in apps or websites.
9. Offer an independent mobile app on iOS and Android.
10. Encrypt your passwords with AES.
Brief Review of Microsoft Password Manager
PROS

Microsoft Password Manager is completely free to use on both computers and mobile devices.
It lets you share login information quickly.
With multi-factor authentication and fingerprint identification, your passwords stay secure.
It enables your passwords encrypted.
It is available on most platforms.
CONS

It lacks some appeal.
The extension is only available to specific browsers.
The user experience is not consistent on computers and mobile devices.
You must have a Microsoft account.
How to Use Microsoft Password Manager in Edge
Step 1Visit a website where you want to save the login information, click

Sign in

, and start the sign-in process.
Step 2When you see the key icon on the right end of the address bar followed by a password manager pop-up. Check your credentials, and click the

Save

button to save it to Microsoft Edge Password Manager.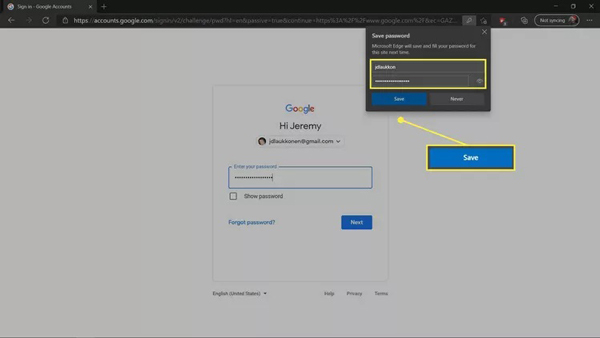 Step 3If you wish to manage saved passwords, click the

Menu

icon in Edge, choose

Settings

, and click

Passwords

. Now, you will see all the passwords.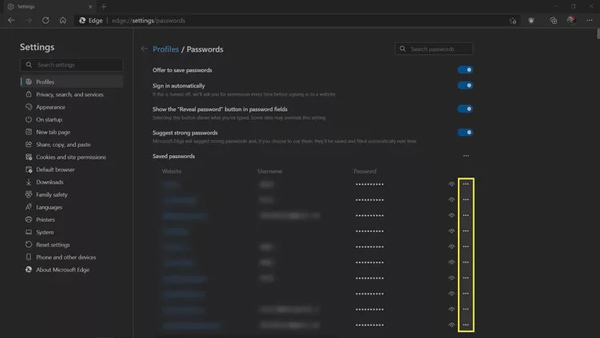 Step 4To change or delete a password, click the

three-dot

icon next to the item. Choose

Edit

or

Delete

. Verify the ownership by scanning your fingerprint or entering your PIN. Then do the job as you wish.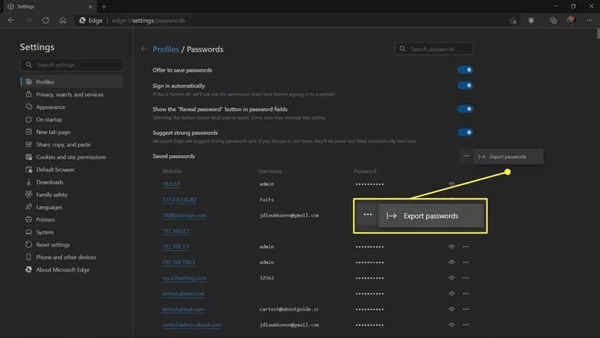 Step 5If you need to export passwords, click the

Export passwords

button on the password settings page. When prompted, click

Export passwords

. Then verify the ownership, and set a location to save the passwords.
Note: If you want to use Microsoft Password Manager in your Chrome browser, install Microsoft Autofill from the Chrome Web Store, and sign in to your Microsoft account. To use it on your iPhone or Android phone, download the Microsoft Authenticator app from the App Store or Google Play.
Part 2. Best Microsoft Password Manager Alternative
To use Microsoft Password Manager, you must have a Microsoft account. Moreover, the mobile app is too limited to manage passwords on iOS devices. From this point, we recommend an alternative, imyPass iPhone Password Manager.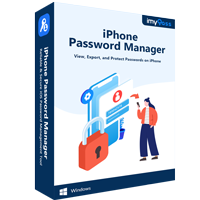 4,000,000+ Downloads
Manage iPhone passwords on a computer.
Support almost all kinds of passwords on iPhone.
Back up iPhone passwords to hard drives.
Available to a wide range of iPhones and iPad models.
How to Use Microsoft Password Manager Alternative
Step 1
Scan your iPhone
Launch the best alternative to Microsoft Password Manager after you install it on your PC. There is another version for Mac. It provides a free trial to test the core features before opening your wallet. Next, connect your iPhone to the same machine with a Lightning cable. Then click on the Start button at the bottom right corner to begin scanning passwords on your device.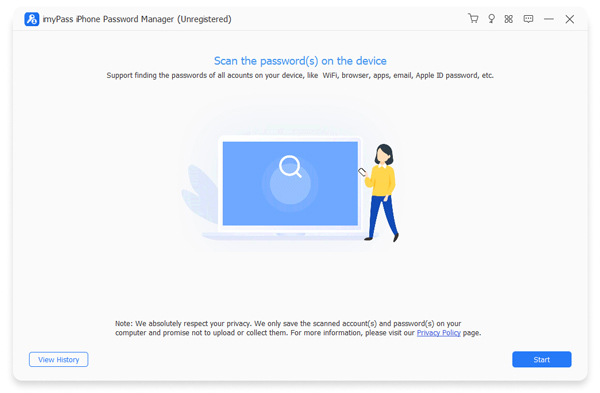 Step 2
View iPhone passwords
When scanning is done, you will be taken to the password info screen. You can view the password categories on the left side, such as Wifi Account, Web & App Password, Email Account, and more. Choose the desired types, and you will see the items on the main panel. To view the password for an item, click the Display icon.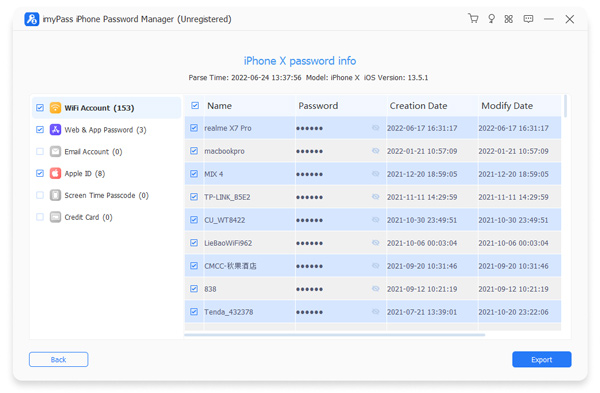 Step 3
Export iPhone passwords
If you wish to back up your passwords, select them on the list, and click the Export button. Then set a destination directory and start a backup. When you need to view the backup, click the View History button in the home interface.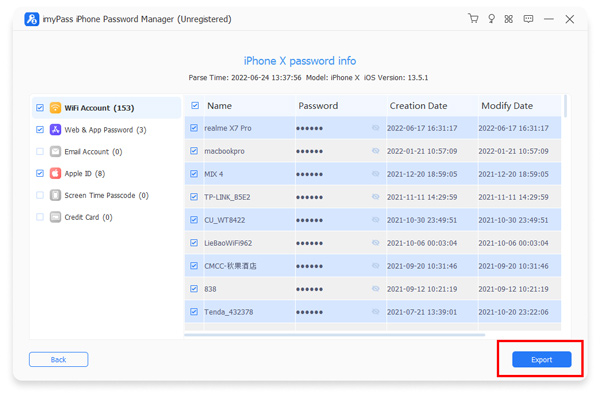 Part 3. FAQs about Microsoft Password Manager
How safe is Microsoft Password Manager?
Only sensitive data, like passwords, credit cards, and cookies, are encrypted when saved. Microsoft Edge Password Manager encrypts the information so that attackers cannot access it.
Does Windows 10 have a built-in password manager?
Yes. Microsoft Edge is available for Windows 7 and later. It enables you to save passwords of websites and apps with the built-in Microsoft Edge Password Manager. When you access a website again, it auto-fills your credentials.
Where are my passwords stored in Microsoft Password Manager?
Once you save a password in Edge, it will be stored on your hard drive. If you have signed in to your Microsoft account in Edge, your passwords are also stored on the Microsoft servers. Therefore, you can access them on another device with the same account.
Conclusion
Now, you should understand what Microsoft Password Manager is, what it can do, the benefits and disadvantages, and how to use it. You can follow our introduction and review to learn this functionality and use it according to your needs. It cannot be denied that it is a good free way to store your passwords. imyPass iPhone Password Manager is the best alternative way to manage your passwords on your iPhone or iPad. More questions? Please write them down below.