[Fixed] How to Restore or Reset Instagram Password
When you forget your Instagram password, it can be daunting. Do not worry! Today, the comprehensive guide will give you step-by-step solutions to solve this issue. You can utilize a professional password recovery tool to retrieve the forgotten Instagram password. Meanwhile, you can reset or change a new password for your Instagram in an easy way. Moreover, you can even log in to Instagram without a password.
Whether you're a beginner or an experienced user, this guide will help you. Follow the ways here to fix the password forgetting issue. Now, read and explore more!

Forgot My Instagram Password
Part 1. Get a Forgotten Instagram Password Back via a Professional Tool
imyPass Password Manager is one of the reliable password recovery tools. This tool can help you retrieve all forgotten passwords stored on your iOS device, such as the Instagram password. When you forget your Instagram account and password, it can quickly scan your used iPhone or iPad. Meanwhile, you can view, manage, share, and export the password as you like. Besides, it supports recovering your WhatsApp, Facebook, Apple ID password, and more. Download and try this recovery tool when you forget your Instagram password.
Step 1Download the Instagram password manager on your computer.
Step 2Connect your iPhone or iPad to a desktop using a USB cable. Tap

Trust

to continue the process on your device when prompted.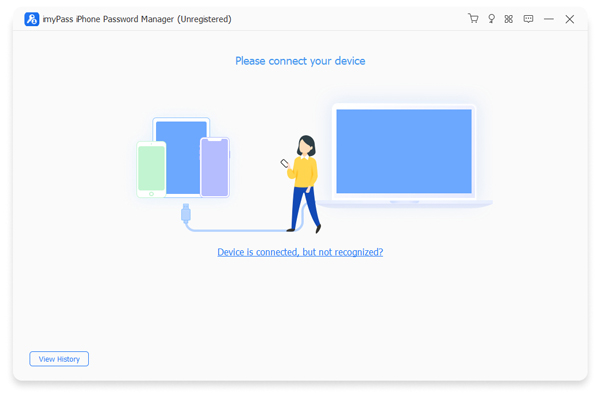 Step 3Run the program and click

Start

to proceed. And the scanning process will take a while.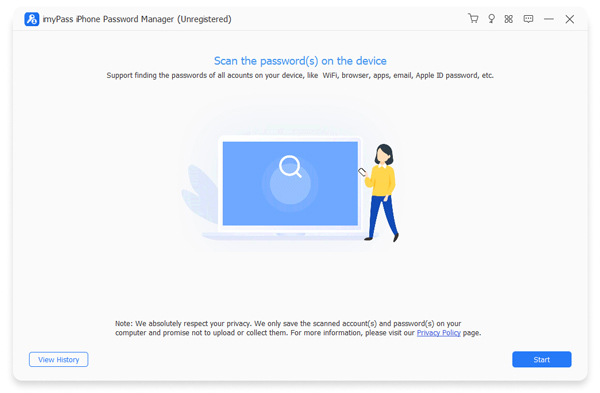 Step 4Once completed, you can see all passwords stored on your iOS device. Next, click

Web & App

Password to view or export your Instagram password.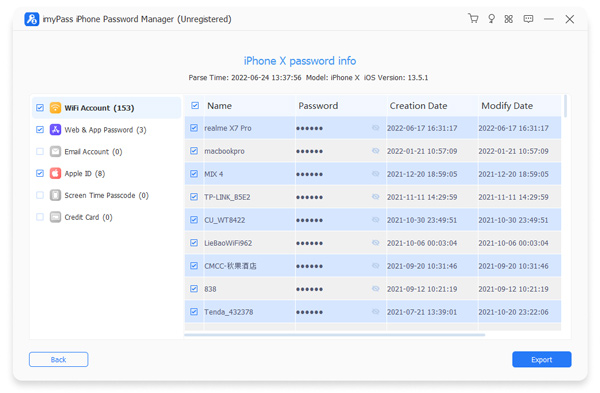 A professional password recovery tool can find your forgotten Instagram password. And the operation process is very easy. If you like, you can use it to recover and manage passwords on iPhone and iPad.
Part 2. How to Change Forgotten Instagram Password
When you forget the old Instagram password, resetting a new and memorable one is a good choice. Instagram supports you in changing passwords in various ways. And the operation process is not complex. Now, read the following steps and reset your new password!
Step 1Find the Instagram login page. Choose the

Forgot password

? option to continue.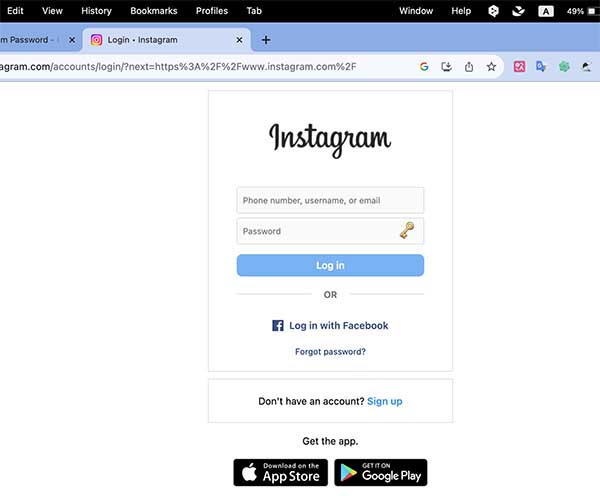 Step 2Enter your associated email, phone, or username. Click

Send login link

.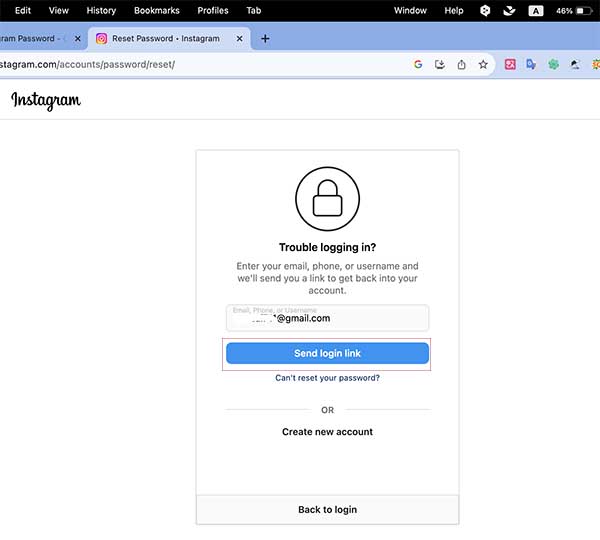 Step 3A request for an Instagram password reset will be sent to the associated email or phone. Next, read the on-screen guides to set a strong Instagram password.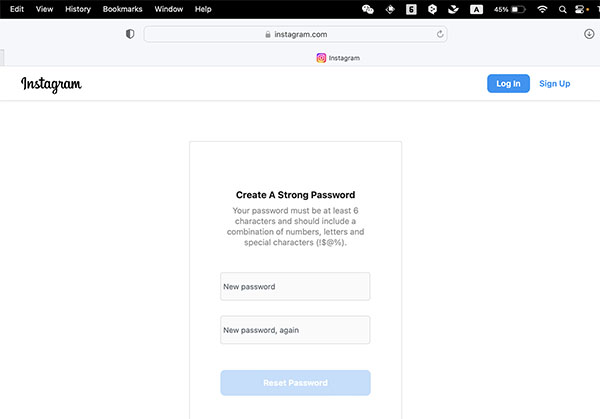 After resetting, you can access your Instagram account again. Be careful to remember your new Instagram password now!
Part 3. How to Login Your Instagram without the Password
When you hurry to log in to Instagram without the password, try to use your Facebook directly. Instagram allows users to log in with Facebook. It is very convenient and easy to operate. Learn how to do it here.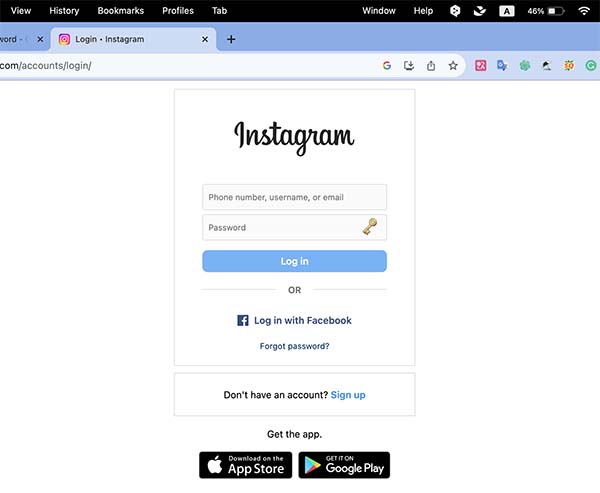 Step 1Access the Instagram login page with your browser.
Step 2Select the

Log in with Facebook

option to continue.
Step 3You will be asked to verify your identity. Follow the on-screen prompts to send a security code with your email. After that, you can view Instagram again.
It is an effective way to log in to Instagram without recovering or resetting your password. But you cannot finish this security verify if you forget Facebook password. Therefore, you should try other ways or recovery tools.
Part 4. FAQs of Forgetting the Instagram Password
How do I find out what my Instagram password is?
You cannot directly see your current Instagram password. However, you can reset it on the Instagram app or visit the website if you've forgotten it.
How many times can I change my Instagram password?
Instagram doesn't have a strict limit for password changes. However, frequent changes in a short time might temporarily lock you out for security reasons. If concerned about security, enable two-factor authentication.
Can I recover my Instagram account without an email or phone number?
Yes. It's challenging to recover an account if you forgot Instagram password and the associated email or phone number. However, if you've linked your Instagram account to Facebook, you can use it to recover your password. If not, you might need to contact Instagram support or use the third-party recovery tool.
Why isn't my Instagram opening?
There could be several reasons. When your Instagram isn't opening, check your internet connection, update the app, and verify ample device storage. If issues persist, consider reinstalling the app.
How can I set up two-factor authentication for my Instagram account?
Go to your profile and tap on the menu (three lines). Then, go to Settings and tap Security. Finally, tap Two-Factor Authentication and enable and set it.
Conclusion
In this article, you learn how to fix it when forgot password for Instagram. You can try to change your password or log in with Facebook. In addition, a professional recovery tool, like imyPass Password Manager, is recommended when resetting fails. Do you have any questions about forgetting your Instagram password? Leave your comment here!