10 Best Wireless Network Password Viewer Recommendations
Wireless networks have become essential to our lives, enabling us to connect and access the internet wherever we go. However, remembering Wi-Fi passwords can often be challenging, especially when we connect to multiple networks on various devices. To help you overcome this hassle, we have compiled a list of the ten best wireless network password viewer apps for iPhone, Android phone, Windows PC, and Mac. With these Wi-Fi password viewers, you can easily access and manage your Wi-Fi passwords, ensuring seamless connectivity.

Best Wireless Password Viewer
Part 1. Best Wireless Network Password Viewer Apps for iPhone
A reliable Wi-Fi connection is crucial, from web browsing to sharing files. This part shares three wireless network password viewing apps for iPhone. You can check their benefits and functionality.
Best Wireless Network Password Viewer for iPhone and iPad
imyPass iPhone Password Manager lets you easily view and retrieve all stored passwords on your iPhone and iPad, eliminating the need to manually enter them each time. One crucial feature of this wireless network password viewer is displaying saved network passwords. It offers password backups, ensuring you never lose access to your networks and account.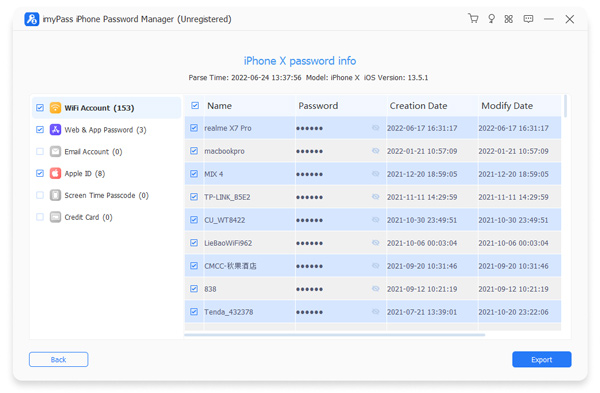 Besides wireless network passwords, imyPass allows you to see, manage, export, and share other essential passwords, including Apple ID passwords, accounts, passcodes created in browsers and apps, email passwords, iCloud Keychain passwords, and Google passwords. It can view all your iPhone passwords without jailbreak. All commonly used iOS devices and system versions are supported.
Built-in Wireless Network Password Viewer
The built-in wireless network password viewer, iCloud Keychain, was introduced in iOS 16 and later versions. It lets you conveniently access and manage your Wi-Fi passwords, providing more convenience and security. This iPhone Wi-Fi password viewer can easily access all saved passwords via the device's settings. Sharing Wi-Fi passwords with friends or family has become hassle-free with this wireless network password viewer.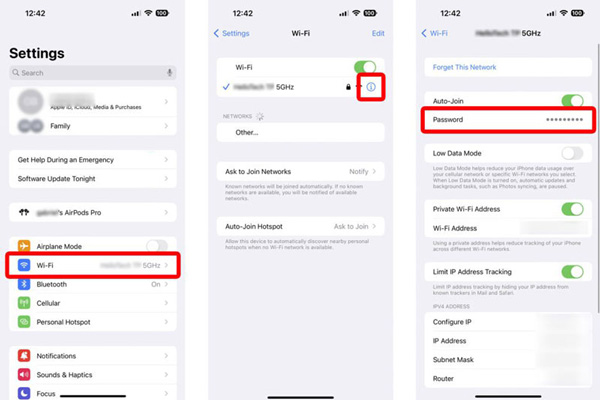 1Password
Known for its robust password management features, 1Password extends its functionality to WiFi passwords as well. This wireless network password viewer app can securely store Wi-Fi credentials, making it effortless to retrieve them whenever needed. With 1Password, you can generate strong and unique passwords for your networks, ensuring optimal security.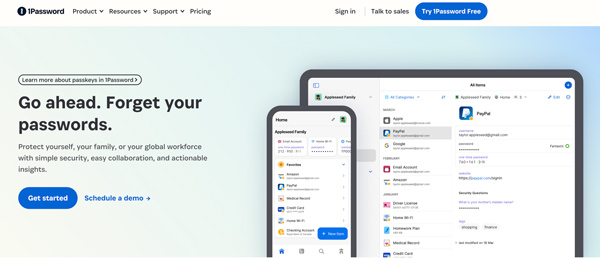 Part 2. Best Wireless Network Password Viewer Apps for Android
Many Android apps are available to retrieve and view saved Wi-Fi passwords. This part will delve into three wireless network password viewer apps for Android users, offering convenience when managing Wi-Fi connections.
Default Wi-Fi Password Viewer for Android 10 or later
If your Android device is upgraded to Android 10 or later, you can easily use its built-in app to view your Wi-Fi passwords. Go to Settings and choose Network & internet to find the Android Wi-Fi password viewer.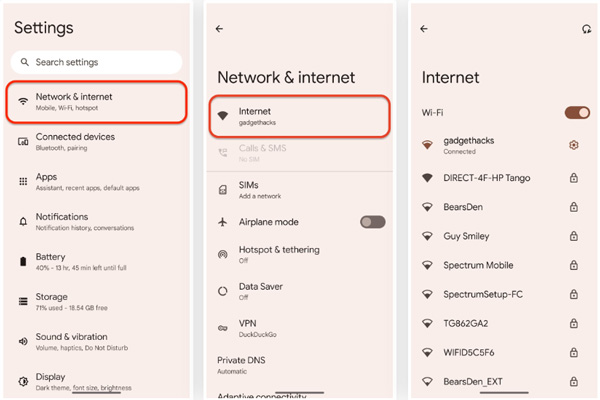 When you reach the Network & internet screen, choose Wi-Fi or Internet, select the wireless network, and tap the related settings icon. Tap Share in the Network details to view your stored wireless network password. After identifying yourself through your face, fingerprint, or password, you will get a QR code that contains your WiFi credentials.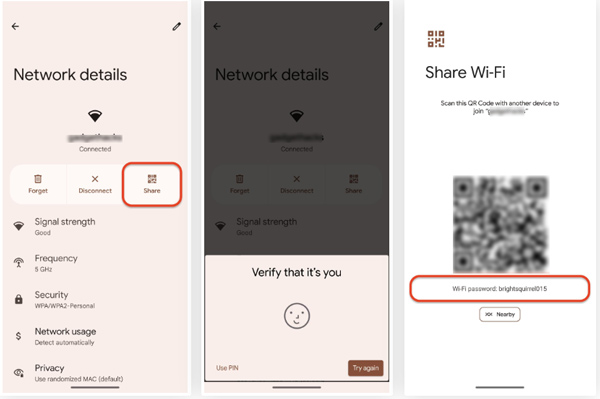 WiFi Password Viewer
One highly recommended app for Android users is WiFi Password Viewer & Finder. This wireless network password viewer application allows you to effortlessly view passwords of previously connected Wi-Fi networks on your Android device. With a simple one-click operation, the WiFi Password Viewer displays all the network details, including SSID, encryption type, and password. Moreover, WiFi Password Viewer prioritizes security and ensures that sensitive information remains securely stored on your Android phone.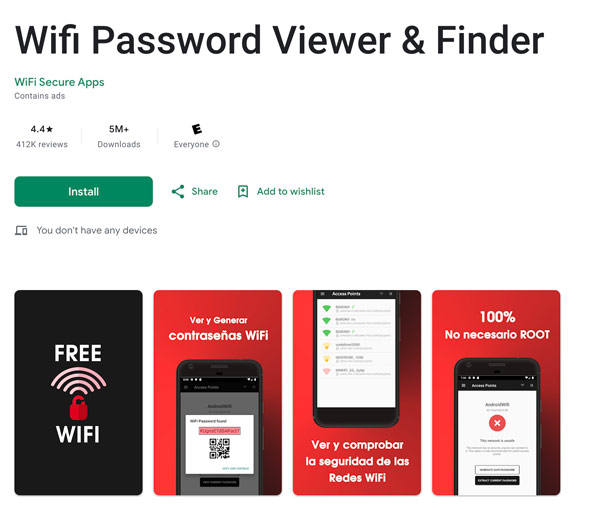 Router Keygen
If you're looking for an all-in-one solution for Wi-Fi password retrieval, Router Keygen is an exceptional choice. This robust app not only displays saved passwords but also generates default factory keys for numerous routers, making it useful when connecting to unfamiliar networks.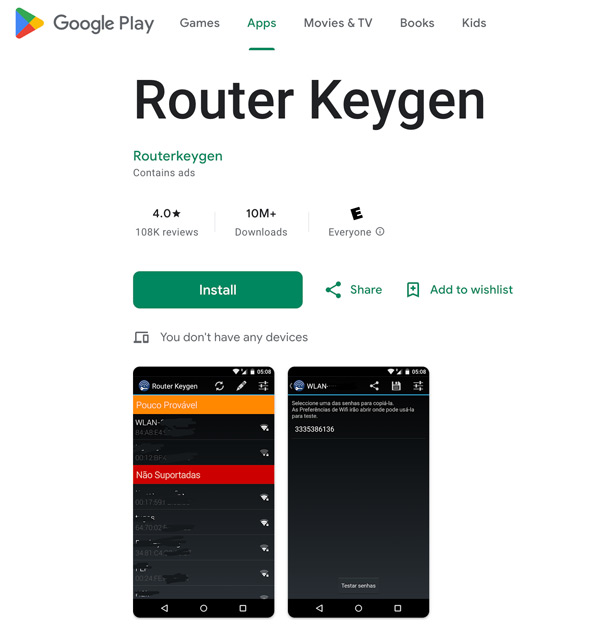 Router Keygen boasts an extensive database of common default keys, saving you the trouble of googling for default router credentials. However, it's important to note that using default keys should be done responsibly and within legal limits. With its comprehensive functionality, Router Keygen is a versatile app for managing your wireless network connections effectively.
Part 3. Windows 11/10/8/7 Wi-Fi Password Viewer Tools
Windows operating systems have a built-in tool called Wi-Fi Password Viewer, which allows you to view saved Wi-Fi passwords. Also, you can rely on some third-party apps to manage your created passwords.
Windows Wi-Fi Password Viewer
As a Windows user, you can use the official Wi-Fi Password Viewer to manage your network and enhance overall security measures. Whether you are using the latest Windows 11 or an older version like Windows 10, Windows 8, or Windows 7, you can use it to view and retrieve saved WiFi passwords. You can access the default Windows Wi-Fi password viewer in the Network and Sharing Center.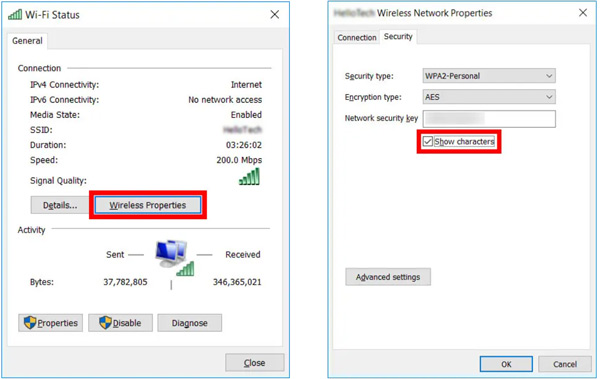 PassFab Wifi Key
PassFab Wifi Key is another excellent option for retrieving Wi-Fi passwords on your Windows devices. It offers a streamlined and intuitive interface, making it easy for users to navigate. This Windows 10 WiFi password viewer lets you instantly check and recover saved Wi-Fi passwords without hassle. It can scan your PC, identify the networks you have connected to, and display their associated passwords. You can copy and paste the passwords or save them for later use. Moreover, it allows you to create a password reset disk, which can be useful if you ever forget your login password.
Part 4. Best Mac Wireless Network Password Viewers
You can update the macOS to macOS Ventura or a later system and use its built-in wireless network password viewer. Or you can view your saved wireless network passwords using a third-party app.
Keychain Access
Mac users can rely on the built-in Keychain Access app to view and manage their Wi-Fi passwords. This powerful utility provides a comprehensive overview of all the saved passwords on your Mac, including Wi-Fi networks. With Keychain Access, you can effortlessly search, edit, and retrieve Wi-Fi passwords whenever needed.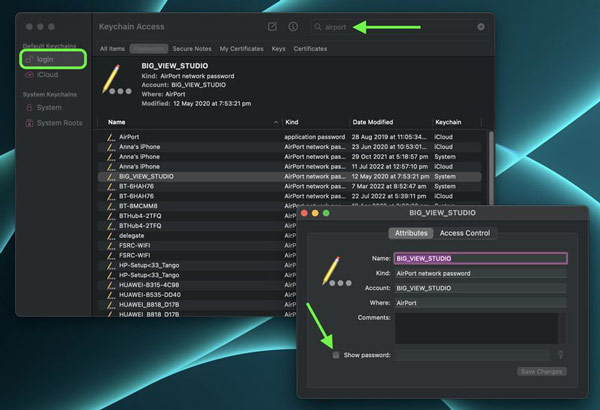 Dashlane Password Manager
Dashlane Password Manager is a feature-rich WiFi password viewer app for different devices like Macs, iPhones, Android devices, and Windows computers. It offers a straightforward interface and enables you to retrieve and display your saved Wi-Fi passwords quickly. Additionally, Dashlane supports advanced features like importing and exporting Wi-Fi passwords, making it a versatile tool for managing your wireless network connections.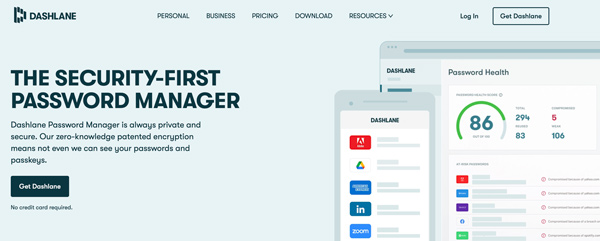 Part 5. FAQs of Wireless Network Password Viewer
How do you share an iPhone Wi-Fi password with Android?
To share an iPhone Wi-Fi password with an Android device, go to the WLAN or Wi-Fi settings and tap the i icon next to the network you like to share its passcode. Tap the Password section and choose the Copy option. Then, you can share the password to your Android phone.
How can I view the Personal Hotspot password on my iPhone?
To view your Personal Hotspot password on an iPhone, go to Settings, Tap Personal Hotspot, then check the Wi-Fi password Under the Personal Hotspot section.
Is it possible to find a hidden wireless network?
Yes, it is possible to find hidden wireless networks. Hidden networks are not broadcasted so that they won't appear on your device's list of available networks. However, if you know them, you can manually connect to a hidden network by entering the network name and password.
Conclusion
Wireless network password viewer apps simplify the task of retrieving your Wi-Fi passwords, ensuring you can effortlessly connect to your saved networks without the hassle of remembering complex passwords. Explore the ten options mentioned above and find the app that best suits your needs for viewing your Wi-Fi connections.