Learn to View Saved Passwords on Mac and Windows PC
We use various passwords to safeguard our personal and professional information. However, it's not uncommon to forget a password or need to access a saved one. So, you will get a detailed guide on how to view saved passwords on Mac and Windows computers in this post.

View Passwords Windows Mac
Part 1. How to View Saved Passwords on Your Mac
Mac users have several options for viewing saved passwords efficiently. You can use the native Keychain Access tool, leveraging iCloud Keychain, or opting for third-party password managers.
Viewing Passwords on Mac Using Keychain Access
Keychain Access is a built-in macOS tool that securely stores passwords. To view saved passwords using Keychain Access, follow these simple steps below.
Step 1Locate and open the Keychain Access application on your Mac by searching for it in Spotlight or navigating through

Applications > Utilities

.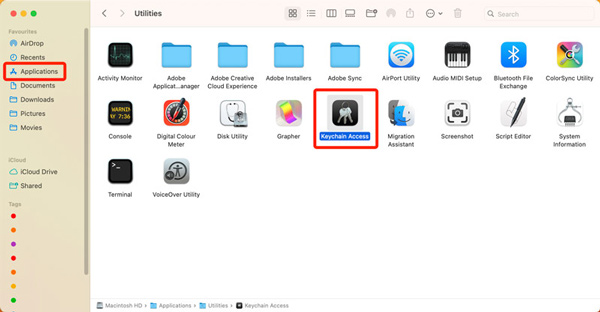 Step 2Within Keychain Access, locate and select the

Passwords

category. Scroll through the list of saved websites and applications until you find the one for which you need to view the password. Double-click the entry.
Step 3Then, a new window will appear, and you should check the box next to

Show password

in this window. You may be prompted to enter your user account password. The password will be revealed in the text box beside Show password.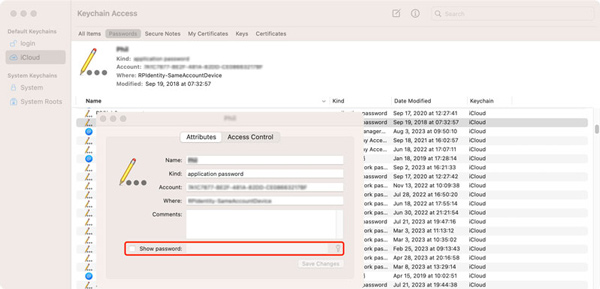 Please note that certain security measures may be in place to prevent unauthorized access to your saved password. Always ensure you have the necessary permissions or consult the network administrator before viewing or sharing sensitive information.
Viewing Passwords on Mac Using iCloud Keychain
If you use iCloud Keychain to sync passwords across your Apple devices, you can easily view saved passwords on a Mac.
Step 1Open

System Preferences

on your Mac. Click Apple ID to sign in your iCloud account, if necessary. Select

iCloud

from the sidebar and ensure that the

Keychain

option is checked.
Step 2Open Safari and navigate to the website you want to view the password. Click the top

Safari

menu, select

Settings

from its dropdown, then click the

Passwords

tab.
Step 3In the list of saved passwords, find the desired website and click to choose it. Hove your mouse onto the

Password

part to check details.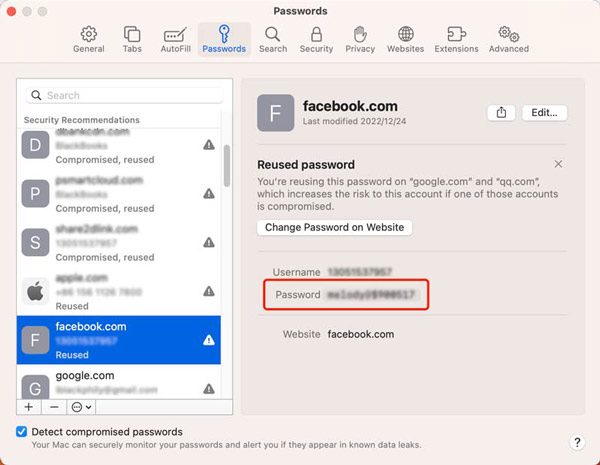 Viewing Passwords on Mac Using Third-Party Password Managers
Various third-party password managers are available for Mac that offer more advanced features and cross-platform support. These applications not only store passwords securely but also provide a simple way to view them whenever needed. Some popular options include imyPass iPhone Password Manager, 1Password, LastPass, and Dashlane. Installing and setting up one of these password managers can enhance your password management experience and provide additional security features, such as built-in password generators and two-factor authentication.
Checking Saved iPhone Passwords on Mac Using imyPass
Download and run imyPass on your Mac and connect your iPhone. Click Start to analyze all stored passcodes on this iOS device.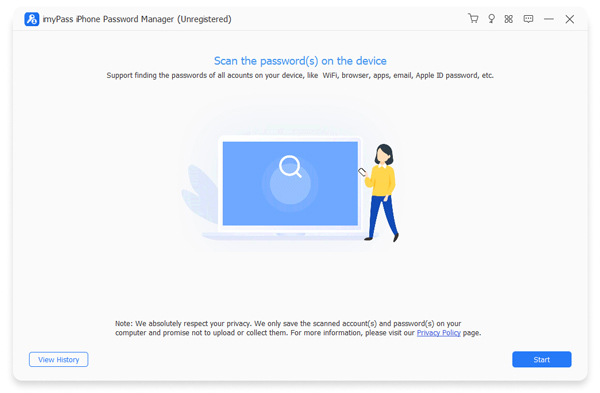 After scanning, your iPhone password types will show on the left, like Wi-Fi Account, Web & App Password, Email Account, Apple ID, and Screen Time Passcode.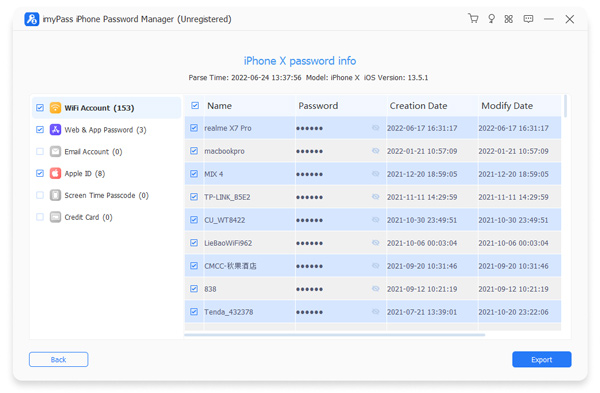 To view the saved iPhone password, click the eye button next to the specific one. This password management tool also lets you back up and export your passwords.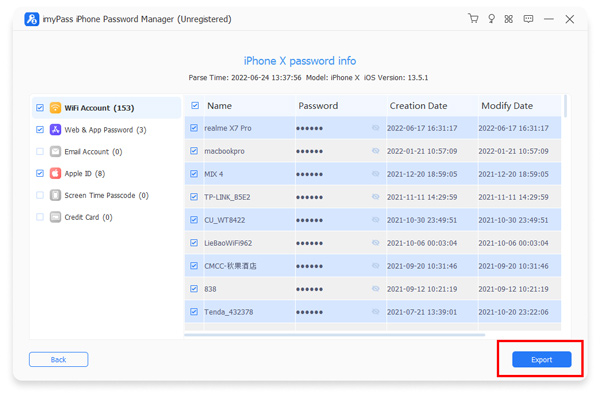 Part 2. How to View Saved Password on Windows 10/11/8/7 PC
Windows provides a convenient feature that allows users to save passwords for various applications and websites. This part will walk you through viewing saved passwords on Windows, ensuring easy access and management of your login credentials.
Viewing Saved Wi-Fi Password on Windows 10/11
Step 1Enter

Settings

by pressing the

Windows + I

keys. Locate and click the

Network & Internet

option.
Step 2Choose the

Wi-Fi

tab from the left-hand side menu. Scroll down and select

Network and Sharing Center

. In the new window, click the

Wireless Network Properties

button.
Step 3Navigate to the

Security

tab. Check the box labeled Show characters to reveal the saved Wi-Fi password.
Viewing Saved Password on Windows 10/11 Using Credential Manager
Step 1The first step to view saved passwords on Windows 10/11 is to open the Credential Manager. Go to the

Windows Start

menu and open

Control Panel

. Navigate to

User Accounts

and select

Credential Manager

.
Step 2Once you have opened the Credential Manager, you will find two types of credentials:

Web Credentials

and

Windows Credentials

. To view saved passwords for websites, choose Web Credentials.
Step 3Now, you can see a list of websites for which passwords have been saved. Scroll through the list and select the website for which you want to view the password. Click the

Show

button located next to the password field.
Step 4Besides viewing passwords, it lets you manage your saved credentials. You can modify or delete passwords for specific websites by selecting the corresponding entry and choosing the appropriate option.
Part 3. FAQs of How to View Saved Passwords on Mac and Windows
How do you see your Wi-Fi password on your Mac?
Click the Wi-Fi button on the top right part of your Mac screen and choose Wi-Fi settings from its dropdown. Once you find your Wi-Fi network, click the 3-dots button next to it to open the details. Then, you can paste it into a text field to see it.
How do you view Wi-Fi passwords on your iPhone?
To view Wi-Fi passwords on an iPhone, you can go to Settings. Scroll down and tap on WLAN or Wi-Fi. Find the wireless network for which you want to view the password and tap on the (i) button next to it. On the next screen, tap the Password section. Authenticate using Face ID, Touch ID, or your device passcode. Once authenticated, the Wi-Fi password will be displayed, and you can use it as needed.
How to view saved passwords in IE Windows 11?
To view saved passwords in Internet Explorer on Windows 11, open your IE browser and go to Settings. From the dropdown of the Settings menu, choose Internet Options. Go to the Content tab and select Settings in the AutoComplete section. Click Manage Passwords to display a Credential Manager window. It shows all your saved passwords. You can view the saved passwords by selecting the desired entry and clicking the Show button. You may be prompted to enter your Windows account password or provide administrator permission to view the saved passwords.
Conclusion
Accessing saved passwords on your Mac or Windows computer can be an invaluable skill, especially when you have forgotten a crucial login or need to update your password. With the guide in this post, you can easily access passwords stored on your computer.