What Is iCloud Keychain and How to Use It on Your iPhone/iPad and MacBook
Today, we store lots of information on our mobile devices. Login information, for example, includes usernames and passwords that we use to access a variety of websites and services in the browser. However, it is a big problem to remember these certificates. Therefore, Apple developed the iCloud Keychain feature, which saves your passwords in your account and syncs them across iOS devices and MacBooks. This article will talk about what iCloud Keychain is.

What is iCloud Keychain
Part 1. What Is iCloud Keychain
Briefly speaking, iCloud Keychain is the password manager developed by Apple for macOS and iOS. It remembers the passwords and login information that you used in Safari. So that you can log into websites quickly and easily.
Moreover, the login information will be saved to your iCloud and synced across all your devices associated with the same account.
Part 2. How to Enable and Disable iCloud Keychain
As an excellent feature, iCloud Keychain is easy to use, but you need to enable and set up the feature on your handset and MacBook first. Read the how-to below carefully so that you can enable and disable the feature easily.
How to Enable and Disable iCloud Keychain on iPhone/iPad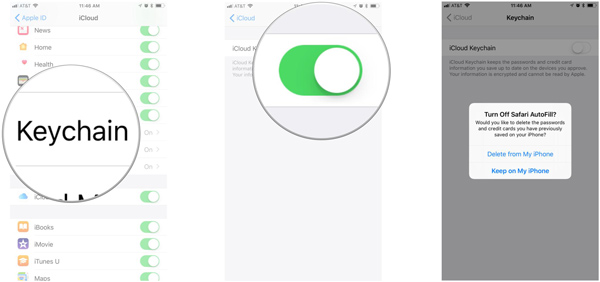 Step 1Run the Settings app from your home screen, tap on your profile, and go to the

iCloud

tab.
Step 2To enable iCloud Keychain, scroll down and tap

Keychain

, and toggle on the switch of iCloud Keychain. When prompted, input your Apple ID and password.
Tips :
If you have set up an iCloud Keychain password, you will be asked to enter it when enabling Keychain. If not, you will be prompted to create a password.
To disable the password manager, turn off the iCloud Keychain switch. Then you will be asked whether to turn off Safari AutoFill. Select Delete from my iPhone to store passwords in iCloud or choose Keep on my iPhone to save the data on your iPhone. Then enter your Apple ID password.
How to Enable and Disable iCloud Keychain on Mac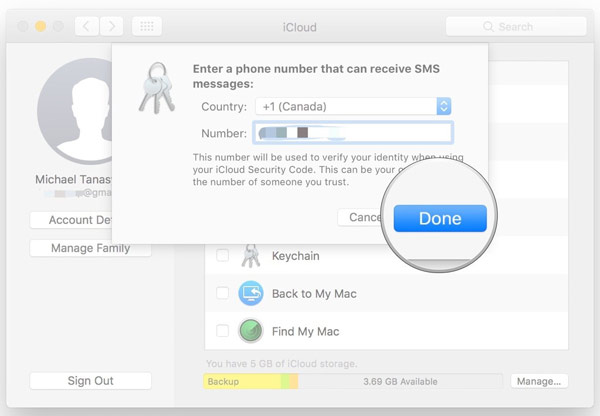 Step 1Go to the

Apple

menu, choose

System Preferences

, and open the

iCloud

app.
Step 2Tick the checkbox next to the

Keychain

option. When prompted, input your Apple ID password. Click

OK

to confirm the action.
Step 3If you have set up iCloud Keychain password, enter it, click

Next

, and follow the instructions.
Step 4Input an accessible mobile number, and input the verification code when you receive the text message. Finally, click the

Done

button to complete it.
Tips :
The phone number will be used to verify your identity whenever you want to access Keychain.
Part 3. How to Access and View iCloud Keychain Passwords
With iCloud Keychain enabled, you can access and view the saved passwords on either your iPhone/iPad or MacBook. So that you can visit the websites quickly and won't worry about data loss.
How to Use iCloud Keychain on iPhone/iPad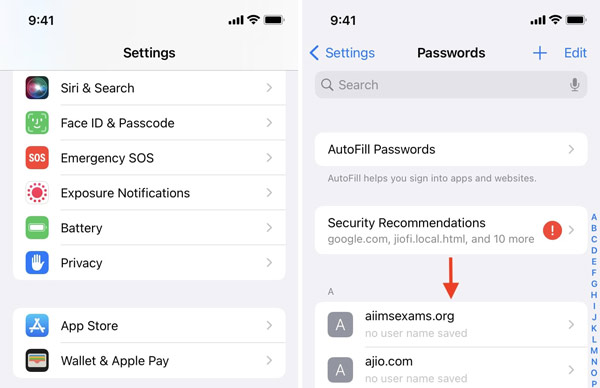 Step 1Open the Settings app, tap

Passwords

, or

Passwords & Accounts

, and then

Website & App Passwords

depending on your iOS version.
Step 2Verify ownership using Face ID, Touch ID, or your iPhone passcode.
Step 3Now, you will be presented with the website list. Tap a website, and you can view iCloud Keychain on your iPhone directly. Here you can also change the password or delete the item.
Recommend: Best Alternative to iCloud Keychain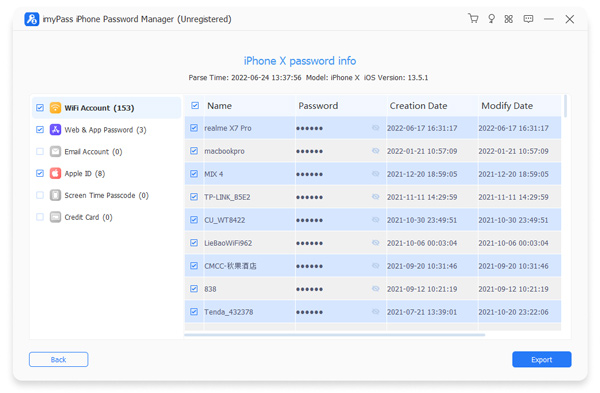 Besides the official way, we should recommend imyPass iPhone Password Manager as an alternative solution to manage passwords on your iPhone or iPad. It covers more types of passwords and lets you access iPhone passwords easily.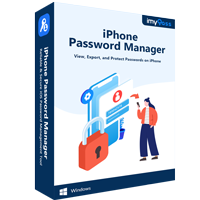 4,000,000+ Downloads
View iPhone passwords by type easily.
Support passwords of the web, app, Wi-Fi, email, Apple ID, and more.
Back up your iPhone passwords to a computer.
Available to a wide range of iPhones and iPad models.
How to Access iCloud Keychain on Mac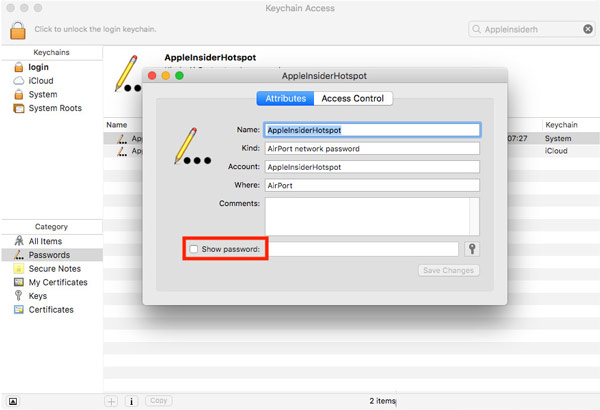 Step 1Run the

Keychain Access

app from the

Utilities

folder in the

Applications

main folder.
Step 2Choose

Passwords

in the

Category

section on the left sidebar. Then you will see all saved certificates on the right panel.
Step 3Select one item, and then tick the checkbox next to

Show password

. Now, you access iCloud Keychain on your Mac.
Note: When accessing the System Keychain, you need to input the admin account and password.
Part 4. How to Add Passwords to iCloud Keychain
As long as you enable iCloud Keychain on your iOS device or MacBook, it will save your passwords automatically. Of course, you can add passwords to iCloud Keychain on either your iPhone or Mac computer manually.
How to Add a Password to Keychain on iPhone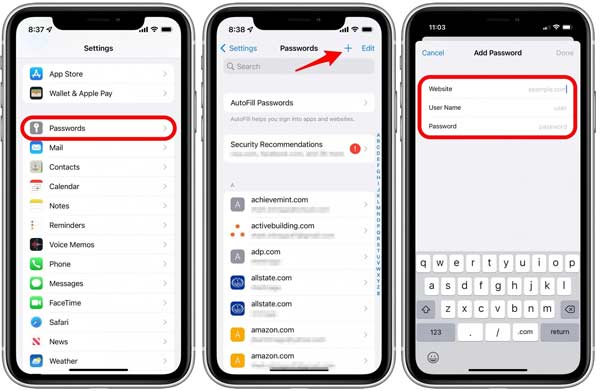 Step 1Run the Settings app, go to the

Passwords

tab, and authenticate the action with your Face ID, Touch ID, or passcode.
Step 2Tap the

Add

icon at the top right corner, and then enter the website, username, and password.
Step 3When it completes, tap the

Done

button. Then you can use the Keychain password on your iPhone.
How to Add a Password to Keychain on Mac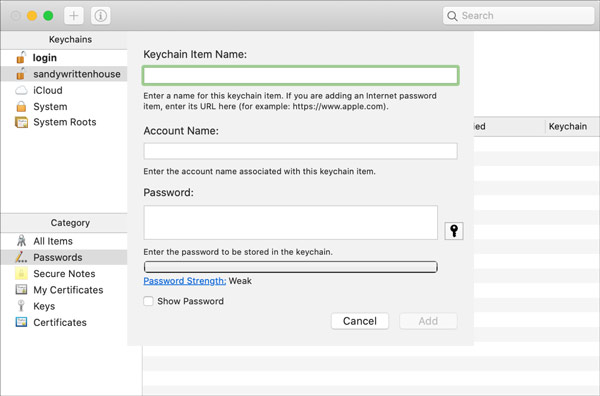 Step 1Open the Keychain Access app on your Mac, and head to the

Passwords

tab under the

Category

section.
Step 2Click the

Add

icon at the top left corner to pop up the new item screen.
Step 3Then input the item name, account, and password into the corresponding boxes. Finally, click on the

Add

button to confirm it.
Note:
Tips :
You cannot add a password item to the System Roots keychain.
Part 5. How to Delete Saved Passwords from iCloud Keychain
To free up space and make the Keychain list compact, you'd better manage your passwords regularly. Apple allows you to delete useless passwords from iCloud Keychain on both iOS devices and Mac.
How to Delete Passwords from Keychain on iPhone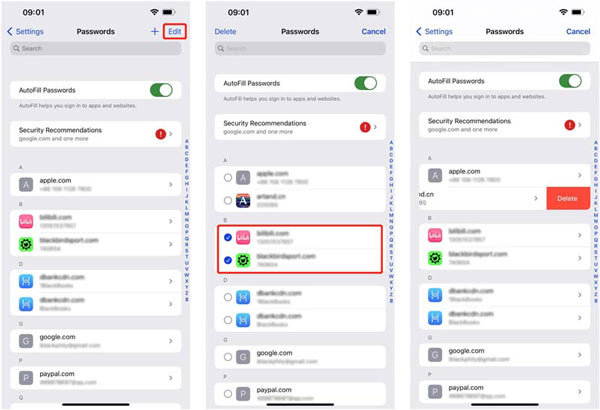 Step 1Choose

Passwords

in your Settings app, and verify your identity with Face ID, Touch ID, or passcode.
Step 2Tap the

Edit

button at the upper right side.
Step 3To delete a password in Keychain, swipe the item to the left side, and tap

Delete

. If you wish to delete multiple items, select them, and tap

Delete

on the top of your screen.
How to Delete Passwords from Keychain on Mac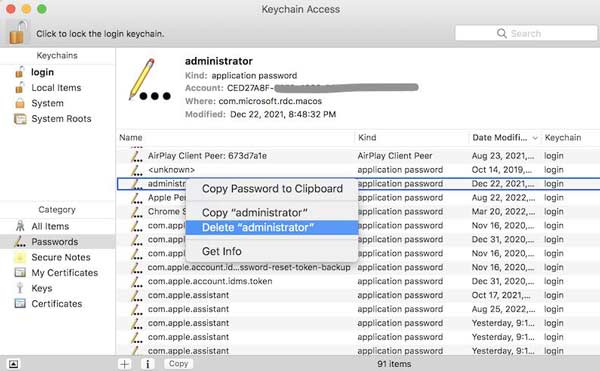 Step 1Run the Keychain Access app, and enter the

Passwords

tab.
Step 2Press the passwords that you want to delete, right-click on one of them, and choose

Delete

on the context menu.
Step 3Input your system password when prompted. Then click the

Delete

button again.
Part 6. FAQs about iCloud Keychain
Is iCloud Keychain safe?
Like a browser-based password manager, iCloud Keychain is more vulnerable to security breaches than other options since it's designed with convenience.
Is Apple Keychain a good idea?
Keychain is a convenient way to save passwords on iOS and Mac, but outside the Apple ecosystem, it only provides limited password support.
Can my family see my iCloud keychains?
According to the report, iOS 17 lets you share iCloud Keychain passwords with friends and family.
Conclusion
Now, you should understand what iCloud Keychain is, how it works, and how to use it. As a convenient password manager, iOS and Mac users can save and manage their passwords using this feature across devices. However, it is not perfect. We recommended an alternative iPhone password manager, imyPass iPhone Password Manager. If you have more questions, please write them down below.