3 Helpful Tips to Fix iPhone Is Disabled Connect to iTunes
Get an iPhone is disabled connect to iTunes alert on the screen after entering the wrong passcode too many times? What does this iPhone is disabled prompt mean, and how to get rid of it?

Fix iPhone is Disabled Connect to iTunes
If you see this error message, don't worry. There are a few possible ways to fix it. This post explains some of the most common causes and three helpful methods to fix your disabled iPhone.
Part 1. Why Does the iPhone Is Disabled Connect to iTunes Alert Appear
When an iPhone is disabled, you enter the wrong passcode into your iPhone lock screen too many times. This can happen if you forget your passcode or someone else tries to unlock your iPhone without your permission. The more times you enter the wrong password, the longer your device will be disabled. Eventually, you will see the iPhone is disabled connect to iTunes message.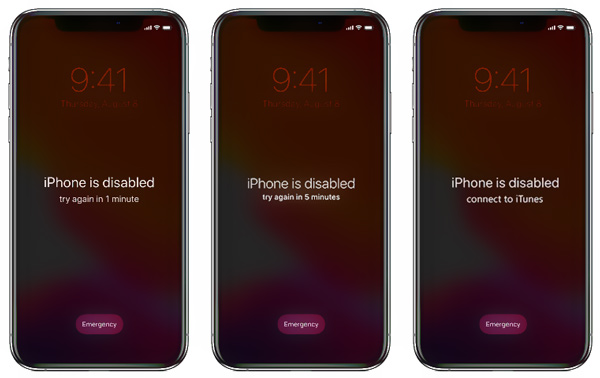 The alert on your iPhone screen tells you your iPhone is disabled. In fact, you should not repeatedly enter the wrong passcode to unlock your device if you can't be certain the password is correct.
Your iPhone or iPad will be permanently locked for 1 minute if you enter an incorrect passcode 6 times. It will be locked for 5 minutes after entering the wrong password 7 times. If you keep inputting the wrong passcode, your iOS device will be locked for 15 minutes, 30 minutes, and then permanently locked. In that case, you can see the iPhone is disabled connect to iTunes message appear on the screen. You can't do any operations on your iPhone except the Emergency service.
Part 2. Most Common Causes of an iPhone Is Disabled
There could be various reasons why an iPhone may become disabled and display the iPhone is disabled error message. Here are some of the most common causes.
Multiple incorrect passcode attempts
If someone attempts to enter the wrong passcode multiple times, your iPhone will be disabled as a security measure. After a certain number of attempts, you will be prompted to connect your device to iTunes. Your iPhone is permanently locked. You have to use iTunes to unlock it.
iOS update or restore failure
Sometimes, an iOS update or restore may fail in the middle of the process due to the network and other issues, which can cause damage to the iPhone's operating system and make it unresponsive. That may trigger the iPhone is disabled and connect to iTunes error.
Hardware damage
When your iPhone gets some physical damage, such as a cracked screen or damage to the charging port, that can cause it to become unresponsive. The iOS device may require you to connect it to iTunes.
Jailbreaking or app bugs
If you have jailbroken your iPhone and installed unauthorized apps or modified system files, this could cause damage to the iPhone operating system. Your iPhone is turned to disable and prompts you to connect it to iTunes.
Part 3. Fix iPhone Is Disabled Connect to iTunes
When you see the iPhone is disabled alert on the screen, you can connect it to iTunes as it prompts you to fix it. Also, you can use iCloud or third-party software to get rid of the disabled iPhone issue. This part will show you how to unlock your disabled iPhone with these three solutions.
Connect iPhone or iPad to iTunes when disabled
If your iPhone is locked permanently, you can use iTunes to restore it to factory settings and remove the forgotten passcode. To do that, you need a computer and a compatible USB cable.
Step 1First, you should turn your disabled iPhone off. You can use the common way to power it off. For most new iPhone models, you can press and hold the

Side

and

Volume down

buttons to display the power off slider. If you use an old iPhone like iPhone 7 or iPhone 6, you should keep pressing its Power button until you see the power off slider.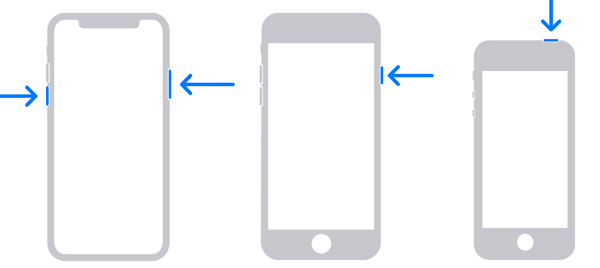 Step 2Run iTunes on your computer and build the connection between your iPhone and it. You must put your device into recovery mode if you've never synced your iPhone with iTunes. You need to press the correct button immediately while connecting your iPhone to the computer.
For iPhone 8 or later: Press the Volume Up button and quickly release it. Press Volume Down and release it quickly. Then press and hold the Side button until the Recovery screen appears.
For iPhone 7 or iPhone 7 Plus: Please press the Side and Volume Down buttons and hold them until the Recovery screen appears.
For iPhone 6s or earlier: Press the Side and Home buttons simultaneously until the Recovery screen appears.
Step 3When your iPhone enters recovery mode, iTunes should detect and offer to restore the iOS device. Click the

Restore iPhone

button and follow the on-screen instructions to complete the process.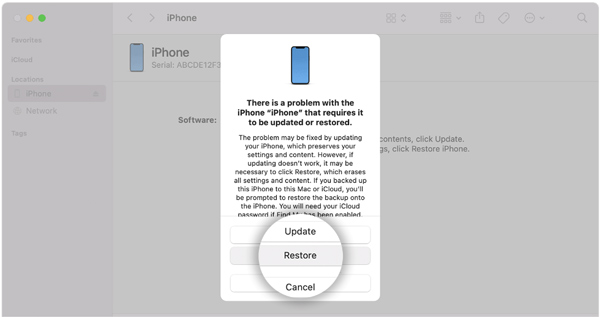 Step 4If your iPhone has already been synced with iTunes and you have a backup available, you can simply click

Restore Backup

to restore your iPhone to a previous state with a passcode you know.
A better way to fix iPhone is disabled connect to iTunes
Some third-party iPhone passcode recovery tools offered on the market can help you fix the disabled iPhone issue. The software uses specialized algorithms to erase and reset your forgotten iPhone passcode without causing data loss. But you should be careful when choosing third-party software and make sure it comes from a reputable source.
Here we strongly recommend the easy-to-use iPassGo to easily fix your disabled iPhone or iPad. It gives a simple way to remove your forgotten lock screen password, Touch ID, and Face ID. Moreover, it lets you bypass Apple ID passcode and Screen Time restrictions. You can download it for free and follow the tutorial to get rid of the disabled iPhone problem.
Step 1Open the iPhone passcode unlocker on your Mac or Windows PC and select the

Wipe Passcode

function. Connect your disabled iPhone with a compatible cable. Click the

Start

button to move on.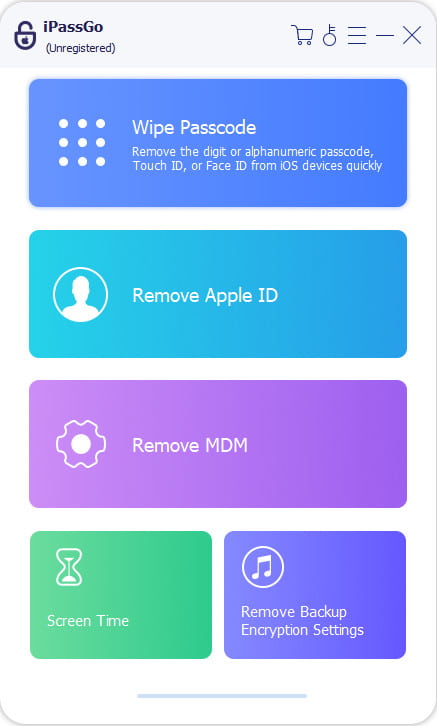 Step 2When your iPhone is recognized, iPassGo will list some associated information about your iOS device. You need to confirm this information, then click

Start

to download the firmware package.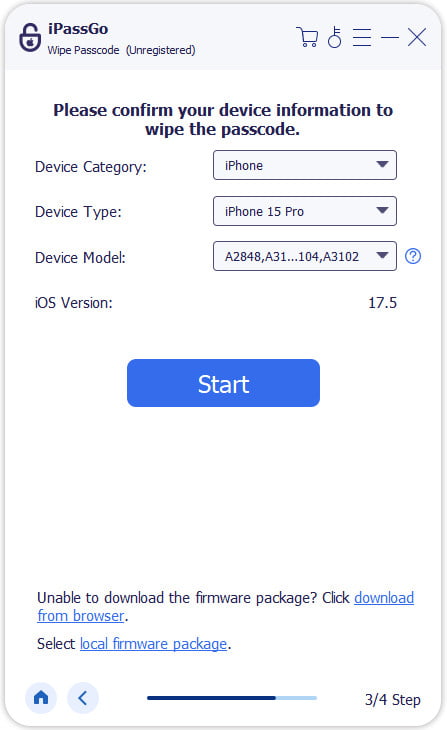 Step 3Click

Unlock

once the firmware package is downloaded. Then enter

0000

to confirm the iPhone unlocking. Within a few clicks, you can handily unlock your disabled iPhone.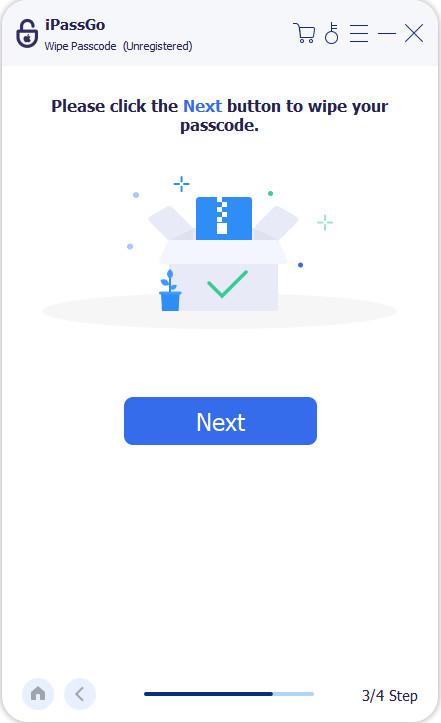 Erase iPhone to unlock a disabled iPhone using iCloud Find My
To quickly troubleshoot the iPhone is disabled connect to iTunes error, you can use the Find My iPhone feature to erase all content and settings on your phone. If you have Find My iPhone set up and enabled on your iPhone, use iCloud to reset your lock screen passcode with ease.
Step 1Go to the

iCloud

website and sign in with your Apple ID. After signing into your account, choose the

Find My iPhone

option.

Step 2Click

All Devices

to list all Apple devices associated with your Apple ID. Select the disabled iPhone from the list. Click Erase and follow the prompts to factory reset your iPhone. This operation will delete all your iPhone data and reset the forgotten password.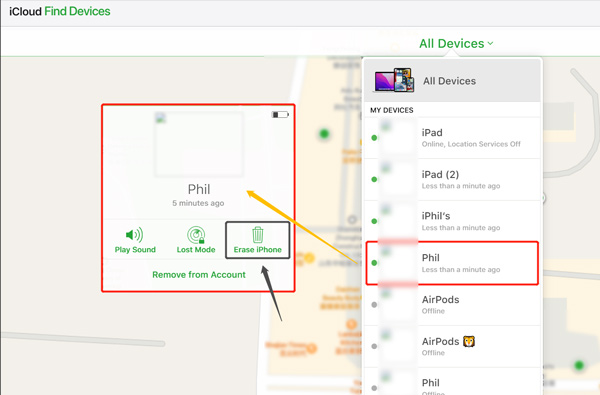 Contact Apple Support when your iPhone is disabled
With the three methods above, you can unlock your disabled iPhone and reset the forgotten passcode. Also, you can visit the Contact Apple Support page to get official help from Apple. It gives you a detailed video guide to restore your iPhone when disabled. You can read some related articles to fix the issue. Besides, you can explain the iPhone is disabled connect to iTunes problem through an online chat or a call. Follow their guide to gain access to your iPhone. You need to sign into your Apple account to verify your account ownership and the iOS device.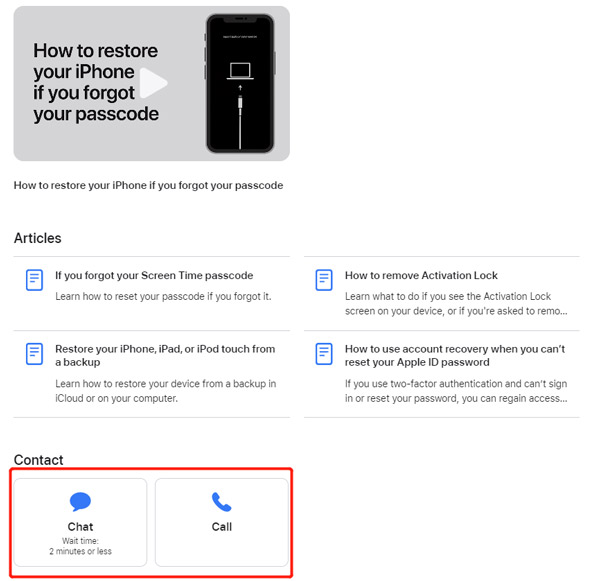 Part 3. FAQs of iPhone Is Disabled Connect to iTunes
How do you avoid your iPhone being disabled?
You should set a personal and easy-to-remember lock screen password for your iPhone. Otherwise, you can write down your passcode in some safe place. For most iOS devices, you can create a Face ID or Touch ID to unlock. You can set an alternative locking method to access your iPhone when you can't remember the passcode.
When you see the iPhone is disabled alert, try again in 1 minute, you should not keep entering an uncertain password. You may consider turning on the Erase iPhone feature. It will automatically factory reset your iPhone after 10 wrong passcode attempts. Also, you need to prevent others, especially your child, from mistakenly using your phone.
What to do if my iPad is disabled connect to iTunes but nothing happens?
When your iPad is disabled, but nothing happens when you connect it to iTunes, you should ensure you have put it into Recovery mode and then make the connection. iTunes can't recognize the iOS device when it is disabled. Follow the guide above to put your iPad into Recovery mode and ensure iTunes is updated to the latest version. Do not connect the disabled iPad before it has in Recovery mode already. If you still can't connect your iPad to iTunes, try using another cable.
Can I unlock my disabled iPhone through Siri?
There once was a tricky way to access an iPhone without a passcode using Siri. But the method can't work for most new iOS versions. When your iPhone or iPad is disabled, you can't activate Siri to do any operation, let alone unlock it.
Conclusion
The iPhone is disabled connect to iTunes error message usually indicates a problem with the iOS device's software or hardware. By following the above three methods, you should be able to restore your iPhone and get it working properly again. If the issue persists, you may need to contact Apple Support or take your device to an authorized repair center for assistance. If you have any other tip