5 Verified Ways to Unlock Your iPhone Without a Passcode
Your Face ID or Touch ID can be used to access your locked iOS devices quickly if these devices can recognize your face or fingerprint, even when you forget the digital password.

Unlock iPhone iPad iPod without Password
It's quite a common situation that you don't know the current lock screen passcode and can't unlock your iPhone using Face ID or Touch ID. Your iPhone is disabled due to too many failed password attempts. This post will guide you to unlock an iPhone without a passcode. You can use your preferred way to access your locked iOS device with ease.
Part 1. Easy Way to Unlock Your iPhone Without a Passcode, Face ID, and Touch ID
When you set up an iOS device, you are required to create a 4-digit or 6-digit passcode to lock your iPhone, iPad, or iPod touch and protect your privacy. Besides, you can use the Face ID or Touch ID to access it. Sometimes, you may forget the lock screen password because you rarely need to enter it. So you are more likely to get locked out of your iPhone when your Face/Touch ID can't recognize you successfully.
To easily unlock an iPhone without a passcode, Face ID, and Touch ID, you can rely on the powerful iPassGo. It lets you safely access your iOS device without a password in all scenarios. Moreover, it gives a simple way to remove Apple ID passcode and bypass Screen Time restrictions.
Step 1Free download this iPhone passcode unlocker on your computer and launch it. You can unlock your iPhone on a Mac or Windows PC. Choose the

Wipe Passcode

feature and connect your locked iPhone.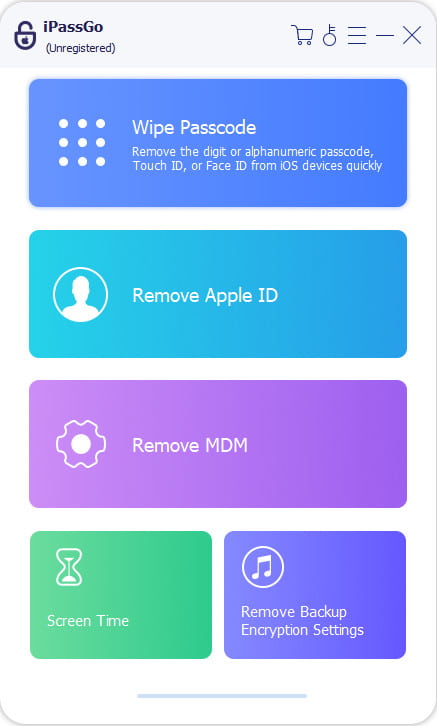 Step 2Click the

Start

button and help it recognize your iOS device successfully. Confirm your iPhone information and click

Start

to download the firmware package based on your iPhone model.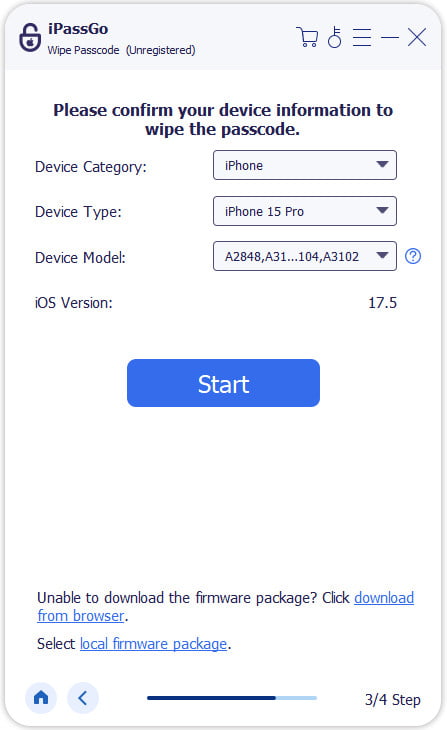 Step 3When the firmware package downloading is finished, click the

Unlock

button. Then please input

0000

to remove your forgotten iPhone passcode.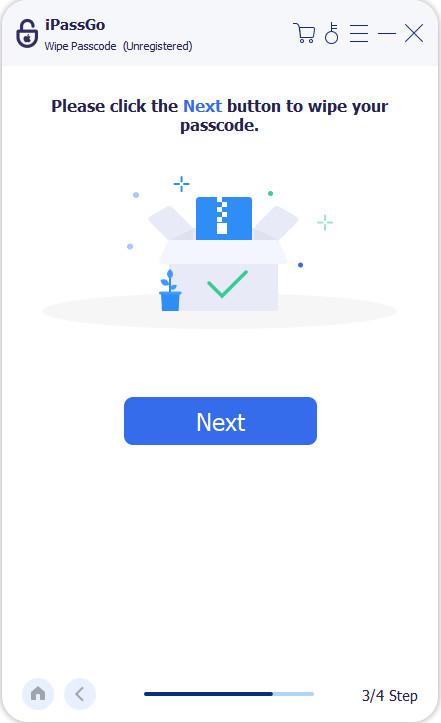 iPassGo offers a convenient way to quickly unlock your iPhone without a password. Besides, it can help to remove your Apple ID passcode to access various Apple services, bypass Screen Time restrictions, fix a disabled iPhone, and more. You can free download it to solve all kinds of password-forgotten problems.
Part 2. How to Unlock Your iPhone Without a Password via iTunes
If you have ever synced your iPhone with iTunes before, you can use it to remove the passcode when you forget your iOS devices passcodes. Connect the locked iPhone to a computer using a lightning USB cable, then open the latest version of iTunes.
Once iTunes recognizes your iOS device, click Restore iPhone and then click the Restore button to confirm your selection. The restoring operation will erase all content and settings on your iPhone and install the latest version of iOS. When the restore process is complete, you can set up your iPhone as new or restore it from a backup. You can unlock it without a passcode.

If iTunes can't detect your iPhone, you should put it into Recovery mode for unlocking. Press and hold the Side and Volume buttons to turn it off on a new iPhone model like iPhone 14/13/12/11/X. For an old iPhone, you may need to press and hold the Power button to power it off. If you have an iPhone 7, you should keep pressing the Side and Volume Down buttons simultaneously. Connect your iPhone to a computer and turn it on.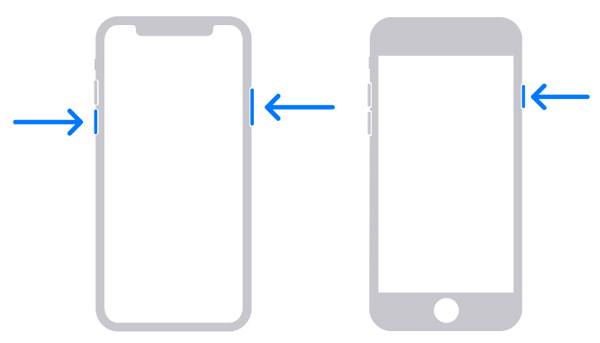 iTunes can detect your iPhone is under Recovery mode and offer two options to deal with your device, Restore and Update. You can click the Restore button to factory your locked iPhone and remove its passcode.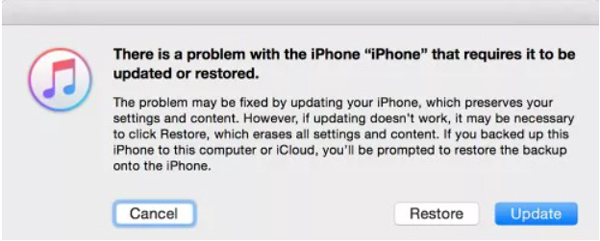 Part 3. How to Unlock iPhone Without Password Through iCloud Find My
If you have enabled the Find My iPhone feature on your iPhone, you can use iCloud to erase the iOS device and remove the forgotten passcode. It is specially designed to locate your missing Apple device, remotely erase it, display a message, or play a sound. You can access Find My in iCloud. Go to the official iCloud website and follow the steps below to unlock your iPhone.
Navigate the iCloud website and sign in with your Apple ID and password. Once logged in, click the Find My iPhone button and select your iPhone from the list of Apple devices. Click the Erase button and take the on-screen instructions to complete the process. After your iPhone is erased, you can set it up as new and unlock it without a passcode.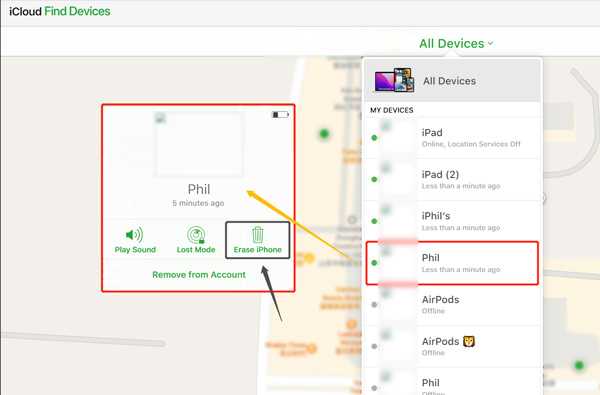 Part 4. How to Unlock iPhone Passcode Without a Computer Using Siri
If you have enabled Siri on your iPhone, you can bypass the lock screen passcode. To do this, hold down the Home button to activate Siri and ask it to Turn on VoiceOver. Siri will enable VoiceOver, which can be used to access certain features of your iPhone without a passcode.
Swipe right on the iPhone screen to highlight Slide to Unlock, then double-tap the screen to unlock it. You may need to swipe multiple times to get the right option, but once you do, you should be able to unlock your iPhone without a password.
If you fail to unlock your iPhone with the method above, you can try asking some questions, such as what the time is now. Siri will guide you to a time interface with the clock widget to display the list of time zones. Try tapping the + button and entering some characters in the search box. Then tap Select All and tap the Share button. You can use the Message app to share it. After that, close the app and check if your iPhone is unlocked.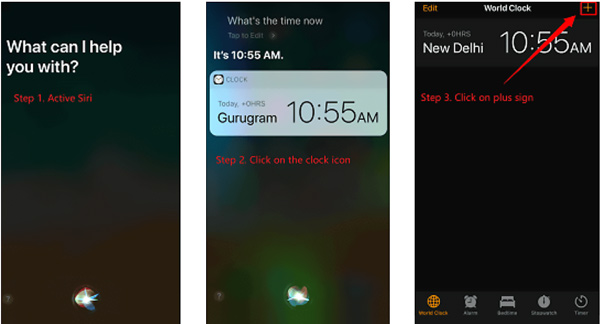 This iPhone unlocking method has many limitations. It only supports specific iPhone models running iOS 8 to iOS 10.1. You need to enable Siri and can activate it to do further operations. For most new iPhone models, you cannot ask Siri unless you unlock your iPhone. If you get the chance to unlock it, try changing the forgotten lock screen passcode.
Part 5. How to Unlock iPhone Without Password with the Calculator
When you can't unlock an iPhone through a passcode, Face ID, or Touch ID, try accessing it through the Control Center. You need to open Calculator and try unlocking your iPhone. Remember that this trick method only works for some old iPhone models.
Turn on your iPhone screen and swipe from the top-right screen to display the Control Center. Then you need to turn on the Airplane mode and turn off Wi-Fi, Cellular, and Bluetooth. Tap Calculator to open the app. Turn off Portrait Orientation and turn your iOS device sideways. It lets you access the scientific calculator. Type some numbers and make the calculations. Then you can swipe up your iPhone screen and try unlocking it without a password.
You can contact Apple Support for assistance if none of the above methods work. Apple Support can help you unlock your iPhone with ease. But you are required to provide proof of ownership. Sometimes, you need to pay a fee for the unlocking service. You can go to the Apple Support website, select your iPhone model, then explain the iPhone unlocking problem. Also, you can go to a local Apple Store to unlock your iOS device.
Part 6. FAQs of How to Unlock an iPhone Without a Passcode
How do you unlock the iPhone passcode without a computer?
When you want to unlock an iPhone without a computer, you can go to the iCloud website on another phone and use the Find My erasing way to remove the source lock screen passcode. Note that this method will delete all iOS files and settings on your iPhone.
Can others help me unlock my iPhone without a passcode?
Suppose your Apple account is linked to other family members' iOS devices. They can help you unlock your iPhone using Find My iPhone. When they reach the iCloud Find My page, select your iPhone from the Devices list, then click Erase to factory your iPhone and unlock it.
Is it possible to unlock an iPhone without a passcode via a Camera?
No. Most iPhone models and iOS versions can't be unlocked with the Camera app. You can open the Camera app to take pictures and record videos when your iPhone is locked. In addition, you are allowed to view these files. But you can not open other apps and access various Apple services without unlocking your iPhone. Once in some old iOS versions, there is a chance to unlock an iPhone without a password through the Camera app.
How to unlock an iPhone using an Apple Watch?
Apple allows you to easily unlock an iPhone without a password using your Apple Watch. This way needs you to ensure that both your iPhone and Apple Watch are nearby and linked together. Also, you need to ensure the Unlock with Apple Watch feature is turned on. You can enable the feature by going to the Watch app on your iPhone. After that, whenever you wear your Apple Watch and want to open your iPhone, it will automatically unlock without requiring you to enter your passcode.
Conclusion
These are five helpful ways to unlock an iPhone without a passcode. However, it's important to note that some of these methods may not be suitable for everyone and could potentially result in the loss of iOS data. It's always a good idea to back up your iPhone regularly to avoid losing important files.
Please note that unlocking an iPhone without authorization may be illegal in some jurisdictions and could potentially damage the device or void its warranty. It is always best to regain access through official means or seek professional help. If you have other effective solutions to unlock an iPhone without a password, please share them in the comments with other readers.