Top 5 Ways to Bypass iPhone Lock Screen Passcode
Unlocking your iPhone without a passcode can be a tricky and time-consuming task. It requires careful consideration of several points to ensure you don't accidentally wipe out important data or damage your iPhone. This post will discuss five effective methods to bypass iPhone passcode.

Change Password Windows 10
Part 1. Best Way to Bypass Your iPhone or iPad Passcode Using iPassGo
iPassGo is an easy-to-use passcode bypassing and iOS unlocking tool. It supports all commonly-used iPhone and iPad models and iOS versions. It lets you easily bypass your iPhone lock screen password on a Mac or Windows computer. When you forget your iPhone passcode and can't unlock it through your face or fingerprint, you can take the following guide to bypass an iPhone lock screen passcode without iTunes. Besides the 4-digit and 6-digit passcodes, it can remove Face ID and Touch ID to unlock your iOS device.
Step 1Whether you want to bypass your iPhone or iPad passcode or unlock a disabled iOS device, download this recommended iPassGo on your computer first. Open it and choose the

Wipe Passcode

function. As you can see, it also lets you remove your Apple ID password, bypass iCloud Activation Lock, and eliminate Screen Time restrictions.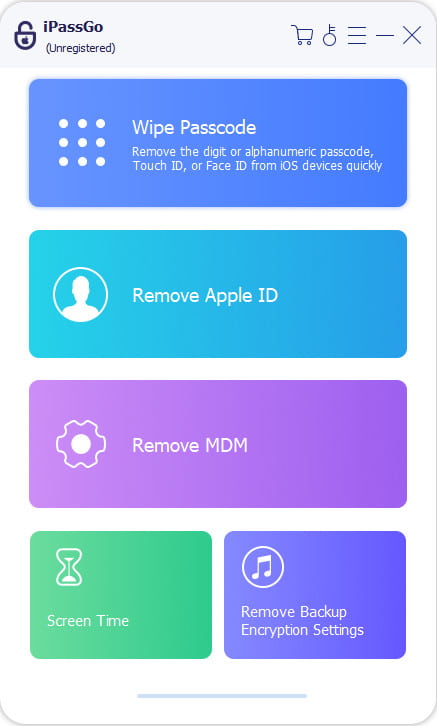 Step 2Click

Start

and connect your iPhone to it. After connecting successfully, iPassGo will display basic information about the iOS device. Check and confirm the information and download the firmware package to bypass your iPhone lock screen passcode.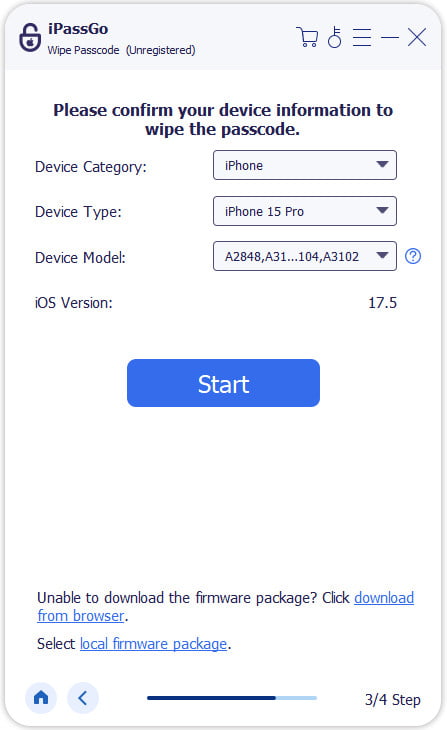 Step 3When downloaded, click the

Unlock

button and enter

0000

to wipe your forgotten iPhone passcode and Touch ID or Face ID. This operation will remove the screen lock and let you access your iPhone without a passcode.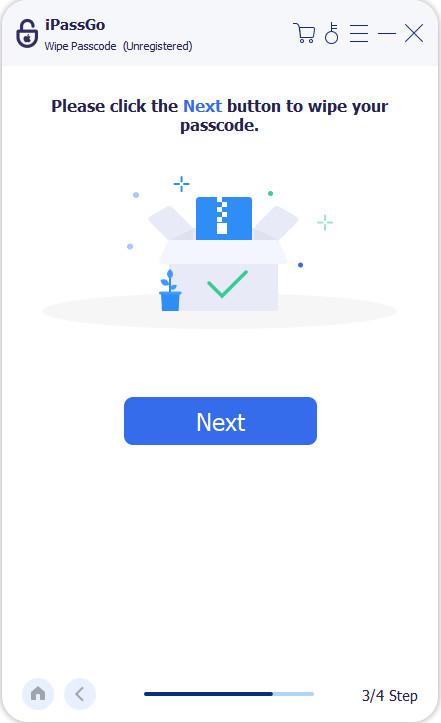 Part 2. How to Bypass an iPhone Passcode Through Find My
Find My iPhone is an essential feature Apple provides to help iOS users accurately locate their lost or stolen devices. But did you know that you can also use it to unlock your iPhone? Follow the steps below to bypass an iPhone passcode using Find iPhone.
Step 1You can access the Find iPhone feature from the iCloud website. Open a web browser, search for iCloud, and navigate its official website. Sign in with your Apple ID and password when you reach the page.
Step 2After signing into your Apple account, click the

Find iPhone

option to continue. Click

All Devices

in the central part of the top screen to list all your Apple devices. Select the iPhone you want to bypass its lock screen passcode from them.
Step 3Click the

Erase iPhone

option to factory reset your iPhone. You should follow the onscreen prompts to confirm your decision.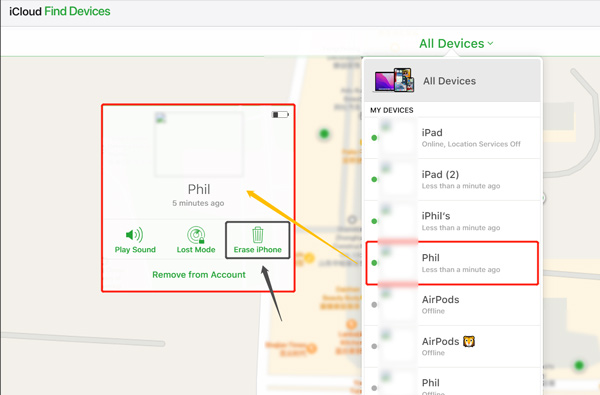 This operation will erase all data on your iPhone, including the lock screen passcode. However, the method should be a last resort since you will lose all iOS data if you haven't backed up your iPhone using iCloud or iTunes.
Part 3. How to Bypass iPhone Lock Screen Passcode via Recovery Mode
When your iPhone is locked or disabled, you can choose to put it into Recovery mode to bypass the lock screen password. Ensure you have ever synced your iOS device through iCloud or iTunes, then use the method below to bypass your iPhone passcode using the Recovery mode.
Step 1Connect your iPhone to a computer and launch iTunes. If iTunes prompts you to download the latest version, click the

Download

button to update it.
Step 2Press the

Power

button or

Power + Volume

buttons simultaneously to turn off your iPhone. When your phone is powered off, release the button(s) while holding the

Power/Home

button. You can release the button when you see the Recovery mode screen on your iPhone.
Step 3iTunes should detect an iPhone in Recovery mode and display a message saying that your iPhone must be updated or restored. Click the

Restore

button. If you are not using the latest iTunes version, iTunes will prompt you to update and then start restoring.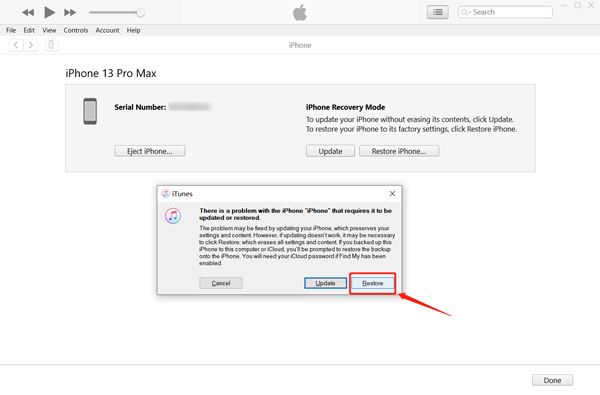 Part 4. How to Bypass the Lock Screen Passcode on iPhone or iPad with iTunes
If you have ever synced your iPhone to a computer with iTunes and it remembers your passcode, you can use iTunes to easily bypass your iPhone lock screen password. The Find My feature must be turned off before bypassing an iPhone passcode using iTunes.
Step 1Run iTunes on your computer and connect your iPhone to it. When iTunes recognizes the iOS device, click the

iPhone

button to enter the

Summary

. Here you can check various related information about the iPhone. Also, you are offered options to back up, update, or restore your iPhone.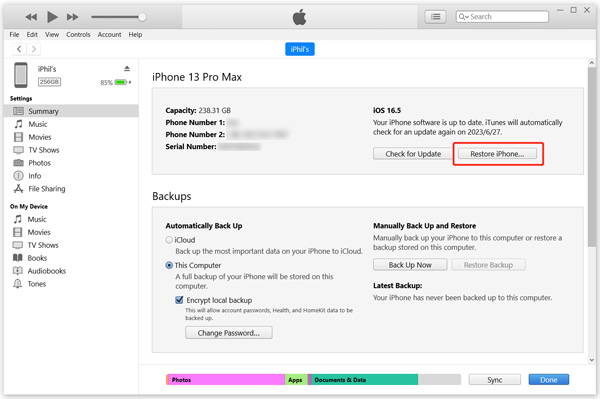 Step 2Click the

Restore iPhone

button and follow the prompts to restore. If iTunes prompts that you are not allowed to restore the iPhone because it is locked with a passcode or the

Find My

feature is enabled, you should use the method above to guide your iPhone into Recovery mode.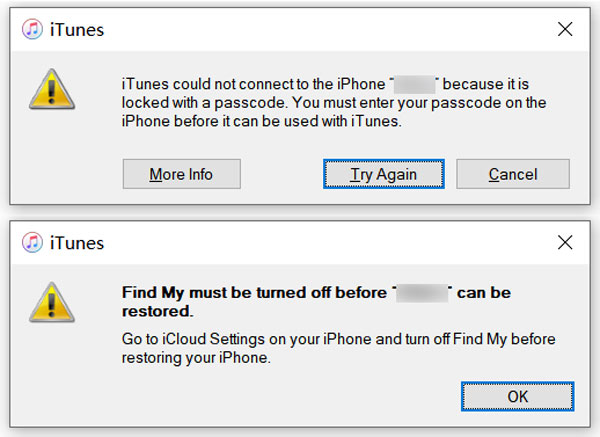 Part 5. How to Bypass Your iPhone Passcode Without Losing Data
Siri is a trick way to bypass an iPhone passcode and unlock it. However, this method may not work on the new versions of iOS. You can only use Siri to open an iPhone running iOS 8.0 to iOS 10.1 without a password. It only works if you have enabled Siri on the lock screen.
Step 1Turn on Siri by pressing and holding the

Home

button. Ask Siri what time it is.
Step 2When Siri displays the time, click the clock, then tap the + and - buttons to change the time on your iPhone to a time in the past.
Step 3Now you should see Slide to unlock on your iPhone screen. Swipe right to unlock your iPhone without a passcode. This method allows you to bypass the iPhone passcode without resetting it.
Part 6. FAQs of How to Bypass iPhone Passcode
How can I turn off the lock screen passcode on my iPhone?
Go to Settings on your iPhone and tap Face ID & Passcode or Touch ID & Passcode. Enter the current lock screen passcode to move on. Then scroll down to find the Turn Passcode Off option. Tap it and enter your passcode again to confirm that.
How many times can you enter the wrong passcode on an iPhone?
Your iPhone will be locked after entering the wrong passcode six times. You will get a message saying that the iPhone is disabled.
How to put an iPad in recovery mode?
Connect your iPad to a computer and press and hold its Home or Power button. When you see the recovery mode screen on your iPad, release the button.
Conclusion
This post shares five helpful methods to bypass iPhone passcode. Using any of the above methods could potentially erase all iOS data on your iPhone. So, ensure to back up valuable data before attempting any of them.