PCUnlocker Review – Is PCUnlocker the Best Windows Password Reset Tool
To reset the Windows password, you can use Command Prompt and other default Windows password removing tools. Or you can use third-party Windows unlocking software, such as PCUnlocker. According to many PCUnlocker reviews, PCUnlocker is a popular Windows password reset software. You can remove and reset the password on Windows 10/8/7 with PCUnlocker successfully. By burning a bootable CD/DVD or flash drive, you can bypass the Windows password without losing data. Then here comes the question, is PCUnlocker the best tool to reset Windows password? You can check the latest PCUnlocker review in 2021 to find your answer.

Part 1: PCUnlocker Review
PCUnlocker is capable to reset your forgotten admin and user password on Windows 10/8/7/Vista/XP/Server. You can get into your locked Windows computer without reinstalling the Windows operating system. Thus, you can preserve all previous files while removing the old Windows password. However, there are also some side effects of PCUnlocker you need to know. Before you make a decision, you can spend several minutes on this PCUnlocker full version review.
PCUnlocker Pros
1. Log into a Windows computer without knowing its password.
2. Change and reset the local administrator password without overwriting the existing password.
3. Unlock a Windows account without losing data, which is expired, locked, or even disable.
4. Create a bootable CD, DVD, or USB drive for Windows password reset.
5. Disable the Force Smart Card Login feature.
PCUnlocker Cons
1. PCUnlocker hasn't been updated since 2018.
2. PCUnlocker is not easy to reset and recover the forgotten Windows password.
3. To use PCUnlocker software normally, you need to buy a physical CD of PCUnlocker for $12.5.
4. The bootable drive takes a little longer time to complete.
PCUnlocker Price
The PCUnlocker free version is not capable to remove passwords from your Windows computer. You need to purchase PCUnlocker Standard, Professional, and Enterprise to enjoy different Windows unlocking functions.
The PCUnlocker Standard full version price is $19.95. You can buy PCUnlocker Professional for $29.95. Or you can purchase PCUnlocker Enterprise at $49.95 to reset all passwords on Windows PC.
PCUnlocker Download
You can free download PCUnlocker full version from the official PCUnlocker website directly. There is no bundleware or malware in the PCUnlocker download package. After buying a PCUnlocker license, you can get free PCUnlocker upgrade all the time.
PCUnlocker Verdict
PCUnlocker is a good choice for resetting Windows passwords. The entire password resetting process can be divided into two parts. Firstly, you can use PCUnlocker to create bootable media. Later, you can bypass the Windows password with it successfully. However, it is still kind of difficult for starters to understand the process. It would be better to simplify PCUnlocker Windows password resetting. The PCUnlocker not booting and working issues are also troublesome.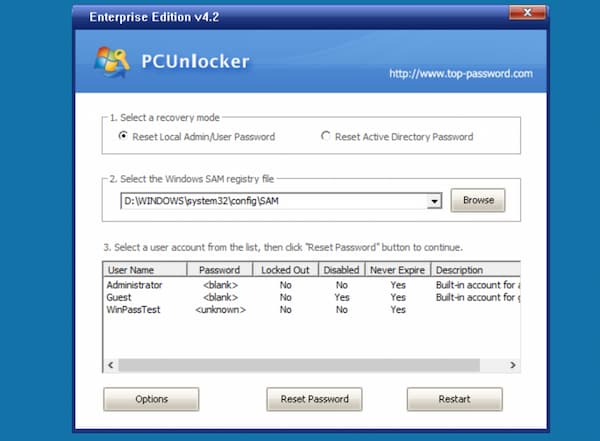 Part 2: PCUnlocker Alternative
Is there any other password reset for Windows software alternative to PCUnlocker? You can take a look at imyPass Windows Password Reset. Compared with PCUnlocker, you can get a better interface and reliable customer support. The full version price is cheaper than PCUnlocker. You can get all PCUnlocker functions from its alternative at a much reasonable price. Here're the main features of the best PCUnlocker alternative.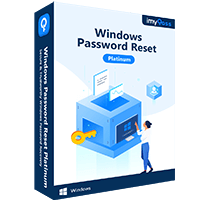 4,000,000+ Downloads
Reset passwords for the local admin and other user accounts without losing data.
Create a USB flash drive or CD/DVD boot for Windows password reset.
Make a new account on any locked Windows computer.
100% success recovery rate with the advanced technology.
Free lifetime upgrade and technical support.
Step 1Free download, install, and launch the PCUnlocker alternative software on your normal computer. Click

Burn CD/DVD

or

Burn USB

based on your purchase plan. Insert a blank CD/DVD or USB drive into this computer. Wait for a while to complete the bootable drive process. Click

OK

and then take out your burned drive.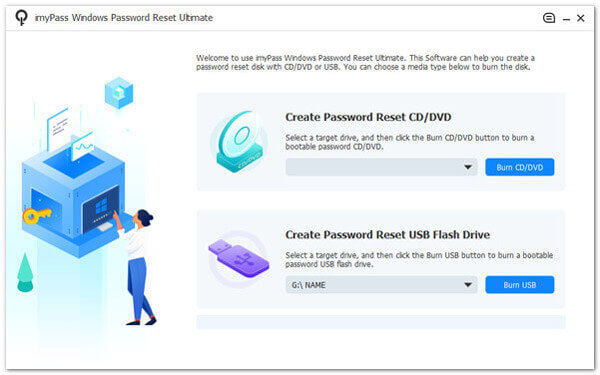 Step 2Power off and on your locked computer. Press

F12

and

ESC

to enter into

Boot Menu

. Use the arrow up and down keys to highlight your inserted drive. Press

Enter

to confirm. Once you exit

Boot Menu

, your Windows computer will restart automatically.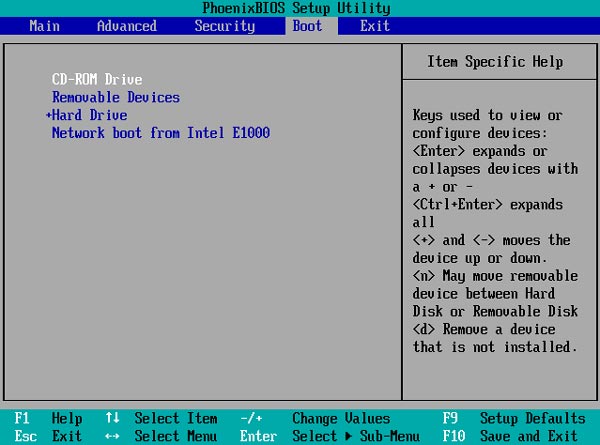 Step 3In the program interface, select the Windows operating system. Choose your user account. Later, click

Reset Password

and confirm it in the popping-up window. After resetting the old password, you can eject the disk and restart your computer. Your Windows computer is unlocked.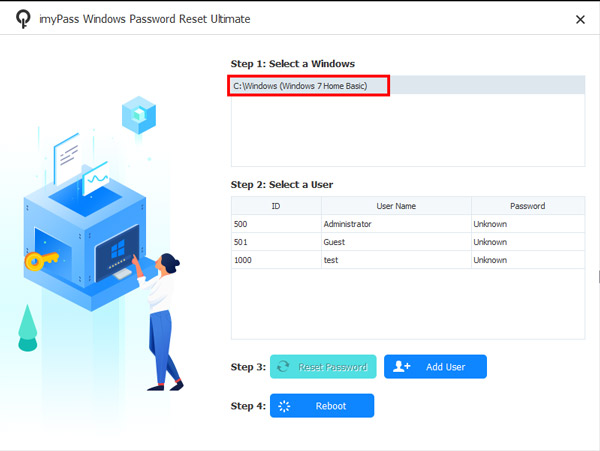 Part 3: FAQs of PCUnlocker
How to fix PCUnlocker not booting from a password reset CD/DVD or USB drive?
Go to BIOS and change the boot order. In the Boot Device Priority section, choose CD-ROM or Removable Drive as your first boot device under the Boot menu. If the CD/DVD or USB flash drive still cannot boot up your computer, you can check whether UEFI Boot Mode and Secure Boot options are enabled in BIOS. Switch the boot mode to Legacy to troubleshoot PCUnlocker not working.
How to disable password login on Windows 10?
Press Windows and R keys at the same time. Enter netplwiz or control userpasswords2 in the Run dialog box. Uncheck the User must enter a username and password to use the computer option. Click OK to save changes. Now you can restart your Windows computer without entering a password.
Is Chntpw a good PCUnlocker alternative?
Yes. Chntpw is a password reset software for Linux and Windows. You can edit the SAM database to remove and reset local passwords. However, Chntpw is not easy to use for beginners.
Conclusion
That's all about the latest PCUnlocker review and alternative. You can use PCUnlocker and imyPass Windows Password Reset to remove passwords on Windows 10/8/7 successfully. Actually, imyPass is your budget and easy solution for resetting a password on Windows. Please feel free to contact us if you have any questions. Thanks for your reading.