2 Ways to Turn Off Lock Screen Passcode on iPhone
The password functionality on iPhone provides an essential layer of security for protecting your personal data. However, there may be instances where you wish to disable the passcode temporarily or permanently. Whether it's for convenience, troubleshooting purposes, or any specific requirement, this article will guide you to turn off passcode on iPhone.

How to Turn Off iPhone Passcode
Part 1. Why Turn Off Passcode on iPhone
Advantages of turning off the screen lock on iPhone
One of the primary reasons you want to turn off the passcode on an iPhone is convenience. Doing so can bypass the hassle of constantly unlocking the iOS device. That can be particularly helpful when the iPhone is frequently used, and you don't want to repeatedly enter a passcode. In situations like driving or playing music, where frequent interaction with the device is required, turning off auto lock can enhance user experience.
For individuals with certain disabilities or physical impairments, disabling auto lock and passcode can significantly improve accessibility. These security features might pose challenges for users with limited mobility, coordination difficulties, or certain health conditions. By disabling them, these individuals can navigate their iPhones more comfortably without the added hurdle of a passcode or frequent unlocking.
Disadvantages of disabling the lock screen passcode on iPhone
While turning off auto lock and passcode on an iPhone may offer convenience and accessibility benefits, it also exposes the iOS device to a higher risk of unauthorized access. Without these security measures, anyone who gains physical access to the iPhone can potentially access the user's personal information, including messages, emails, and sensitive data. It may lead to privacy breaches, identity theft, or unauthorized account access, posing significant risks to the user's digital security.
Disabling the iPhone screen lock and passcode also increases the risk of data loss or theft. In the event that the iPhone is lost or stolen, the absence of these security measures allows easy access to the phone and its contents. It can be particularly problematic if the device has sensitive information, such as banking details or confidential work documents. Without the protection offered by auto lock and passcode, your personal and professional data is vulnerable to unauthorized use or misuse.
Part 2. How to Turn Off Screen Lock and Passcode on Your iPhone
Please note that disabling the iPhone passcode will leave your device vulnerable to unauthorized access, so exercise caution and consider the potential risks before proceeding.
Turn off the screen lock on iPhone with a password
Before disabling the lock screen passcode on your iPhone, it is essential to back up your iOS device. This precautionary step ensures that all valuable files are safe. You can easily restore it when you need it. By creating an iTunes or iCloud backup, you can safeguard your iOS data against possible loss during the process of disabling the passcode.
Step 1Unlock your iPhone with a lock screen passcode, Face ID, or Touch ID, and go to the Settings app. Scroll down and tap either

Face ID & Passcode

or

Touch ID & Passcode

, depending on the model of your iPhone. These options allow you to manage the device's biometric authentication, along with the passcode settings.
Step 2You will be prompted to enter your current passcode to proceed further. Ensure you enter the correct lock screen passcode to proceed. Once you have entered the current screen lock password, you will be directed to a menu containing various passcode settings.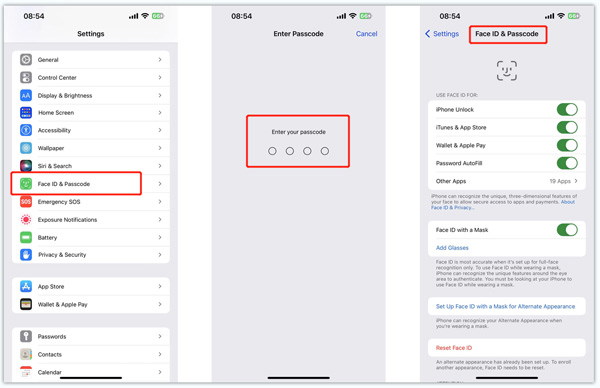 Step 3Locate the

Turn Passcode Off

option and tap it. Enter your password again to proceed and remove the passcode from your iPhone. This operation will remove the iPhone auto lock and Face/Touch ID.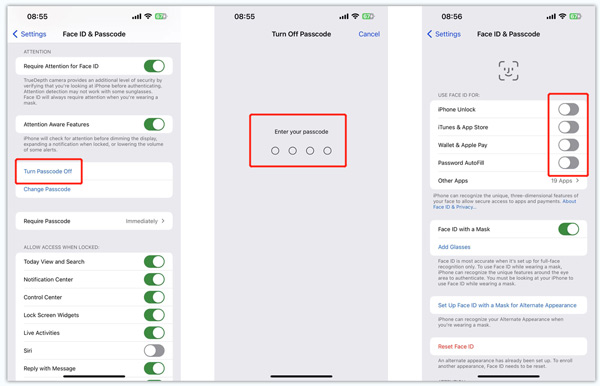 How to remove the passcode from iPhone 14/13/12/11/X/8/7
If you don't know the passcode, you can't unlock your iPhone, let alone turn off the screen lock. In that case, you can rely on the easy-to-use iPhone passcode removal software, iPassGo, to wipe your iPhone password, Face ID, and Touch ID. It supports 4-digit and 6-digit passcodes. Moreover, iPassGo lets you safely remove your Apple ID passcode and bypass Screen Time.
Step 1When you want to remove the lock screen passcode from your iPhone or iPad, you can free download iPassGo on your computer first and connect your device. Open iPassGo and select the

Wipe Passcode

feature.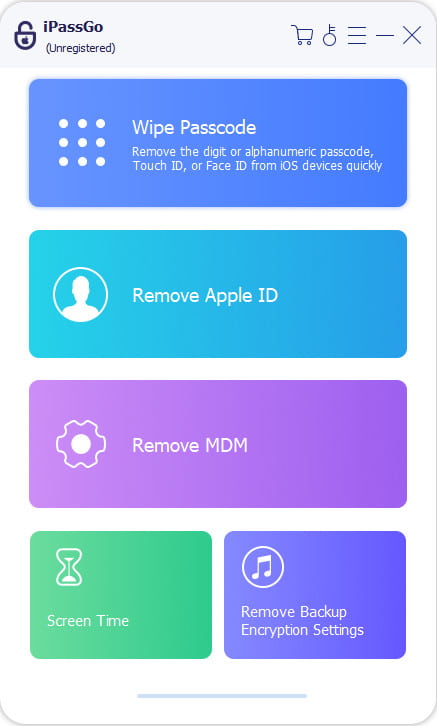 Step 2Click the

Start

button to move on. When your iPhone is recognized, iPassGo will show some basic information about it. Confirm the information and download a related firmware package to remove your iPhone lock screen passcode.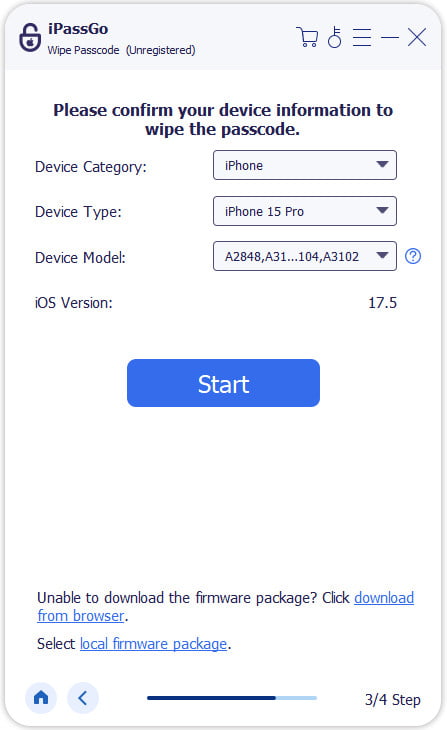 Step 3Click the

Unlock

button when the package is downloaded. Enter

0000

to confirm your operation and turn off the passcode on your iPhone. With similar steps, you can easily turn off the passcode on an iPad.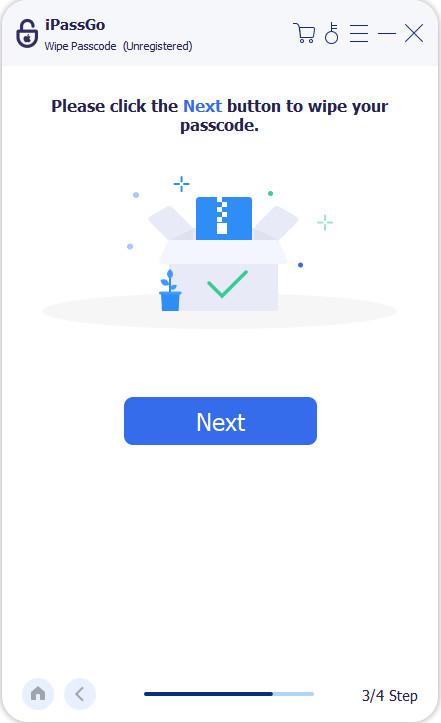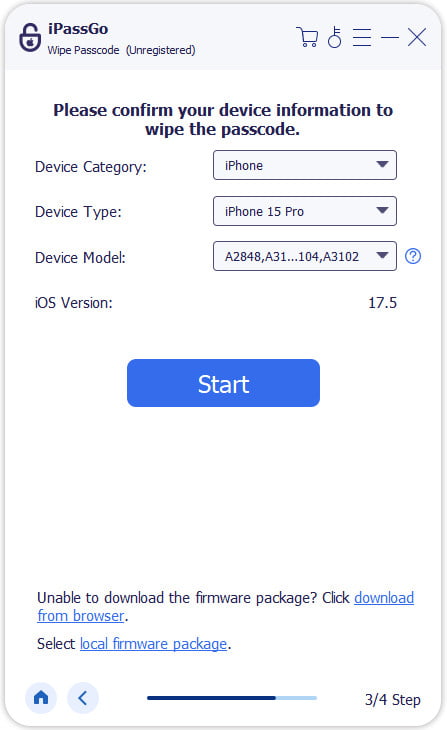 Part 3. FAQs of How to Turn Off Screen Lock on iPhone
How many times can I enter the wrong iPhone passcode?
Apple lets you unlock and access your iPhone through a 4-digit or 6-digit password, Face ID, or Touch ID. After entering the wrong passcode six times, your iPhone will be locked, prompting you to try again within x minute(s). If you keep entering the wrong passcode, your iPhone will be permanently disabled. You need to connect it to iTunes, and factory reset it.
How do you remove the iPhone passcode using iCloud?
You can use the Find My feature in iCloud to erase your iPhone and turn off the screen lock. Go to the iCloud website and sign in to your account. Select the Find iPhone option and choose the target iPhone device from the All Devices dropdown. Then click the Erase iPhone button to factory reset it and turn off the auto lock. Follow the onscreen prompts to remove your iPhone passcode.
How to turn off auto lock on an iPhone?
When you want to disable auto lock on your iPhone, besides turning off the lock screen passcode, you can also set the Auto-Lock option to Never. You can access it from Display & Brightness in the Settings app. When you reach the Display & Brightness interface, tap Auto-Lock and choose the Never option.
Conclusion
The decision to turn off passcode on an iPhone is a personal choice that balances convenience, accessibility, and security. While disabling screen lock can provide immediate benefits like easier device access and enhanced user experience, it also exposes users to the risks of unauthorized access and data theft.