How to Reset Your Keychain Passwords on Mac Computers with or without Current Password
This guide will talk about how to reset Keychain passwords on your MacBook or iPhone/iPad. When you visit websites using Safari, the browser can save your log-in information, and auto-fill it. That is convenient especially if you sign up for lots of online services and websites, like Netflix, Hulu, Spotify, etc. When you access the saved information, you will need your Keychain password. To protect your information, you'd better reset the password regularly.

Reset Keychain Password
Part 1. Reset Keychain Password on Mac
There are four ways to reset the Keychain password on Mac. Moreover, the procedures are pretty simple and straightforward. Plus, you can get the job done with and without the old password on your Mac.
Way 1: How to Reset Keychain Password on Mac with Old Password
Step 1Open the Keychain Access app. Head to the

Applications

folder in Finder, and go to

Utilities

, and you will find the app. Or find the app using the Spotlight Search.
Step 2Here you will get the list of saved items and details. Select the

login

option on the left sidebar. Then enter the

Edit

menu on the menu bar, and choose

Change Password for Keychain login

.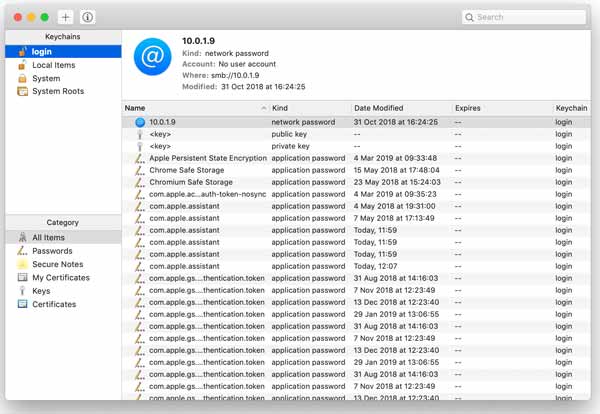 Step 3Input the old password, enter a new password, and enter it again on the pop-up dialog. Once you click the

OK

button, you reset Keychain certificates on Mac successfully.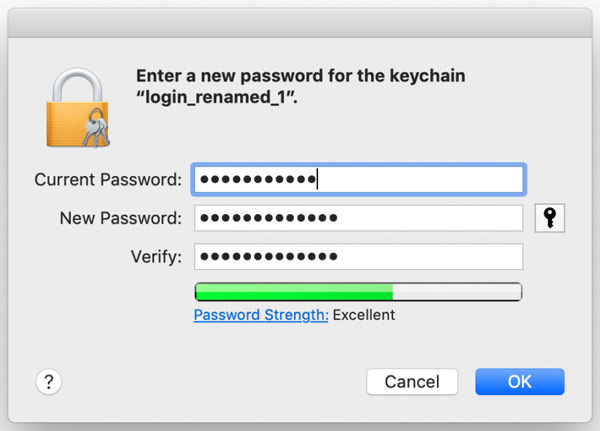 Way 2: How to Reset Keychain Password without Password
Step 1If you forgot your current password, open the Keychain Access app on your Mac.
Step 2Go to the

Keychain Access

menu, and choose

Preferences

. Click the

Reset My Default Keychain

button on the dialog, and input your Mac user password when prompted. Click

OK

.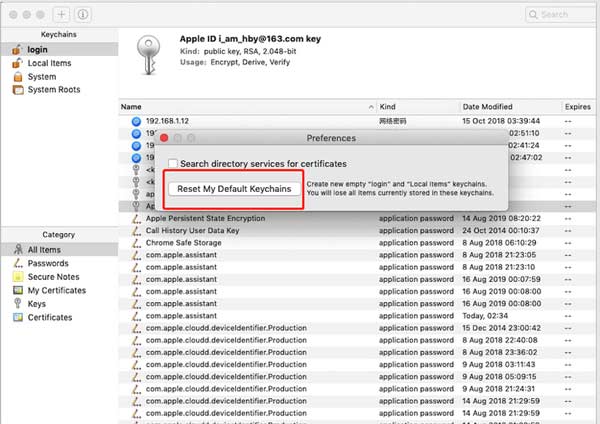 Step 3Go to the

Apple

menu, choose

Log Out

, and log out your account. Next, log in to your account again.
Tips :
The cost is losing all stored passwords in your Keychain.
Way 3: How to Reset Keychain Password Using Admin Account
Mac allows you to create multiple Admin accounts. So that you can reset the Keychain password for one account using another Admin account. If you just have one Admin account, this way is not available.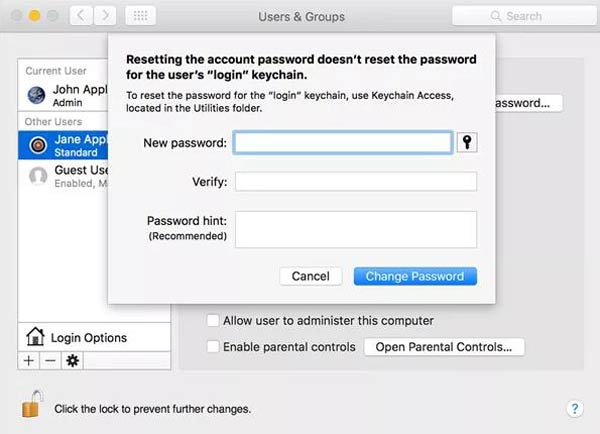 Step 1Reboot your MacBook, and log in to the other Admin account. Go to the

Apple

menu, choose

System Preferences

, and select

Users & Groups

.
Step 2Click the

Lock

icon at the bottom left corner. If prompted, input the Admin account and password again. Next, select your username on the list.
Step 3Press the

Reset Password

button, and then follow the instructions to make a new password.
Step 4Log out the current Admin account, and sign in to your account with the new password. Then create a new password for Keychain.
Way 4: How to Reset Keychain Password on Mac by Terminal
Resetting the Keychain password requires Admin privilege. That is why some people said that the Change Password for Keychain Login button turned grey and they could not reset it. The solution is to do the job with a system command.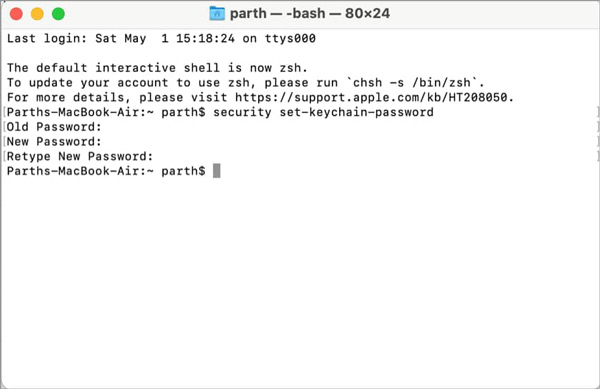 Step 1Open a Terminal window on your Mac.
Step 2Input the command

security set-keychain-password

and hit the

Return

key on your keyboard.
Step 3Then enter the old password, and then the new password, and retype in the new password.
Part 2. A Better Way to Manage Passwords on iPhone
iCloud Keychain is an easy way to manage login items on iOS devices, but it is not the only method. It only covers the certificates of websites and services that you have accessed in Safari. imyPass iPhone Password Manager, on the other hand, is available to more accounts including Apple ID, Wi-Fi networks, email accounts, and Screen Time. That makes it the best alternative to iCloud Keychain.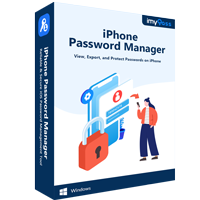 4,000,000+ Downloads
Manage iPhone/iPad passwords on a computer easily.
Preserve a wide range of accounts and passwords.
Back up all certificates to your computer.
Support almost all iPhones and iPad models.
How to Manage Passwords on Your iPhone
Step 1
Scan iPhone passwords
Launch the best password manager for iPhone once you install it on your PC. There is another version for Mac users. Next, connect your iPhone to the same PC with a Lightning cable. Then click the Start button to begin scanning your device.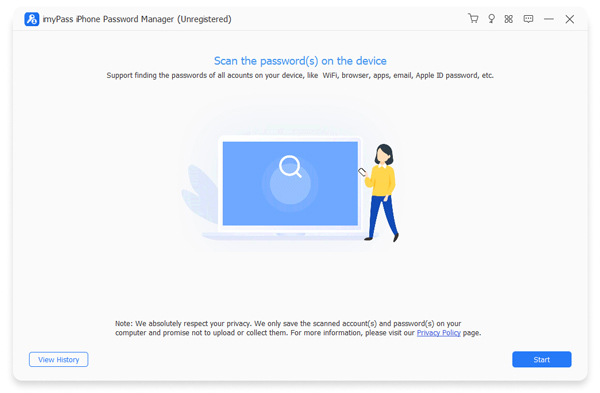 Step 2
Preview iPhone passwords
After password scanning, you will be taken to the main interface. All passwords stored on your iPhone are organized by type. To view websites login information, for example, choose the Web & App Password item on the left sidebar. Then you will get all of them on the right panel. Click the Eye icon and you will see the password for a specific website.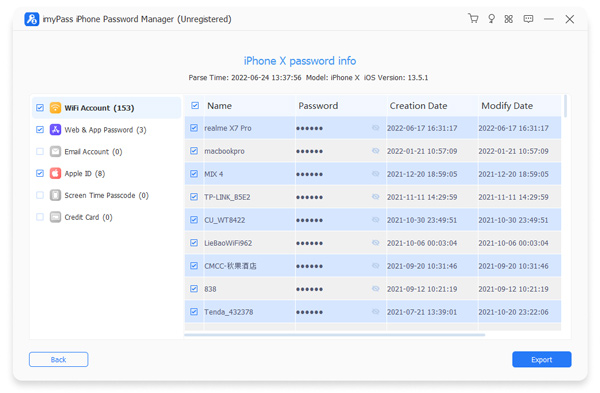 Step 3
Export iPhone passwords
When you are done with password management, select the important login items, and click on the Export button. Then follow the instructions to back up iPhone passwords to your hard drive. It does not require Keychain password resetting even if you forgot the password.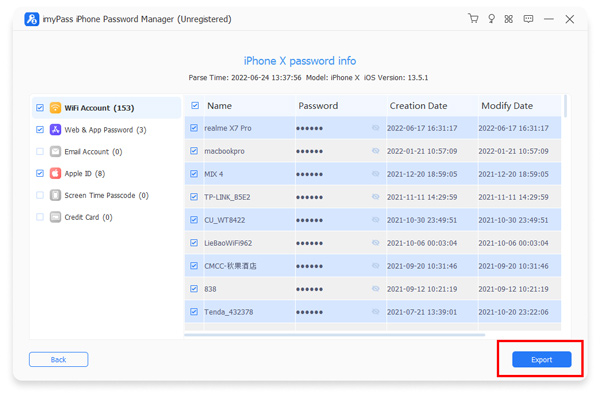 Part 3. FAQs about Resetting Keychain Password
What to do if you forgot your Keychain password?
If you do not remember your current password, you need to reset your default Keychain. Bear in mind that resetting Keychain will delete all the passwords saved in the account.
Why is my Keychain password not working?
Your Keychain may be locked automatically if your device has been inactive for a period of time or your user password and Keychain password are out of sync. Then your Keychain password won't work until you fix it.
How to disable Keychain on iPhone?
Open the Settings app from your home screen, tap on your profile, go to the iCloud tab, and select Keychain. Then turn off the iCloud Keychain switch.
Conclusion
This guide has told you four ways to reset the Keychain password with the current password or when you forgot the password. You can get the job done effortlessly following our post. imyPass iPhone Password Manager is the best alternative password manager for iCloud Keychain. If you have other questions, please write them down below.