A Step-by-Step Guide to Changing and Resetting Screen Time Passcode
Managing Screen Time has become increasingly important. Whether you're a parent wanting to monitor and control your child's device usage or an individual seeking to strike a healthy balance, setting a passcode for Screen Time provides an extra layer of security and control. However, there may come a time when you need to reset Screen Time passcode.

Reset Screen Time Passcode on iPhone iPad
This article will guide you through the process of changing or resetting your Screen Time passcode. It empowers you to take charge of Screen Time management.
Part 1. What Is a Screen Time Passcode
Before we delve into resetting your Screen Time passcode, let's first understand its purpose and significance. The Screen Time passcode is typically a unique four-digit numerical code that restricts unauthorized access to your iPhone's usage data and settings. It lets you limit and monitor app usage, set content restrictions, and manage the web browsing history.
The Screen Time passcode is a security measure to prevent unauthorized access to the settings and configuration related to Screen Time limitations. It helps users, especially parents, to create boundaries, monitor, and control the time spent on digital devices. Parents can use the password to enforce healthy habits and ensure their children do not spend excessive time on screens.
The Screen Time passcode allows users to set time limits for specific apps or apps, such as games or social media platforms. The device would restrict further access once the allotted time for a particular app or category is exhausted. Moreover, it can be used to restrict access to certain types of content deemed inappropriate or unsuitable for certain age groups. The Screen Time passcode can be set up through the Settings app, usually grouped under the Screen Time or Parental Controls section.
Part 2. How to Change Screen Time Passcode on Your iPhone and iPad
You may want to change the Screen Time passcode on your child's phone for different reasons. Regularly changing the Screen Time passcode helps enhance safety and reduce the risk of unauthorized access. Also, it can maintain control over your child's device usage or limit their access to certain apps or content. You can easily change your Screen Time passcode by following the guide below.
Step 1Select the

Screen Time

option after entering the Settings app on your iPhone or iPad.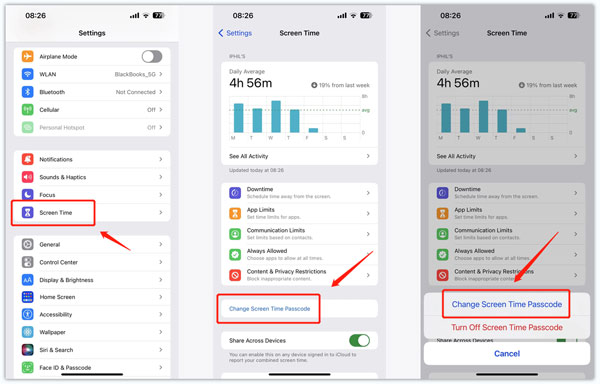 Step 2Tap

Change Screen Time Passcode

, select the

Change Screen Time Passcode

option, then enter your current passcode when prompted. Enter your new Screen Time passcode twice to confirm.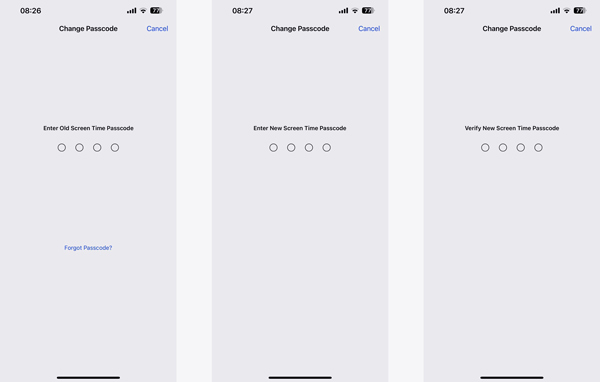 Remember, choosing a unique and secure passcode that is not easily guessable is always advisable. Avoid using easily identifiable patterns or sequences like 1234 or 0000.
Part 3. How to Reset or Change Screen Time Passcode If You Forgot It
Forgetting your Screen Time passcode can be frustrating, especially if you need to make changes to your device's usage limits or restrictions. Thankfully, there are some ways you can use to regain control and set a new passcode. This part will share two ways to reset your Screen Time passcode if you forgot it.
Common way to change the Screen Time passcode when you forgot
Step 1If you have forgotten your Screen Time passcode or wish to reset it, go to the

Screen Time

option from the Settings app. Tap

Change Screen Time Passcode

and tap again to move on.
Step 2When prompted to enter the old Screen Time passcode, tap

Forgot Passcode

. Input your Apple ID and password to continue. After verifying your identity, you can reset your Screen Time passcode with ease.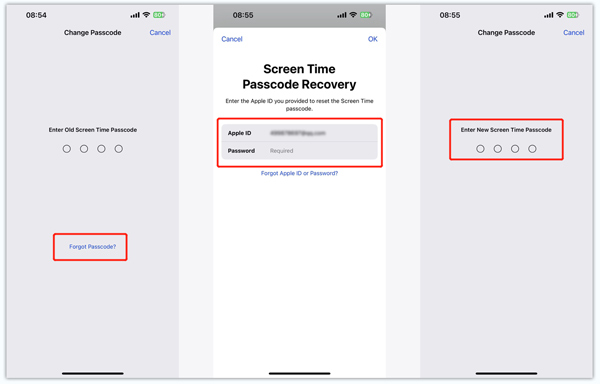 Easy way to remove Screen Time passcode and restrictions
If you forget the current Screen Time passcode and don't have the Apple ID password to identify yourself, you can choose to remove the Screen Time passcode. You can rely on the easy-to-use iPassGo to bypass the Screen Time password.
Step 1Download iPassGo on your computer and connect your iPhone to it. Choose the

Screen Time

feature and click the

Start

button to proceed. It also lets you wipe the lock screen password on your iPhone and iPad, remove Apple ID and related passcode, and remove MDM safely.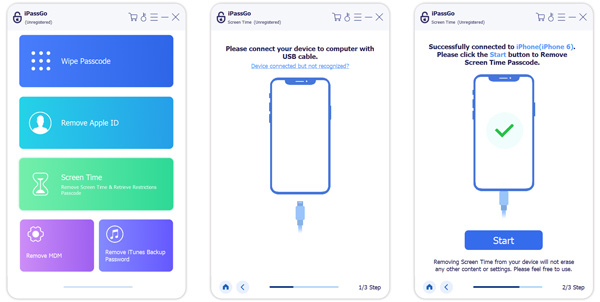 When your iOS device is recognized, you should turn off Find My iPhone as the on-screen instructions say.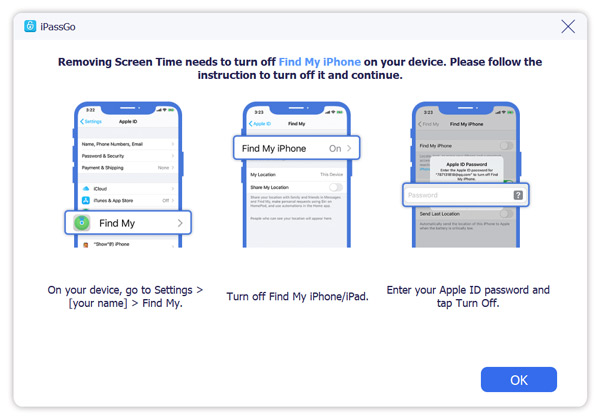 Step 2Click the

Start

button, and iPassGo will remove the Screen Time passcode from your iPhone. When the Screen Time password is removed, your iOS device restarts.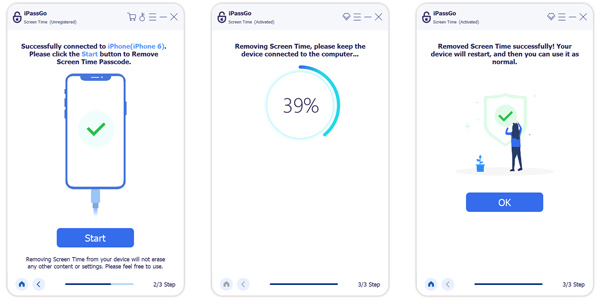 Additional tips and considerations
Remember the following tips and considerations while changing or resetting your Screen Time passcode.
You'd better regularly update your Screen Time passcode. That can enhance security and prevent unauthorized access. Ensure that you safeguard your Apple ID and associated password since it plays a crucial role in resetting your Screen Time password. Also, you should take advantage of biometric features like Touch ID or Face ID to add security and convenience to your device.
Part 3. FAQs of How to Reset Screen Time Password
What happens after 10 wrong Screen Time passcode attempts?
After 10 failed Screen Time passcode inputs, your iOS device will prevent you from using the feature for the next 1 Hour. You can't use it during the period.
How do you create and use the Screen Time passcode?
When you want to enable the Screen Time feature on your iPhone, you can go to the Screen Time in the Settings app, tap the Continue button, then select the device for yourself or your child. After that, you can set Downtime, App Limit, and more based on your need. Then create a passcode for these Screen Time restrictions.
Can I set Screen Time limits on my Macbook?
Yes. Besides iOS devices, you can use the Screen Time feature and set various restrictions on a Mac. You can click the Apple menu, choose System Preferences, then go to the Screen Time option. Here you can set app limits and others according to your need.
Where to turn off Screen Time on an iPhone?
When you want to disable the Screen Time feature, please go to Settings and tap the Screen Time option. Scroll down to the bottom part and tap Turn Off Screen Time. You are required to enter your current password to confirm that.
Conclusion
This article mainly shows you how to change and reset Screen Time passcode. Whether used for individual or parental control purposes, the Screen Time passcode plays a vital role in promoting responsible device usage and overall well-being in the digital age. By setting time limits and content restrictions and accessing device usage insights, you can establish healthy digital habits and ensure a balanced lifestyle.