Comprehensive Review of Norton Password Manager
Considering that online security is of utmost importance, finding a reliable password manager is crucial. Norton Password Manager is a highly reliable and feature-rich password manager that aims to make your online experience more secure and hassle-free. In this Norton Password Manager review, we will delve into its key features, pros and cons, availability for download, and pricing options, and discuss the best alternative for those seeking a similar solution.

Norton Password Management Review
Part 1. Full Norton Password Manager Review
Norton Password Manager, developed by NortonLifeLock, stands out as a top contender in the highly competitive password management market. With many features that enhance security and convenience, it lets you easily manage and protect your online credentials.
Key Features of Norton Password Manager
Password Storage and Auto-fill: Norton Password Manager securely saves your created passwords in an encrypted vault, accessible only by a master password. With its convenient auto-fill feature, you no longer need to manually remember or type in passwords.
Password Generation: Creating strong and unique passwords for each online account is essential for security. It has a built-in password generator offers customizable options to create complex passwords to protect your accounts from unauthorized access.
Cross-Platform Syncing: Norton Password Manager seamlessly syncs your saved passwords across multiple devices. Whether you use Windows, macOS, Android, or iOS, you can access your passwords from anywhere, ensuring a consistent platform experience.
Secure Notes and Wallet: Apart from passwords, you can also store other critical information securely in Norton Password Manager. This includes sensitive notes, credit card details, and addresses, making it a comprehensive solution for securely managing personal information.
Two-Factor Authentication (2FA): Norton Password Manager supports two-factor authentication to further enhance account security. The additional layer of protection provides an extra safeguard when accessing your password vault.
Reliable Customer Support: Norton Password Manager boasts a dedicated customer support team. Whether you encounter technical issues, have questions about the product, or require assistance with the setup process, Norton's support team is readily available to provide prompt and comprehensive assistance.
Pros and Cons of Norton Password Manager
Norton's long-standing reputation in the cybersecurity industry instills confidence in its products. Norton Password Manager follows industry best encryption practices and offers security features to protect your passwords effectively.
The user interface of Norton Password Manager is intuitive and well-designed. Navigating through the app and managing your passwords is a breeze, even for beginners. It integrates smoothly with popular web browsers like Chrome, Firefox, and Safari. That allows for effortless auto-fill and password capture when logging into websites. Whether you switch between devices frequently or have a mixed device environment, Norton Password Manager ensures that your passwords are always up-to-date and accessible.
However, the free version of Norton Password Manager offers basic functionality and limits the number of passwords that can be stored. You need a paid subscription to access all the advanced features and unlimited password storage. The premium subscription to Norton Password Manager is relatively expensive compared to some other password management tools.
Norton Password Manager Download
Norton Password Manager can be downloaded from the official Norton website. The software is available for various platforms, including Windows, macOS, Android, and iOS. Simply navigate to the Norton website, locate the Password Manager section, and follow the instructions to download and install the application.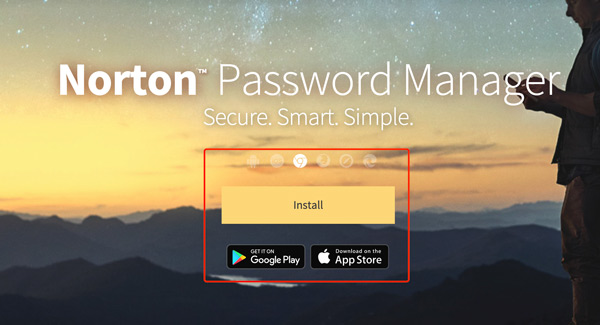 Pricing Options of Norton Password Manager
Norton Password Manager offers both a free version and a premium subscription. Its paid subscription offers additional features, such as unlimited password storage, priority customer support, and multi-device syncing. You can check more pricing details on the official Norton website.
Part 2. Best Alternative to Norton Password Manager
While Norton Password Manager is a solid choice, other password managers are worth considering. Suppose you are an iOS user and want to easily manage your iPhone and iPad passwords. You can turn to the best Norton Password Manager alternative, imyPass iPhone Password Manager. It lets you find and manage all stored passwords, including your Apple ID passwords, Wi-Fi passwords, email passwords, and passcodes saved in apps and browsers.
This iOS password manager enables you to freely view, manage, export, and share your saved passwords. Connect your device and scan all saved passcodes. They will be displayed in categories for better management.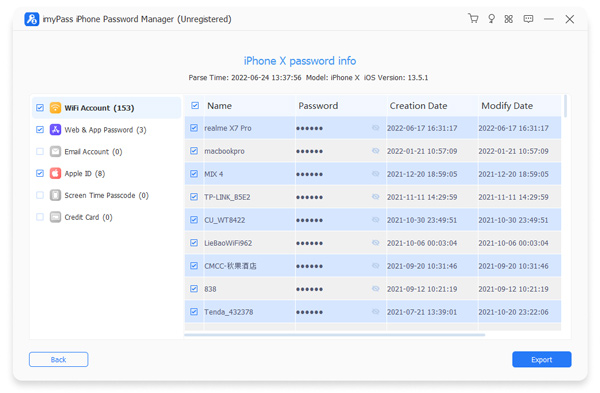 There are several alternatives to Norton Password Manager for Android. Some popular alternatives are Dashlane, LastPass, and 1Password. Similar to Norton Password Manager, they offer advanced security features, cross-platform syncing, and a user-friendly interface. Whether you want to manage passwords on an iOS or Android device, you can search for associated password management apps in App Store and Google Play Store.
Part 3. FAQs of Norton Password Manager
How can I create a Norton Password Manager cloud vault?
You can use a cloud vault to save your passwords created while using Norton Password Manager. Open Norton Password Manager on your browser or mobile phone, and sign in to your Norton account to create a cloud vault. Then the Norton Password Manager data will be saved online.
How to enable Password AutoFill in Norton Password Manager?
Open Norton Password Manager, go to the Settings option, find the AutoFill Passwords feature from Passwords & Accounts in iOS and Vault in Android, then locate the AutoFill Passwords or Browser/App Autofill and enable it.
How do you delete your Norton Password Manager vault?
Open the Norton Password Manager browser extension, click the menu button, and go to Settings. Click Show more settings, then click Delete Norton Password Manager vault.
Conclusion
Norton Password Manager is a reliable and secure password management solution with strong encryption and seamless device syncing. This post gives you a detailed Norton Password Manager review covering all necessary information. If you have other Norton Password Manager alternatives, please share them in the comment with other readers.