How to Enable Auto Login in Windows 10/8/7
If you are tired of inputting your password to log in to your Windows account every time you turn on or wake your PC, you can enable automatic login to start your computer without the annoying password anymore. This post will give you the full guide on how to set up Windows auto login.
Besides, if you are afraid to forget your Windows password and want to get rid of it, you can also learn the best way to reset your password on Windows 10/8/7 in this article.

How to Set up Windows Auto Login
Part 1. How to Automatically Log into Windows 10/8/7 PC
It takes quite some time to enter your password to log into Windows every time you use your computer, especially when your password is too long. This should be a problem if you are in a hurry. So, is there a way to let Windows 10 auto login when booting up a computer? The answer is yes. And it is super easy to set it up. Just follow the steps below and enable the Windows automatic login setting.
1Enable Auto Login Directly
Step 1Press

Windows + R

on your keyboard to open the

Run

program. Then input

netplwiz

to the text box and click the

OK

button or press

Enter

.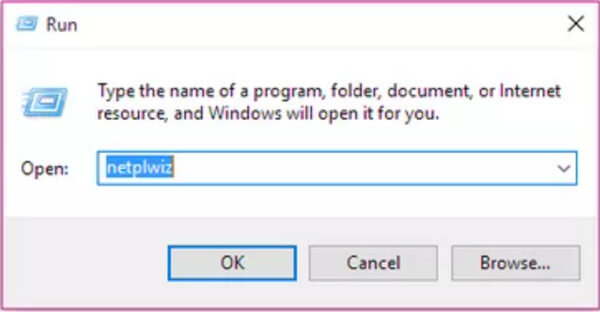 Step 2After that, the

User Accounts

window should pop up immediately, where you can see a list of all users on your computer. Now please select the username you use from the list. Then uncheck the box next to

Users must enter a user name and password to use this computer

and click the

Apply

button.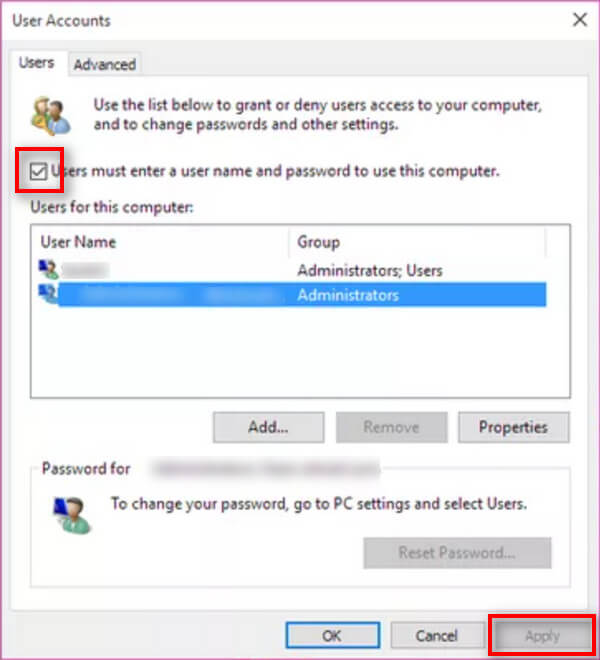 Step 3The

Automatically sign

in dialog will show up. Please type your password and confirm it. Click

OK

to confirm Windows auto login. Once you finish setting, you can restart your computer to see if Windows automatically logs you in.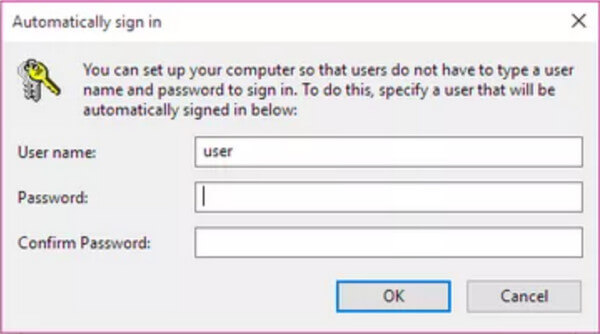 2Turn on Automatic Windows Logon with Registry Editor
Step 1Press

Windows + R

and open the

Run

window. Then input

regedit

and press

Enter

. You may see the dialog asking you to allow the program to make changes to your computer. Just click

Yes

and you will open

Registry Editor

.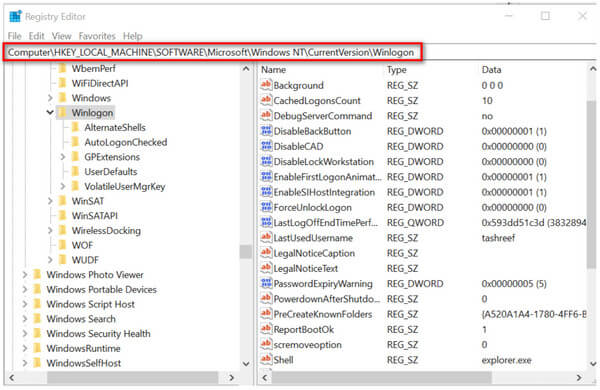 Step 2Then navigate to the location of

Winlogon

. You can directly input the following address to the address bar:
ComputerHKEY_LOCAL_MACHINESOFTWAREMicrosoftWindows NTCurrentVersionWinlogon
Step 3After you enter the location of

Winlogon

, you need to double-click

DefaultUserName

in the right panel. Then change the

Value data

to your username. Click

OK

button to save the change. Double-click on the

DefaultPassword

entry and type your password. Find

AutoAdminLogon

and type

1

into the

Value data

box. And if you have joined the computer to a domain, you need to add the

DefaultDomainName

value. As for the value data, it should be set as the fully qualified domain name of the domain.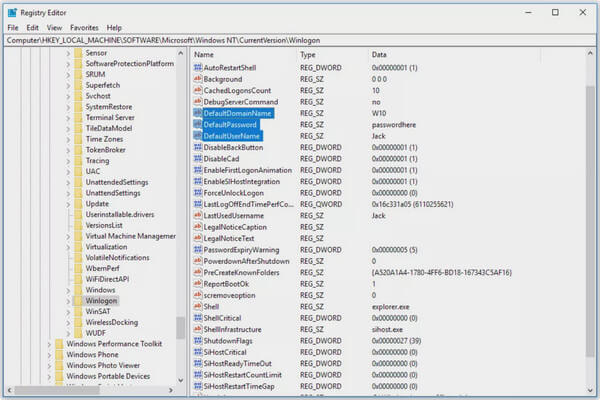 If these values don't exist, then you need to add them yourself. Just go to the Edit menu, click New, and select String Value. Type the name of the missing string value and press Enter. Double-click the value and adjust the value data as we mentioned.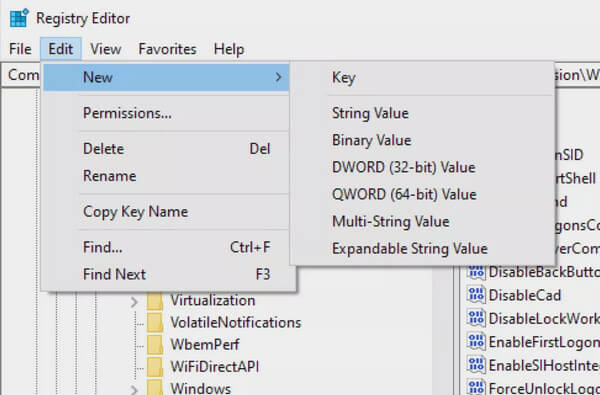 Step 4Close

Registry Editor

and restart your computer. The auto login should be working now.
Part 2. How to Reset Your Password on Windows 10/8/7
If you want to remove or reset your Windows password without any hassle, then you can try imyPass Windows Password Reset. It can help you erase your Windows password instantly and effortlessly. Besides, it will not reformat and reinstall the operating system, which means you don't need to face data loss.
Step 1Free download and install the program on your computer. Launch the program and select a media type to create a disk with CD/DVD or USB. After burning the disk, close this software and reboot your computer.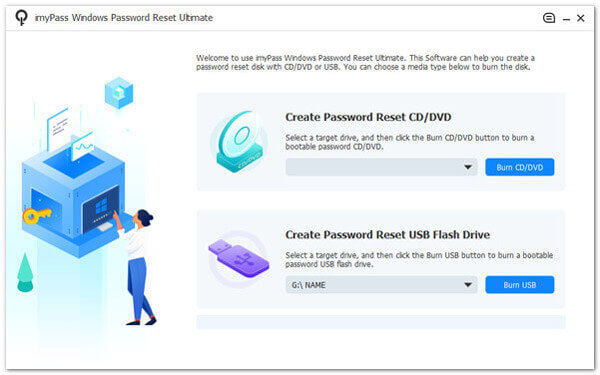 Step 2When you restart the computer, press the

F12

key or

ESC

on the keyboard. This should lead you to the Boot menu. But this shortcut key doesn't work on every computer. You need to check it before you restart your computer. Then pick the burned disk and press

Enter

. After that, save and exit Boot Menu. Your computer will restart automatically.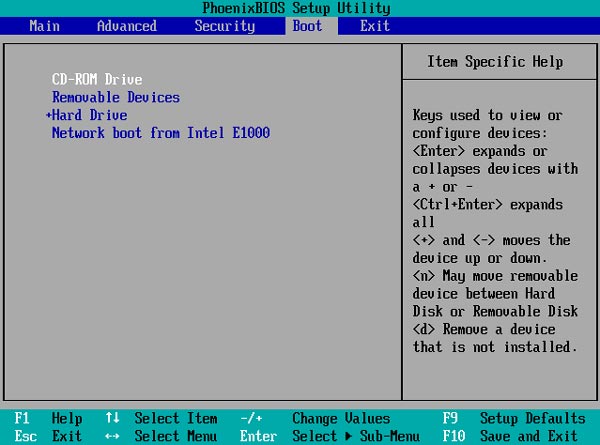 Step 3After rebooting, you will see the interface of imyPass Windows Password Reset. Please select the user account you want to remove the password. Hit

Reset Password

and click

Yes

to confirm the resetting. Now you can eject the disk and restart your Windows PC.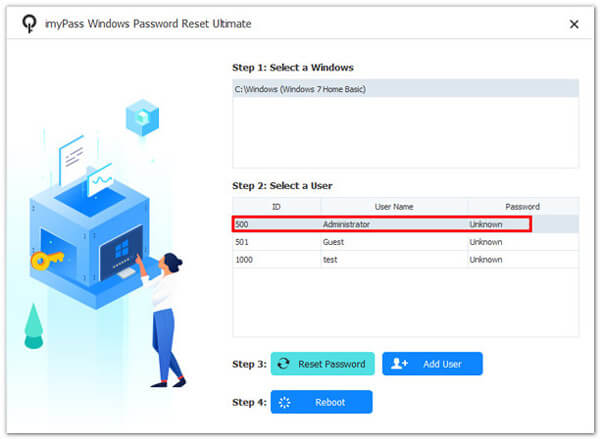 Besides removing the Windows password, this password resetting tool can also help you add users on Windows 10/8/7.
Part 3. FAQs of Setting up Windows Auto Login
1. Why do I have to sign in to Windows 10 every time?
That is because it is an essential security practice. It's safe for a user to operate a computer with a password.
2. How do I get Windows 10 to require a username and password in the login screen?
Press Windows + R hotkeys to open the Run program. Type netplwiz and press Enter. Check the box next to Users must enter a user name and password to use this computer in the User Accounts window. Apply the changes.
3. Is It Safe to Auto Log into Windows?
Skipping over the login process may be time-saving. But it is not a very safe idea. For example, if your computer is stolen, the thief can access everything - email, social networks, passwords, bank accounts, etc.
Conclusion
You can easily enable auto login windows 10, 8 and 7 to skip over the annoying login process on your computer with the methods above. If you are using a laptop, we recommend you reconsider the auto login set up for safety. But if you have memory slips sometimes, you will definitely enjoy the automatic login feature. You can also try imyPass Windows password cracker when you forget your password.
Still have question? Please write it down in the comment area below. We will reply to you as soon as possible.