Top 8 Password Managers for Android [Free Incl.]
As our online activities become frequent, password management is more complex and crucial than ever. Our online lives need to create many accounts with unique passwords. However, remembering various passwords is a struggle. The auto-login feature offers a convenient solution, eliminating the need for manual input. However, this convenience comes with a new data leakage risk.
We need a reliable password manager to address this password management challenge. And this article will share 8 password managers for Android. Then, you can choose one to tackle your security issues.

Best Password Manager for Android
Top 1. Google Password Manager
Pricing: Free
Developer: Google
Google Password Manager is a built-in Android password management tool provided by Google. It is designed to assist you in securely managing your online account passwords. It is closely associated with the user's Google account. Meanwhile, it can save, generate, and automatically fill passwords for convenience and security.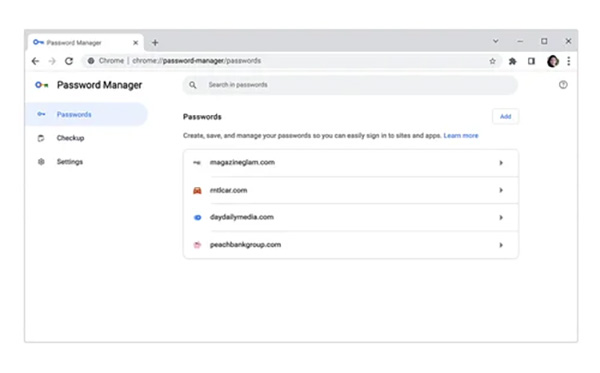 PROS

Manage account passwords across devices.
Generate strong passwords to improve security.
Easy to enable two-factor authentication(2FA).
CONS

It is not suitable for enterprise use.
No access without a stable network connection.
Unable to share passwords with other browsers.
Top 2. Dashlane - Password Manager
Pricing: Free
Developer: Dashlane
Dashlane is one of the trusted password managers for Android. It can protect your password and data with end-to-end encryption. Meanwhile, this manager allows you to use and share passwords across the platforms. It also can monitor, fill, generate passwords automatically, and protect private info. More importantly, it gives you a free trial up to 30 days that you can try it before purchasing.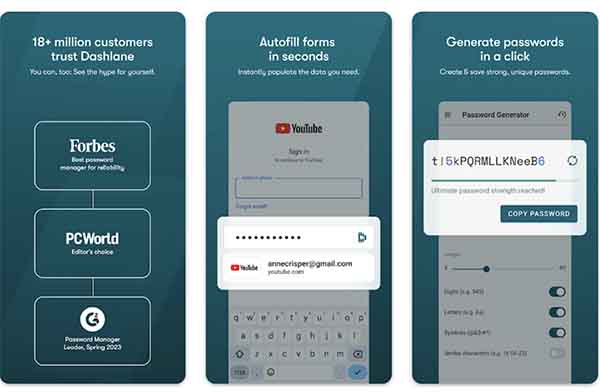 PROS

The password sharing is unlimited.
The 2FA is effective and secure.
It offers dark web monitoring for passwords.
CONS

The free version has limited features.
Password synchronization requires an internet connection.
Top 3. 1Password: Password Manager
Pricing: $2.99/month
Developer: AgileBits
1Password is one of the popular Android password management tools. It can easily store and generate strong passwords, ensuring the full protection of your online accounts. Additionally, 1Password can automatically fill in login information. It makes access to websites and apps more convenient. Furthermore, the digital wallet allows you to store credit cards, bank accounts, and identity information for quick access.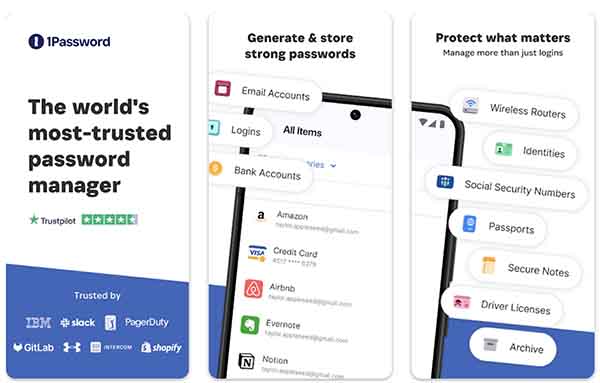 PROS

Password synchronization and cloud back across devices.
Protect various types of passwords and private information.
Support a single tap using Fingerprint Unlock.
CONS

It provides a free trial for 14 days only.
It has unstable performance or lags sometimes.
Top 4. Keeper Password Manager
Pricing: Free
Developer: Keeper Security, Inc.
Keeper is one of the leading Android password managers. This app offers top-notch security. It includes password storage and generation, automatic filling, and multi-factor authentication. You can effortlessly manage various passwords. Meanwhile, the password generator can help you create robust passwords to ensure online security. More importantly, its digital wallet can securely store sensitive information like bank accounts.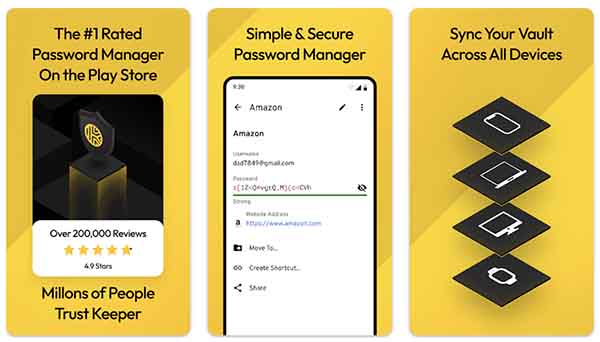 PROS

Its interfaces are easy to use for beginners.
It is compatible with more than 8 kinds of browsers.
It has password risk monitoring and reminder functions.
CONS

The free version is limited to 1 mobile device.
The password import process is a bit complex.
Top 5. NordPass Password Manager
Pricing: $1.59/month
Developer: Nord Security
NordPass is another secure password manager that simplifies your online life. With robust encryption and a zero-trust policy, it ensures top-notch password protection. Save, autofill, and share passwords effortlessly across all your devices, requiring just one master password. And it can prompt you to save credentials with a single click. Enjoy seamless auto-login, recognizing and auto-filling saved accounts now.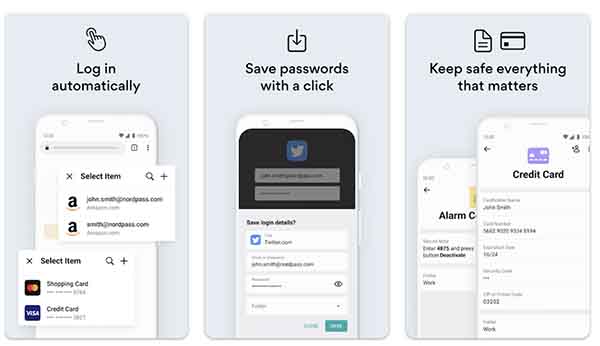 PROS

Stay logged in when switching devices.
Secure your accounts and passwords with biometrics.
CONS

The free trial is limited.
Not provide the password cloud backup.
Top 6. Bitwarden Password Manager
Pricing: Free
Developer: Bitwarden Inc.
Bitwarden is one of the best Android password managers. It can securely manage, store, and share unlimited passwords across all your devices. It also can generate strong, unique passwords for each site. In addition, it allows you to send encrypted files or text with Bitwarden Send. It's open source and perfect for individuals, teams, or enterprises, ensuring your data stays safe and accessible.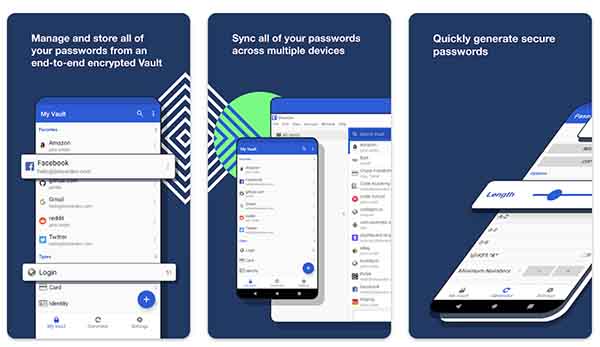 PROS

Share encrypted information and passwords quickly.
It can meet the basic needs of the free version.
CONS

The interface and intuitive is old fashioned.
Its secure sharing features are limited.
Top 7. Enpass Password Manager
Pricing: $1.99/month
Developer: Enpass Technologies Inc.
Enpass is another app to manage passwords on Android. This app can store and sync passwords with the cloud. It includes iCloud, Google Drive, OneDrive, Box, Dropbox, etc. Meanwhile, it offers a health check to filter out weak passwords. Moreover, it can store your credit cards, passports, etc., with one tap. With Enpass, you can organize various passwords easily.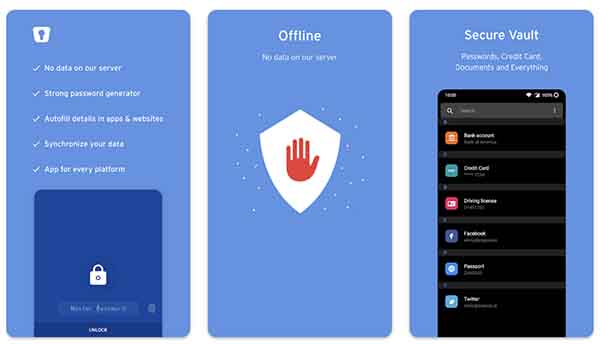 PROS

Offer alerts for breached passwords and websites.
Sync data with your trusted cloud easily.
CONS

The operation is a bit difficult for beginners.
Top 8. RoboForm Password Manager
Pricing: Free
Developer: Siber Systems Inc.
RoboForm is the last Android password manager recommended. You can use it to create, store, share, etc., passwords as you like securely. And it offers the Pinned feature on the start interface, making it easy to log in to your commonly used apps. Meanwhile, its user-friendly interface is appreciated by most users. By the way, this app supports importing passwords from Chrome directly!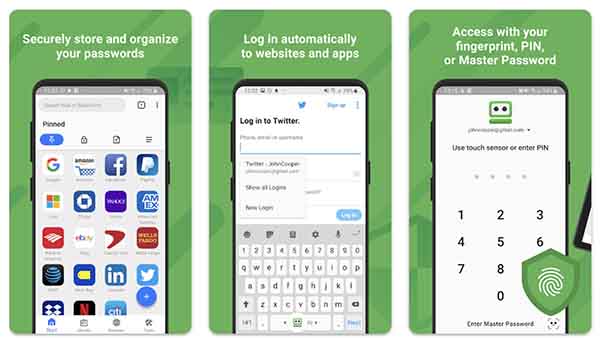 PROS

Unlimited passwords on a single device.
Scan for your compromised passwords.
CONS

Sometimes, there is no attaching in a browser.
It takes up lots of storage on Android.
FAQs of Best Password Manager for Android
Is there an app to store all my passwords?
Of course. You can use some of the best password managers for iPhone or Android devices.
Does Android have a built-in password manager?
Yes. If you have created a Google account, you will get the built-in password manager on your Android device.
Does Samsung have a Password Manager?
No. Samsung does not offer it. You can download it from Google Play or the built-in store if you need one.
Is a password manager safe for my Android device?
It depends on the app's security. You had better get one from the official download channel to avoid the leakage risk.
Is my Gmail password my Google password?
Yes. The Gmail and Google passwords are the same.
Conclusion
You get 8 best Android password managers here. It includes Google Password Manager, Dashlane, 1Password, Keeper, NordPass, Bitwarden, Enpass, and RoboForm. You can read about its details, advantages, and disadvantages. Then, choose one you like and protect your password security now. If you have more questions about password managers, leave your comment here!