What Is Keeper Password Manager and How to Use It to Manage Your Credentials
Suppose you are tired of password management on your own. The best solution is to use a powerful password manager on your digital device. Keeper Password Manager, for instance, is one of the best password management software out there. However, you may want to learn more information about the software before downloading it. This article will share an unbiased review to help you make the best decision.

Keeper Password Management Review
Part 1. Overview of Keeper Password Manager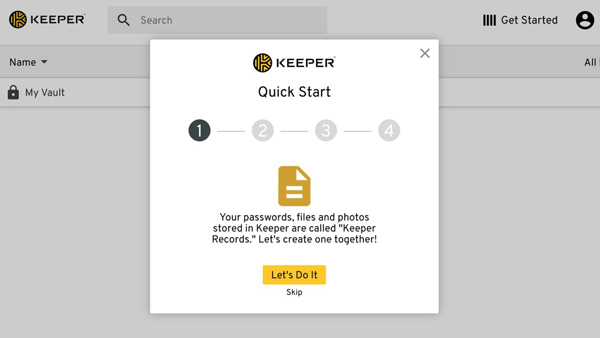 As a trusted password management application, Keeper can do much more than save your credentials. It manages your passwords and login information and keeps them secured in a vault. You just need to remember a master password to access all the information.
Man Features of Keeper Password Manager
◆ Save, protect, and manage passwords, metadata, and files.
◆ Share your passwords securely among users and teams.
◆ Access critical data and credentials across teams.
◆ Generate random passwords quickly.
◆ Include a Secrets Manager using zero-trust and zero-knowledge security.
◆ Access solution for managing multi-cloud infrastructure remotely.
◆ Provide full visibility and control for passwords.
◆ Offer desktop software, browser extension, and mobile app.
Review of Keeper Password Manager
PROS

Keeper Password Manager is an excellent security solution.
The mainstream features are impressive.
The intuitive design is friendly to beginners.
It provides an offline mode to work without an internet connection.
The setup process is straightforward.
This app is available on Windows, Mac, Linux, iPhone, and Android.
CONS

The price is relatively high.
The free version is too basic.
It is a bit buggy sometimes.
Some advanced features require extra payment.
The encrypted storage is limited.
The Cost of Keeper Password Manager
Keeper Password Manager offers a variety of plans for different users. The Personal & Family plans include Keeper Unlimited, which costs $34.99 per year per user, and Keeper Family, which costs $74.99 per year. If you wish to get the dark-web monitor feature, you will pay a total of $58.47 per year for Keeper Unlimited or $103.48 for Keeper Family.
There are more plans for organizations, like the Business Starter Plan costs $24 per user annually, the Business Plan costs $45 per user per year, and more.
The basic free version only allows you to save passwords, identity, and payment. In addition to a password generator and two-factor authentication, you won't get any advanced features. Moreover, it is only available to a single mobile device.
How to Use Keeper Password Manager
Step 1Firstly, you need to create an account with your email address and a master password. Then follow the instructions to complete the setup for Keeper Password Manager & Digital Vault.
Step 2Then you can either create records or import passwords from supported browsers by hitting the

Import

button in the

Settings

panel.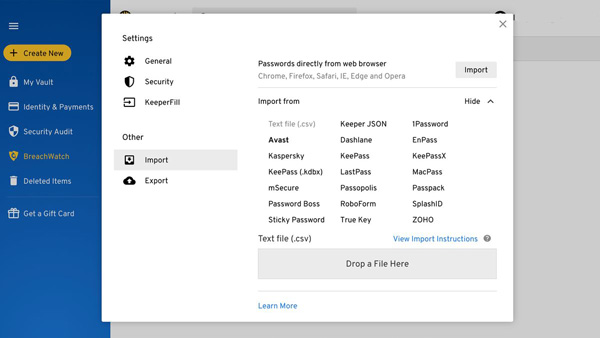 Step 3When prompted, install the browser extension or skill in this step.
Step 4Next, install the desktop and/or mobile app for your devices. The desktop app allows biometric logins too. Then the solution will remember your passwords and let you manage or access them on any device.
Part 2. Best Keeper Password Manager Alternative
If you do not like Keeper Password Manager or it is not available on your iPhone, imyPass iPhone Password Manager is worth trying. It enables you to view and manage your iPhone passwords and back up them to a computer.
Key Features of Keeper Password Manager Alternative
1. Access iPhone passwords with a computer.
2. Back up passwords from iPhone to hard drive.
3. Easy and safe to use.
4. Available to a wide range of iPhones and iPad models.
PROS

The software is secure to use and works offline.
It keeps iPhone passwords in their original condition.
You can export all or part of iPhone passwords to a computer.
It is compatible with the latest iOS and iPhone flags.
CONS

You need a license after the free trial.
How to Use Keeper Password Manager Alternative
Step 1
Connect to your iPhone
Launch the best alternative to Keeper Password Manager after you install it on your PC or Mac. Next, connect your iPhone to the same machine with a Lightning cable. Click the Start button to begin scanning passwords on your handset.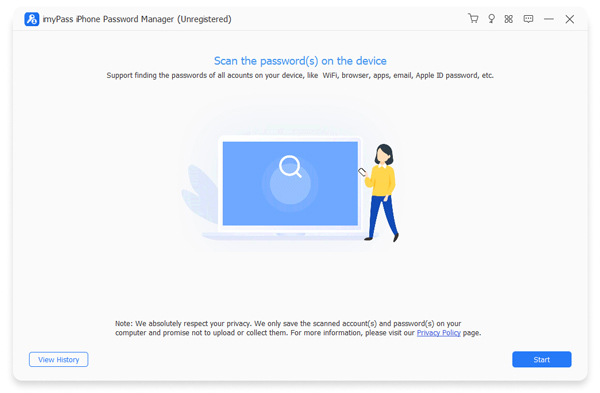 Step 2
View passwords on your iPhone
Then you will be presented with the preview interface. Select a type from the left sidebar, such as WiFi Account, Web & App Password, Email Account, etc. Now, you can view a password by hitting the icon next to it.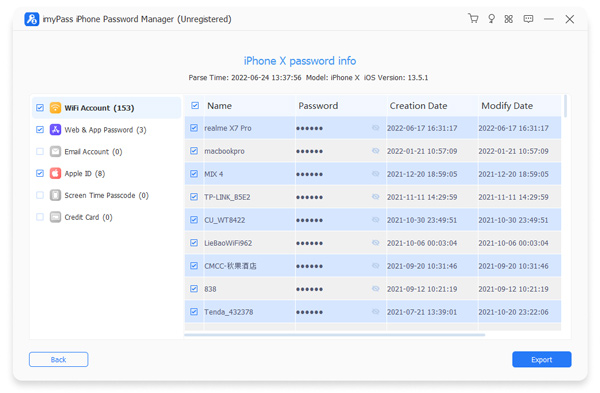 Step 3
Export passwords from your iPhone
To back up your passwords from your phone to your computer, select them on the list, and click the Export button. Next, set an output folder, and export the passwords.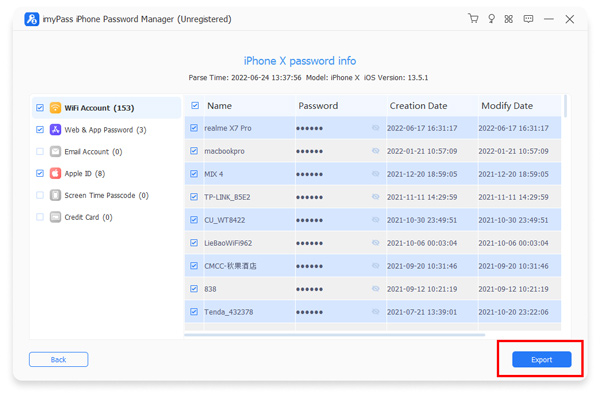 Part 3. FAQs about Keeper Password Manager
Is Keeper Password Manager secure?
Similar to many other password managers, Keeper uses AES-256 encryption to protect your passwords and data on its servers as well as your devices. Without your master password, neither Keeper employees nor hackers can access your information.
Have Keeper Password Manager been hacked?
No, Keeper has never been hacked. According to the official website, a security researcher found a bug in 2017 in the Keeper browser extension. The developer patched the bug within 24 hours.
Is Keeper Password Manager free?
Keeper does offer a free version, but it may be too basic to meet your needs. It only supports limited passwords and devices. Moreover, you won't get advanced features and encryption.
Conclusion
This article has shared an overview of one of the best password management software, Keeper Password Manager. It cannot be denied that the solution is a good place to save and manage your passwords across devices. Moreover, we told you the how-to for beginners. Besides, we also recommended an alternative solution for iPhone users, imyPass iPhone Password Manager. If you have other questions about the software, please feel free to leave a message below this post and we will reply to it as soon as possible.