How to Save Your Passwords on iPhone 15/14/13
Setting up accounts with usernames and passwords is a normal part of using the internet, especially since many websites require a robust password. Remembering lots of passwords can be hard, so it would be good that an iPhone can save them for you. This article will show you how to save passwords on your iPhone. This will make it easier for you to remember all your different logins.

How to Save Passwords iPhone
Part 1. How to Save Passwords on an iPhone
Nowadays, almost every website or online service requires users to create a distinctive username and password combination to access their content and features. However, managing a number of these unique credentials can be a daunting task for many users. While writing down passwords might seem like a convenient solution, it can compromise the security of these sensitive details, making users vulnerable to potential security breaches or data theft.
Fortunately, for Apple users, there's a solution. The iCloud Keychain and AutoFill features can save your passwords and fill them in for you when you go back to a site. By leveraging these features, users can conveniently save their passwords, thus having easy access and automatic filling of login fields when revisiting websites.
First, to get started with the AutoFill feature on your Apple device, you'll need to enable it. Simply go to Settings > Safari > AutoFill. Turn it on and fill in your personal information as needed.
Next, switch on AutoFill for passwords and logins in the Passwords section of your Settings. You can also manage your authorized browsers and applications from the list displayed under the AutoFill toggle.
Once AutoFill is activated, you can start saving passwords and using it in Safari. When you log in to a website, your device will prompt you to save the password. You can choose to save the password for future use, or not to save it for that particular site, or defer the decision for later logins.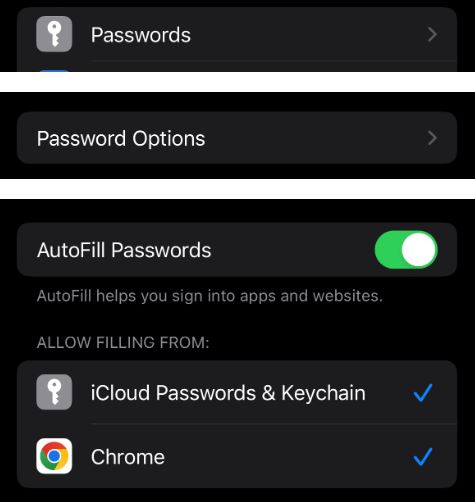 For seamless password management across your Apple devices, consider iCloud Keychain. This feature helps you sync your login details including passwords across multiple devices without the need to save them individually. You can activate iCloud Keychain in your device settings by accessing your Apple ID>iCloudgt;Passwords and Keychain option. Once enabled, you can start using Keychain to simplify your password management experience.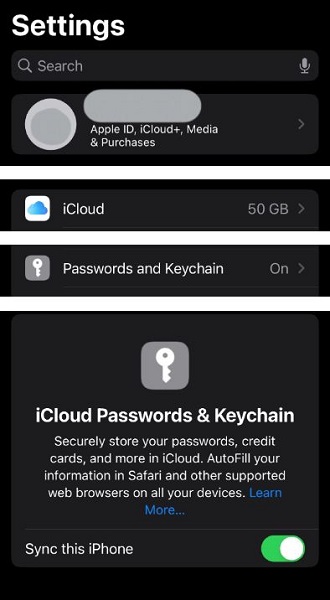 Part 2. Disadvantages of Password-Saving Feature
Although using the password-saving features on your Apple device is easy and convenient, some concerns regarding security and compatibility must be considered.
Changing Weak Passwords: When dealing with weak or compromised passwords, iCloud Keychain sends security alerts for users to change them. However, unlike some password managers that allow direct password changes within the app, iCloud Keychain redirects users to Safari, which can be less convenient.
Limited Functionality: In comparison to certain third-party password managers, iCloud Keychain lacks some advanced features, such as hardware security keys, one-time passwords, secure vaults for diverse data and documents, universal app functions across all devices, and the capability to share passwords with others.
Easy Accessibility: Accessing stored passwords typically requires a PIN or Apple ID password, or Touch/Face ID. However, if someone gains access to your device, they can easily retrieve your passwords, potentially leading to information leaks. Other password manager apps offer additional security layers for better data protection.
Compatibility Limitations: While iCloud Keychain is great for Apple users, it may not work with non-Apple products like Android or PC devices, making it challenging or impossible to access for users of these devices.
Part 3. Bonus Tip: imyPass iPhone Password Manager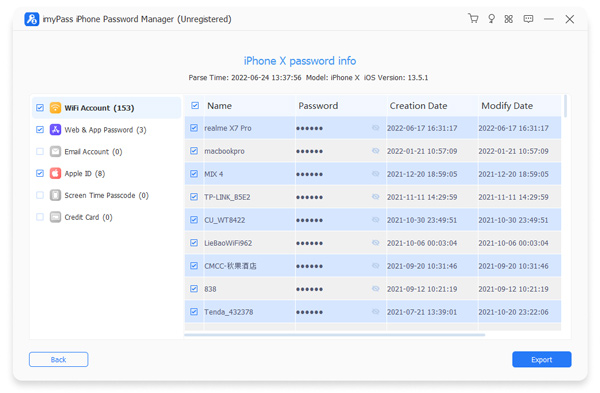 In part 2 we discussed that the autofill function and iCloud keychain are not that convenient sometimes. Therefore, we may need to apply a password manager to help us save passwords on the iPhone. imyPass iPhone Password Manager is an effective tool for managing passwords on your iPhone. It allows you to easily view, save, organize, export, and share all the passwords stored on your device. Using this tool, you can effortlessly retrieve email passwords on your iPhone without the need for jailbreaking. It provides a convenient solution for accessing and checking your crucial email passwords whenever you need them.
Part 4. FAQs About Saving Passwords on iPhone
Is it safe to store passwords on iPhone keychain?
Apple promised that everything stored in iCloud Keychain is secure. Tt's protected by industry-standard encryption. Your iCloud Keychain can't be set up on another Mac or iOS or iPadOS device unless you approve it. However, if someone unlock your iPhone, all the passwords stored in the keychain would possibly leak. It would be better to use a password manager tool.
How do I sync my Chrome password to my iPhone?
When you switch your sync account, all your bookmarks, history, passwords, and other synced info will be copied to your new account. On your iPhone or iPad, open the Chrome app. Tap More Settings. Tap your name. Tap Sign Out. Tap Keep Data. In Settings, tap Turn On Sync.
Why are my passwords not saving anymore?
It is hard to identify the reason. Some basic solutions include logging out and logging back in, ensuring that password saving is enabled, clearing cookies, resetting your browser to default settings, or uninstalling any unnecessary programs.
Conclusion
So many complex passwords are waiting for us to remember them. Saving passwords on iPhone is an essential step for us to take. iCloud Keychain is a reliable choice for securely storing passwords on Apple devices. It helps us in selecting strong passwords and provides easy access through the AutoFill feature. It is particularly beneficial for Apple users who may not require the additional features offered by third-party password managers. If you're looking for increased security, a broader range of functions, more secure storage categories, and protection on non-Apple devices, a third-party password manager might be helpful.