Ultimate Review of Dashlane Password Manager [2023]
'Is Dashlane the best password manager?'
'Is Dashlane password manager safe?'
With hackers on the loose, more and more people are focusing on data and information security. The most important of these is password security. Therefore, many individuals and companies choose to use password managers. They want to bundle a password manager with other security services to confirm the safety. In this case, Dashalane Password Manager becomes one of the popular choices. Today, you will know its details from this Dashalne review. Then, make your purchase decision in need.

Review of Dashlane Password Manager
Part 1. What is Dashlane Password Manager
Dashlane Password Manager is a safe and trusted password manager. It can protect your password and data with end-to-end encryption. Meanwhile, this manager allows you to use and share passwords across the platforms. In addition, it also provides powerful features, including filling, generating passwords automatically, protecting private info, and monitoring and alerting if your data is compromised. More importantly, it gives you a free trial up to 30 days that you can try it before purchasing.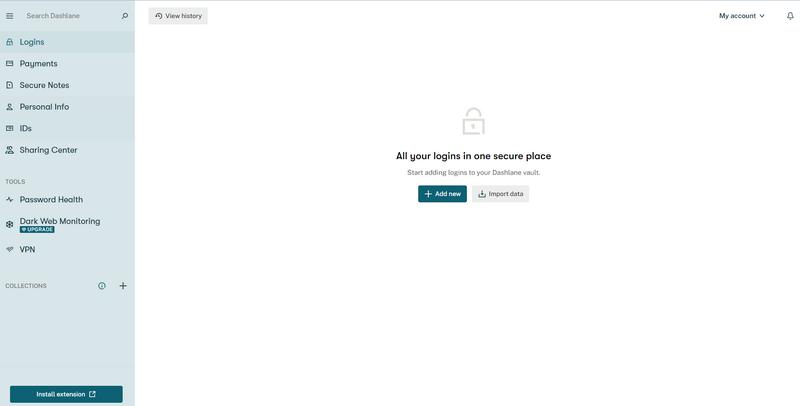 PROS

The data is protected and secure.
The password sharing is unlimited.
It provides dark web monitoring.
It supports passkeys across the platforms.
Two-factor authentication (2FA) is effective.
CONS

The free rail has limited features.
The price is higher than competitors.
The desktop version is no longer available.
Part 2. Review of Dashlane Password Manager
Subscription Pricing
Dashlane Password Manager provides 4 different subscription plans. You can choose one in your need, whether you want to use it individually or share it with groups. Meanwhile, you can decide to subscribe monthly or yearly. However, some users still feel that its price is a bit expensive.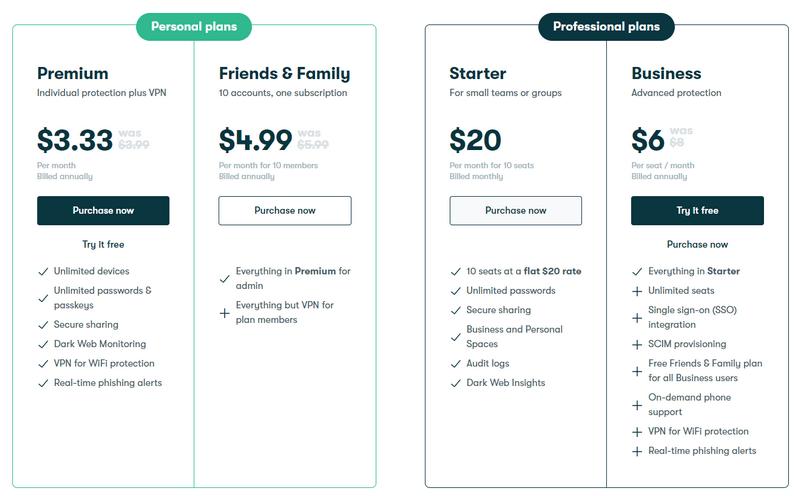 Platforms Supported
Dashlane Password Manager's support platform has some new changes. It has stopped providing desktop applications from January 2022. If you want to use Dashlane, you can only do it online through Chrome, Firefox, or Edge extension. Additionally, you can download the Dashlane app on Android or iOS to access it.
In fact, this change is not very friendly to users who are accustomed to using the desktop version. Because using the online version of Dashlane on a computer is often affected by network stability. As a result, some users have turned to other best free password managers for Windows and Mac.
Ease of Use
Dashlane Password Manager provides the most intuitive design, making it operate smoothly. For advanced users, it is easy to upload, save, share, generate, and manage passwords. Dashlane's powerful features help them protect and organize the privacy data. Meanwhile, many beginners appreciate this tool interface because all the password tabs and categories are clear. Compared to some free but complex password managers, Dashlane is the better choice. Certainly, if you are not a professional with very strict requirements on passwords, you can try other password managers that are simple to use.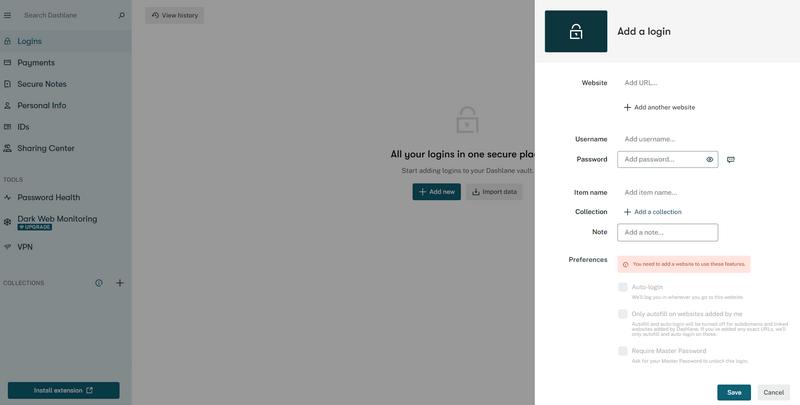 What the Best for
The Password Health feature makes Dashlane stand out compared to other password administrators. Once you store more than 5 logins, you can see your total Password Health score on Dashlane. Meanwhile, it will show the breakdown of the logins that may need your attention. To some extent, it reminds you to change your password promptly and reduces the risk of your password being compromised.
Part 2. Best Dashlane Password Manager Alternative
Dashlane can help you store and manage passwords by entering them individually or importing a .csv file on mobile. However, it cannot scan or restore your used password automatically. When you need a tool to scan, restore, view, manage, and export all the passwords on your iPhone, you must try imyPass iPhone Password Manager. It is secure and trusted software on Windows 11/10/8/7 and macOS. It can help you back up your computer password in one click. Compared to Dashlane, this tool is more suitable for restoring lost or important passwords, including Apple ID, Wi-Fi, etc. Do not miss it, and try it now!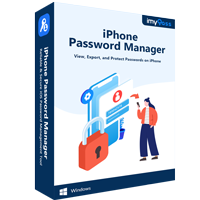 4,000,000+ Downloads
Scan more than 20+ types of passwords.
Restore the lost accounts and logins.
Export your passwords in .csv at once.
Part 3. FAQs of Dashlane Password Manager
Is Dashlane a free password manager?
No. Dashlane only provides a free trial for users. If you want to access its whole features, you need to subscribe to it by month or year.
Is Dashlane safe to use?
Yes. Dashlane is a professional and safe password manager. It can protect your password and important data with zero-knowledge patented encryption.
Is it worth paying for Dashlane?
It depends on your needs. Trust and subscribe if you or your company need a high-security need.
Can Dashlane see my passwords?
No. Your password is private and secure. Because it adopts the zero-knowledge patented encryption, which means not even the developer can see your password.
What happens if Dashlane gets hacked?
Dashlane will not store your password on the servers or the internet. Even if the hacker attacks its servers, they cannot access your password data.
Conclusion
A good password manager can assuage your security concerns. Choosing the suitable one is important. Now, you get a detailed review of Dashlane Password Manager for Mac, Windows, and Mobile. If you want to generate strong passwords and manage all important ones, you can try it without hesitation. Meanwhile, you get the best Dashlane alternative to manage passwords on iPhone/iPad. Certainly, if you have other questions about Dashlane, comment below!