How to Get Rid of the Problem that iOS Screen Time Is Not Working
"I have set the Screen Time as 3 hours, but after the total usage of time my iPhone is not blocking the respective apps, how to fix this problem?"
According to a recent survey, the majority of iOS users have realized the issue of mobile phone addiction. It makes sense that the Screen Time feature becomes popular, especially among parents. However, some users reported iPhone Screen Time not working. This piece of troubleshooting helps you to fix the issue effortlessly.

How to Fix Screen Time Not Working
Part 1. How to Fix Screen Time Not Working
Solution 1: Re-enable Screen Time
When Screen Time is not working on your iPhone, the first thing you can do is check the settings. You can try to fix the problem by disabling Screen Time and re-enabling it on your iPhone.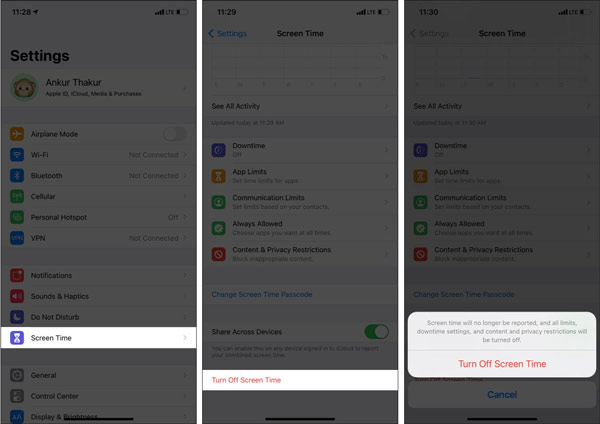 Step 1Run the Settings app, and enter the

Screen Time

tab.
Step 2Tap the

Turn Off Screen Time

button at the bottom. When prompted, input your Screen Time password. Then tap

Turn Off Screen Time

again to confirm the action.
Step 3Restart your iPhone. Then head to the Settings app, tap

Screen Time

, and press

Turn On Screen Time

. Follow the instructions to enable the restriction again.
Solution 2: Force Start Your iPhone
Screen Time on iOS 12 or later stops working may be due to your iPhone getting stuck in a specific mode. In such a case, the solution is force-restart. It can bring your device to its normal status.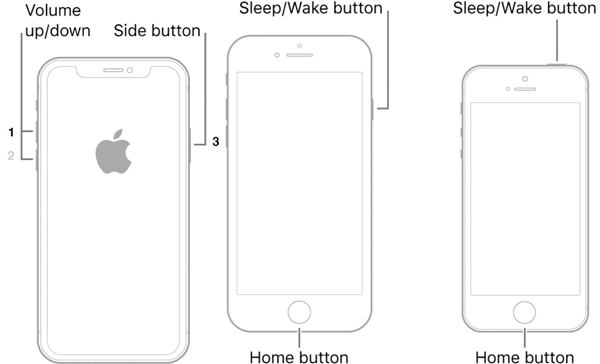 On iPhone X/XR/XS/8 and later: Press and release the Volume up button, do the same to the Volume down button, and hold down the Side button until you see the Apple logo.
On iPhone 7/7 Plus: Long press the Volume down + Side buttons at the same time until the Apple logo appears on your screen.
On iPhone SE/6s and earlier: Hold down the Sleep/Wake + Home button and release them when you see the Apple logo.
Solution 3: Check Date and Time
The Screen Time feature works relying on the correct date and time. Generally speaking, iOS can sync the time automatically through the internet. If Screen Time is not working on your iPhone due to an incorrect date or time, correct it manually.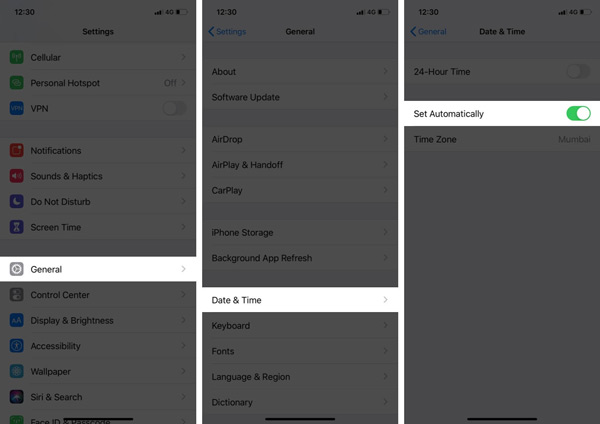 Step 1Run the Settings app, and tap on your profile.
Step 2croll down and tap the

Sign Out

button. Input your Apple ID password, and follow the instructions to finish it.
Step 3Reboot your device, open your Settings app, and tap

Sign in

button. Enter your Apple ID and password.
Solution 5: Check Apple Servers Status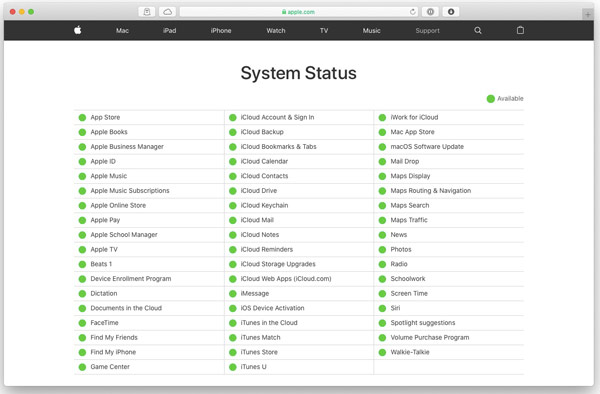 All Apple services work through Apple servers including Screen Time. If Apple servers are down, Screen Time won't work. Therefore, you should check the status of Apple servers.
Access the Apple official system status page in a browser. Ensure that all servers are labeled with green icons. If anyone is marked with a yellow or red icon, wait for the server to work again.
Solution 6: Reset All Settings
Screen Time is one significant setting on an iPhone. Conflict settings are another reason why Screen Time is not working on your iPhone. Therefore, you can fix this problem by resetting all settings.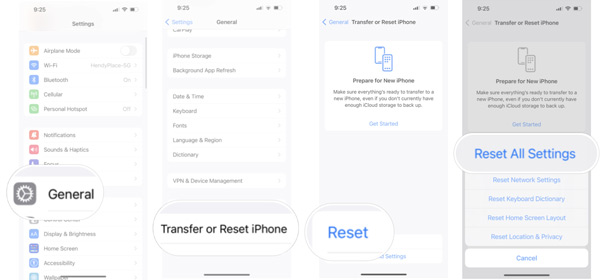 Step 1Start the Settings app, go to the

General

tab, and tap

Transfer & Reset iPhone

.
Step 2Tap

Reset

and choose

Reset All Settings

. When prompted, enter your passcode and confirm it.
Part 2. How to Unlock Screen Time Passcode When You Forgot
No matter you need to change Screen Time or do troubleshooting, it requires your Screen Time passcode. If you forgot your passcode, imyPass iPassGo can help you reset Screen Time without a passcode.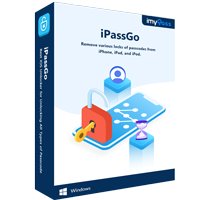 4,000,000+ Downloads
Unlock Screen Time without a passcode quickly.
Won't damage data on your iPhone.
Safe and easy to use.
Available to a wide range of iPhones and iPad models.
Here are the steps to remove not working Screen Time without a passcode:
Step 1
Connect to your iPhone
Launch the software after you install it on your PC. Hook up your iPhone to the same computer with a Lightning cable. Choose the Screen Time mode, and click the Start button to move on.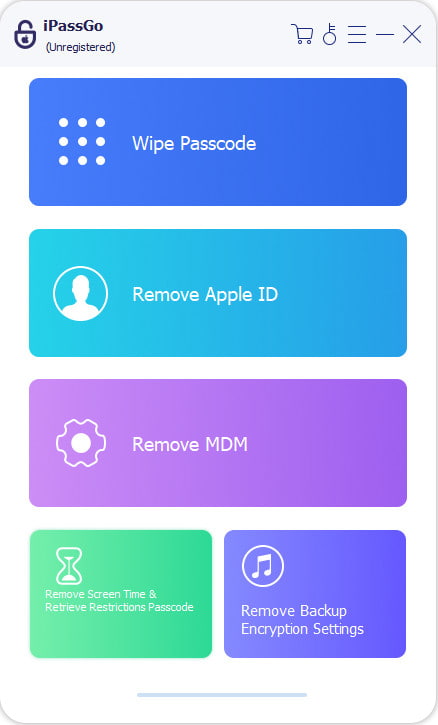 Step 2
Remove Screen Time
On iOS 12 or later, the software removes your Screen Time without a passcode immediately. Make sure to select Don't Transfer Apps & Data in Apps & Data screen, and choose Set Up Later in Settings when coming across the Screen Time screen during setup.
On iOS 11 or earlier, the software retrieves the Restrictions passcode immediately.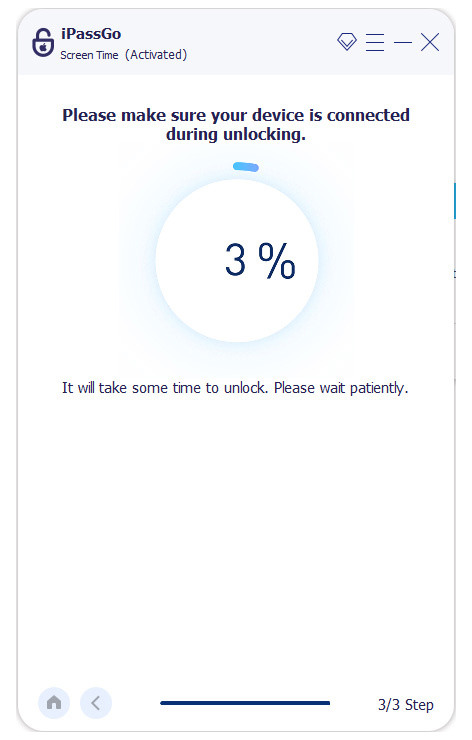 Part 3. FAQs on How to Fix Screen Time Not Working
Why does Screen Time stop working?
The main reasons for Screen Time not working include improper settings, app or settings conflict, iPhone gets stuck, and more.
Can I set Screen Time on my child's iPhone?
Yes. If you add your child's account to Family Sharing, you can set Screen Time on your iPhone directly.
Can I turn off Screen Time if it is not working?
Yes. You can disable the feature with your passcode when it stops working.
Conclusion
This post has discussed how to resolve the issue that Screen Time is not working on your iPhone. This feature enables you to control mobile phone usage or your child's actions. However, it may work abnormally or stop working at all. When you forgot the passcode, imyPass iPassGo can still help you bypass Screen Time. If you encounter other troubles, please feel free to write down below.