Guide to Change or Reset Spotify Password [2023]
Spotify is one of the leading music streaming services. It contains a wealth of personal data and information. To ensure your account security, it is a good idea to change your Spotify password regularly. And today, this comprehensive guide will tell you how to change, reset, or restore your Spotify password. Get the simple ways now. Let's begin by bolstering the security of your Spotify listening experience!

How to Change Spotify Password
Part 1. How to Change Spotify Password
When you receive a new notification about suspicious activity on your Spotify account, it is a good idea to change your password. Here is what you can do.
Step 1Log in to Spotify with your browser.
Step 2Click your profile and select

Account

in the upper-right corner.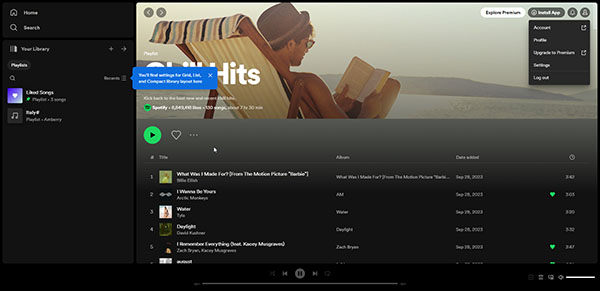 Step 3Find the

Change Password

option. Type your current and new password for Spotify.
Step 4Click

Set New Password

to confirm it.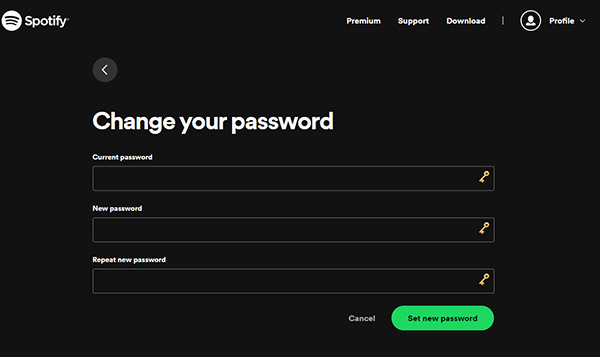 After changing, the new password can protect your Spotify account from unauthorized access. Certainly, it is a good idea to change your password regularly for security.
Part 2. How to Reset Spotify Password If You Forget It
When you forget your Spotify password, you can change a new one by resetting it. This operation process will need to be verified on your email account. Meanwhile, this resetting process will not work on the desktop or mobile apps. You can only reset your Spotify password with a browser. Now, follow the steps here!
Step 1Access the

Password Reset

page for Spotify in any browser.
Step 2Type your email address or username. Then, you can click the

Send

button.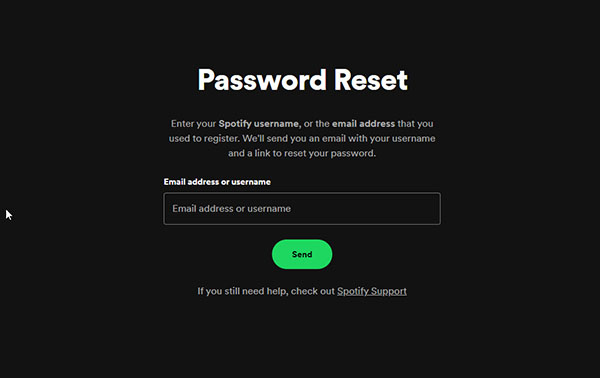 Step 3Navigate to your inbox to check the received email. Then, follow the notice to reset your new Spotify password.
After resetting, you can use the new Spotify password to log in to your account again. And you can enjoy various interesting music at your will.
Tips :
When you use Gmail to receive a verification code, you need to remember its password. If you forget Gmail password, please recover it before resetting your Spotify password.
Part 3. How to Recover Spotify Password without Resetting
Resetting your Spotify password is a way to access your account again. However, it is a bit complex, especially since it needs to verify with your email account. Fortunately, a professional password recovery tool can help you recover it in a few clicks. imyPass Password Manager is compatible with Windows 11/10/8/7 and macOS. It can scan your Spotify password stored on your iPhone or iPad. And it allows you to view, export, and share Spotify and other passwords in a .csv file. When you forget your Spotify password but don't want to reset it, try it now!
Step 1You can download the Spotify password recovery tool on your Mac or Windows PC.
Step 2You can plug with a USB cable to connect your iPhone/iPad to the desktop. Next, you should tap

Trust

on your iOS device when asked. It is a confirmed process.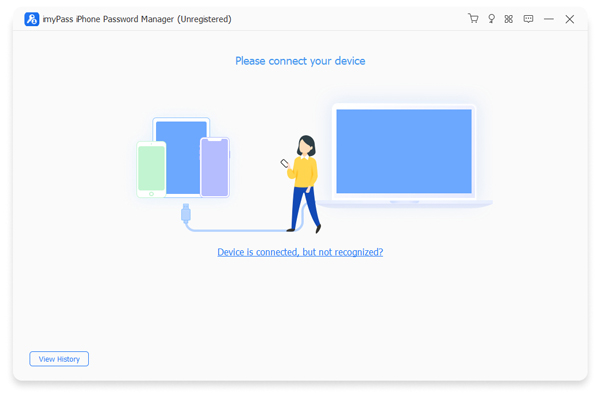 Step 3You can open the Spotify password manager and enter the main interface. Click

Start

to scan the passwords stored on your iOS device.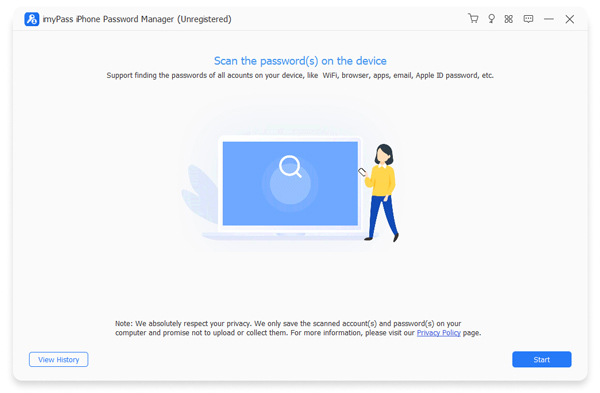 Step 4After scanning, you can check all passwords. Then, navigate to the

Web & App Password

to view your Spotify password.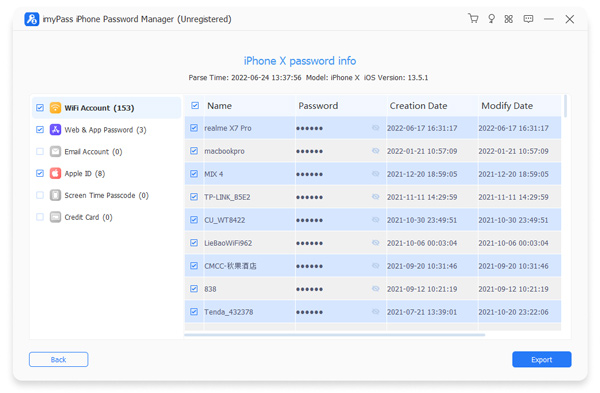 With the help of this tool, you can recover your Spotify password without resetting it! It avoids the multiple steps of resetting Spotify's password. And you can have more time to listen to your favorite music!
Part 4. FAQs of Changing Spotify Password
Why am I not able to login to Spotify?
Incorrect credentials, network problems, server outages, or app issues can cause Spotify login problems. If you have trouble logging in Spotify, you can reset your password, using a different device or internet connection, or updating the Spotify app. If you are still having problems, contact Spotify support.
How do I get people off my Spotify?
To kick other people off, you can click the Sign out everywhere button on the Spotify overview page. Besides, you can change your Spotify password to kick them off.
What happens if my Spotify is hacked?
If your Spotify is hacked, your private data and information are not safe anymore. Meanwhile, the hacker may use your account to spread spam or malware. Therefore, you should change your password quickly once occurring unauthorized access.
What is a good password for Spotify?
A good password for Spotify is difficult for others to guess or crack. It should be at least 12 characters length and include a complex mix of upper and lowercase letters, numbers, and symbols. Meanwhile, you should avoid using common words or phrases, such as your name, birthday, or address. You should also not use the same password for multiple accounts.
How do I find my Spotify password?
If you have saved your Spotify password on Google Chrome or other password managers, you can view and recover it directly. Otherwise, you need a professional password recovery tool.
Conclusion
Following the straightforward steps, you can easily change, reset, or recover your Spotify password. Then, you can safeguard your account against unauthorized access. Regularly updating your password is a simple yet effective way to protect your digital life. With your Spotify account secured, you can enjoy your music without worry. If you have any questions about how to change your Spotify password, comment here!